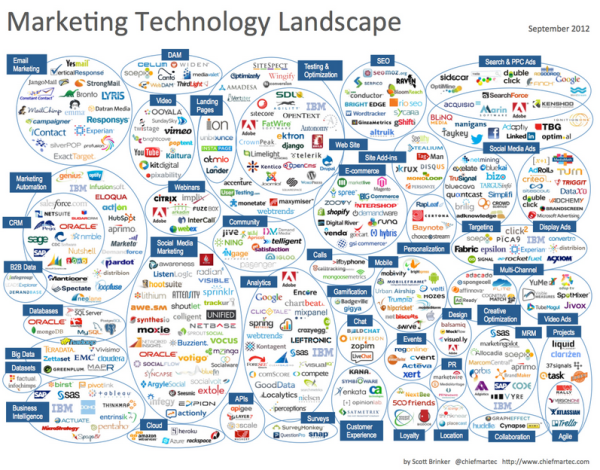 Subscribe
A Blog to Continually Assess and Improve Your Marketing Score
It's an exciting time to be in marketing. Customers demand the digital experience—so businesses, solution developments, and marketing's best practices have followed suit. For marketers, the move to digital experiences provides better insights into what we care about most: customer engagement, and metrics that show what works.
Our industry is flooded with "the latest ___" and a long line of innovators (who as marketers, naturally also know how to get the word out about their ideas). Scott Brinker's (@chiefmartec) 2012 Marketing Technology Landscape visualizes one point loud and clear: "there is a veritable flood of marketing technology out there."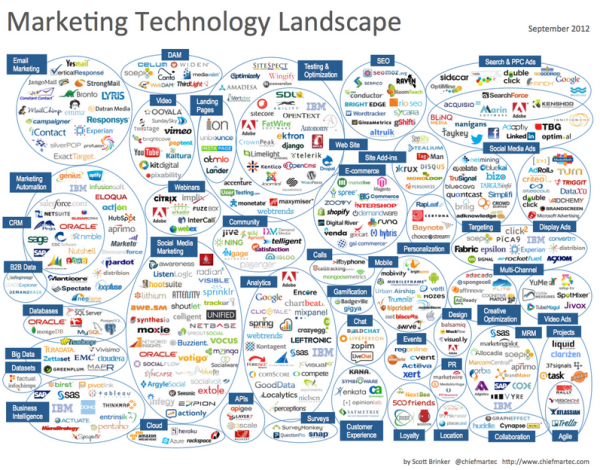 The result: businesses are bombarded with ideas of big data, the latest search updates, new marketing technology, marketing automation intelligence, agile and lean marketing processes, converged media, marketing and sales integration, MOFU, TOFU, and more.
We need a place to sort it out. Consider the following:
Can you list your business' goals for the next 3 months, 6 months, or year?
Can you identify marketing's role in achieving those bottom line results?
What technologies are needed to get you there? Where does your business stand, and how can you best prioritize needs?
What campaigns are you working on right now to achieve the best results? Do you have data to back those decisions?
How are you tracking progress—from big-picture bottom-line impact, through marketing and sales integrations, all the way down to the minutia of audience segmentation and A/B testing?
Yes, it's an exciting time to be a marketer. The technology is there, the consumer is there, and we have the chance to be really smart with advanced marketing practices. Sometimes, one of the most challenging tasks for a marketer to reign in is aligning key players, goals and resources (technology, time, talent) to start moving.
Marketing Score provides the platform to start smarter marketing conversations. It's a subjective, online survey for internal organizational stakeholders that assesses the strength of your business and marketing foundations, forecasts potential and aligns expectations. For the full story behind the product, and a glimpse of what lies ahead in its roadmap, read Paul Roetzer's (@paulroetzer) post, Origins of a Marketing Intelligence Engine.
Aligned Goals, Perceptions & Resources
The Marketing Score blog will post regular product updates and resources, as well as useful content for marketers and businesses moving ahead. Most topics on our upcoming editorial calendar aim to connect the potential found within your marketing assessment to useful, actionable marketing strategy.
We'll help fuel smarter marketing conversations by diving into the latest industry trends, strategies, and technologies, and pulling in experts as needed. We'll also spotlight specific factors included in the Marketing Score assessment in terms of how they have the potential to improve performance, such as cost of customer acquisition (COCA), customer retention, or tactics like SEO, social, web, content and more.
Check out a few of the featured upcoming titles below, and subscribe to make sure you see these posts once published!
Product Focused Updates:
Product Roadmap Details
Assessment Resources (webinars, ebooks, videos and more)
Marketing Score Tips & How-Tos, such as: "3 Tips for Turning Your Marketing Score Responses into Actionable Intelligence"
The Latest in Marketing Strategy & Innovation:
"How to Get Your CEO Onboard with Your Next Marketing Program"
"Why Is the Discovery Process Essential to Marketing Results?"
"Marketing Strategy + Project Management Systems (Why, and How, They Must Work Together for Success)"
Recaps on the Newest Industry Reports from Gartner, IBM, the CMO Council and more!
Guest Posts from Subject Matter Experts:
Marketing Technology Solution Spotlights
Sales and Marketing Integration Best Practices
The Latest in Social Media, Search, Content and PR
Best Practices for Tracking Marketing Results
Tips for Working Well with Agencies, Developers, Designers or Outsourced Talent
Business, Finance and Legal Marketing Fundamentals
Case Studies and Lessons Learned: Real Examples
Make It Your Own, Really
I'm really proud to work for a company that loves to collaborate. For Marketing Score to take off and have better impact, it's going to take more than a few minds.
What are your thoughts, and what do you want to read about on the Marketing Score blog? Let us know in the comments below, and we'll do what we can to write about (or find experts who can better address) the topics that matter most to our readers. If you see the potential of Marketing Score and would like to contribute to the blog, please send any topics to me personally, at jessica@pr2020.com.
Looking forward to connecting, and to a blog that merges business strategy, goals, and resources with smart marketing performance. Stay in touch: subscribe via RSS or via email with the form above. Cheers!
About Jessica Miller
Jessica Miller is VP and managing director of PR 20/20, where she guides strategy and performance, and champions the ongoing pursuit of building a great marketing firm. For more than a decade, Jessica has built lasting partnerships that connect marketing strategy to bottom-line business outcomes. Jessica joined PR 20/20 in 2011 with global agency experience. She is a graduate of the E.W. Scripps School of Journalism at Ohio University. Full bio.