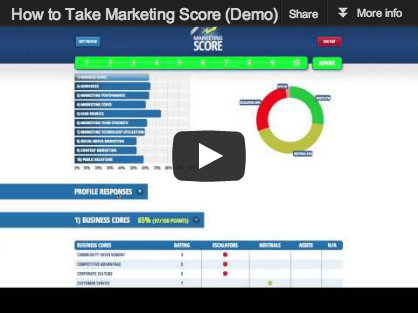 Subscribe
How to Take Marketing Score to Evaluate Your Organization's Marketing

If you haven't already taken Marketing Score, or if you're interested in learning more about how to take the 10-part assessment, read the following tutorial, or watch the brief demo featured at the end of this post.
Introduction for New Members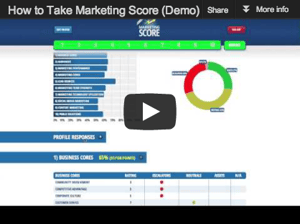 Marketing Score was developed by PR 20/20 in pursuit of a better way to assess prospective clients, establish existing marketing resources and goals, and align expectations with achievable results.
For example, let's say a client indicates that their highest priorities over the next year are to generate leads and increase revenue by 15-20%. However, that same client also acknowledges that they are not utilizing technologies to gather and organize leads effectively, such as online forms, call tracking, an integrated CRM or marketing analytics. When all parties are aware of the disconnect between marketing and sales resources, along with the aggressive growth goals of the business, you're able to set more realistic standards and goals from the start.
Through a comprehensive questionnaire, Marketing Score gathers information related to the core elements of your organization, including business lifecycle stage, current marketing and sales performance, future goals, marketing team competencies, utilization of technology, and more. It then enables marketers to quickly identify a strategic course of action that will either build upon needed assets or drive marketing goals.
Take the Assessment
Whether you're a CMO or the director of sales, Marketing Score is a valuable, free tool that helps you to rate the performance of your marketing. Here's how you can get started.
Become a Member:
Sign Up Free: Click on the "Sign Up Free" button on TheMarketingScore.com, enter your basic company and contact information, confirm your membership via email and you begin.

Fill Out Your Profile: All members are required to complete a profile, which includes personal contact information, industry and financial basics, growth and marketing goals, and major upcoming activities that might impact immediate marketing needs. This information is used to provide additional content, marketing resources and, eventually, recommendations.
Helpful Tips for Completing Marketing Score:
The assessment includes more than 130 factors in 10 sections. Most factors are subjective, and may differ greatly depending on who in your organization completes the assessment. For this reason, it is recommended that multiple team members take the assessment and share results.

Each factor is based on a rating scale of 1-10, which identifies it as an asset, neutral or escalator to your marketing program. To the right of each factor, the slider response bar changes from red to yellow, and then green, giving users a visual of the selected response as weak, neutral or strong.

To provide your grade for any factor, click on the number associated with the rating. For example, if you work for a non-profit that invests heavily in the community, then you'd most likely click 9 or 10 when rating the strength of you community involvement. Once you select a number, the slider bar will appear to the right of that factor, enabling you to move it across the scale accordingly.

The 1-10 completion bar at the top of each section will change from blue to neon green as you complete each section. If you skip over a factor, the bar will not progress forward, indicating that you have yet to complete that section. If you forgot where you left a blank factor, or how many factors you skipped over in a given section, the final report page will indicate the number of incomplete factors in the overall results table.

As you complete the assessment, your Marketing Score Report will update to grade overall results, as well as results by section.

Print or PDF your report to share with other members of your team. You can also return to the assessment at any time to make updates to your account. Be sure to save a copy of your initial report though, as it will help you benchmark your current status as a reference point for improvements made over time.
Watch the Marketing Score Demo
How was your experience with completing the assessment? Did you run into any bugs or usability issues that impacted the overall experience? We welcome your feedback as we continue to make improvements for our members.