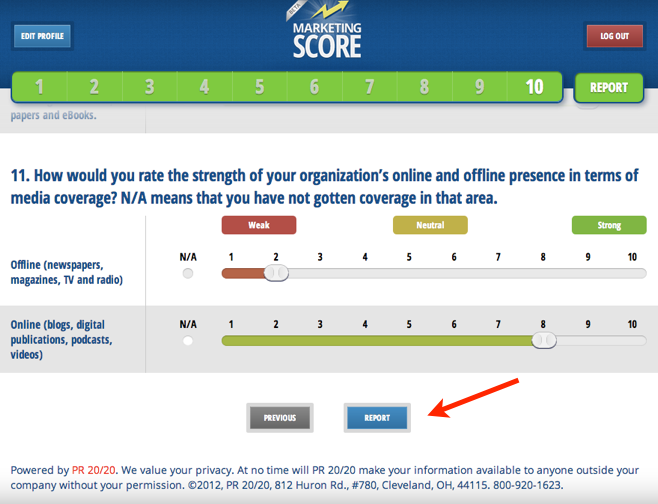 Subscribe
How to Share Your Marketing Score Assessment Results
The most valuable takeaway for Marketing Score respondents, other than kicking your creative marketing wheels into gear, is the report at the end of the assessment. The report is a section-by-section breakdown of your score, designed to benchmark your current performance and fuel conversations that will improve your existing marketing program.
Once you've completed the assessment, we recommend sharing your results with your team, be it the C-suite, managers or the entire marketing department. Marketing Score is a great platform for candid group discussion and collaboration. Use it to highlight specific areas of improvement, or put a more comprehensive action plan into place that will put your business on track to accomplish clearly defined marketing goals.
Following are our recommendations on how to share your Marketing Score report:
View and Print Your Report
After completing the final Marketing Score factors in Section 10 of the assessment, respondents are presented with a new call-to-action button, "Report," at the bottom of the page. (See screenshot below.)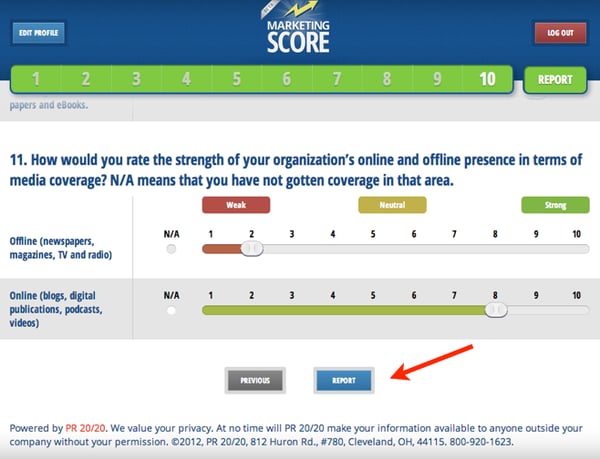 While the "Report" option is always visible in the main navigation, this final button completes your submission, and takes you to the report page. Your Marketing Score report starts with your overall score, including the total number of escalators, neutrals, assets and N/A submitted in each section. The "Incomplete" column indicates whether factors were left unanswered. From here, you can go back, fill out incomplete section(s), and return to view the updated report.
Below the "Overall Results" table, you will see each section of the assessment listed within a blue bar with its score and total number of possible points. Click the blue bar to view all factors and associated ratings under that section. You can tell whether the section is expanded by the + or – sign shown on the right-hand edge of the bar.
To move to a print-friendly version of the report, click the "Print" button in the upper, right-hand corner of the page. (See screenshot below.)

A separate tab will open in your browser launching a printer-friendly version.. Print or PDF your report, and save it for your reference. If you choose to PDF, you can save that file and send it to your team for internal discussions.
Share the Report with Your Team
How you share your Marketing Score report is entirely up to you. Organizations and departments are structured differently, which will influence how you use and share your report.
If you're solely responsible for the marketing at your organization, you may choose to share the report with the business owner(s), sales leaders or use it for personal reflection. Whereas with a large department that is integrated with sales, you may pull members from each team together to gain perspectives from both sides on how the activities, communications and tools are used as part of a collective effort.
If you outsource marketing to an agency, you can use the score to evaluate the efforts they've put forth to-date, or share the report with them to better align expectations on both sides, and discuss how strategy and support can evolve to improve the relationship.
No matter how your team is structured, use the report to:
Gather responses from multiple team members to use for group discussion and comparison of opinions. This will enable you to gain perspective from a variety of internal stakeholders, and gain insight into their perceptions of organizational needs, goals, milestones, audiences and metrics.
Highlight key findings, recognize strengths and weaknesses in your existing marketing strategy, and identify solutions needed to correct these issues.
Define top priority activities needed to accomplish marketing and sales goals, as well as the key metrics associated with assessing their effectiveness.
Create a new action plan that builds off of the results of your assessment, including selecting the right partners, better allocation of time and resources, and top priorities.
Manage realistic expectations of outcomes related to achieving business goals, the amount of available resources, team competencies and essential tools in place needed to execute the marketing program.
If you haven't already completed the assessment, check out these additional posts:
Have you reviewed and shared your report with the key members of your team? How did you lead conversations to walk through the assessment score, and create action items from the lessons learned?