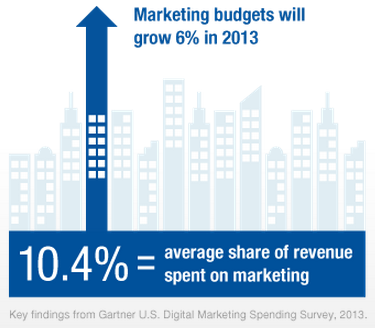 Subscribe
U.S. Digital Marketing Spend to Increase 9% in 2013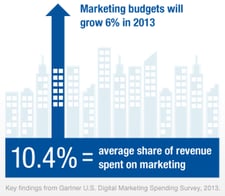 From Gartner's summary of its U.S. Digital Marketing Spending Survey, 2013: "Digital marketing budgets total 2.5% of revenue and will increase 9% this year."
The Gartner survey aimed to examine how marketers allocate budgets, where the largest investments will be made, and which activities contribute most to marketing success. This post follows that logic, and breaks Gartner's key findings into benchmark stats on budget, talent and results.
Before you read any further, here are some quick facts about the survey: According to Gartner, research is based on an online survey of 253 marketers from U.S. companies with more than $500 million in annual revenue. Survey participants cover 6 industries, including: financial services, healthcare, high-tech, manufacturing, media and retail. The survey was conducted in November and December of 2012.
Budget: Digital Marketing Spend
Gauge where your organization ranks against the following benchmarks, and realize that with larger company budgets (most companies have more than $500million in revenue), comes the benefits of economies of scale. Adjust your own organization's budgets accordingly.
From the report findings:
Marketers spent an average 10.4% of their 2012 revenue overall on marketing activities, including salaries, traditional and digital activities, advertising, research and software. The range spans from 5 through 15%.

A total of 43% of respondents said 2013 operating budgets will increase this year; 7% note budgets will remain steady; and 10% expect a tightened budget.

Digital marketing spending averages 2.5% of company revenue.
The survey found that digital marketing spending averages 2.5% of company revenue. So, of that digital marketing budget, where are resources allocated? The following chart breaks it down with advertising, content creation, search and web as leading priorities.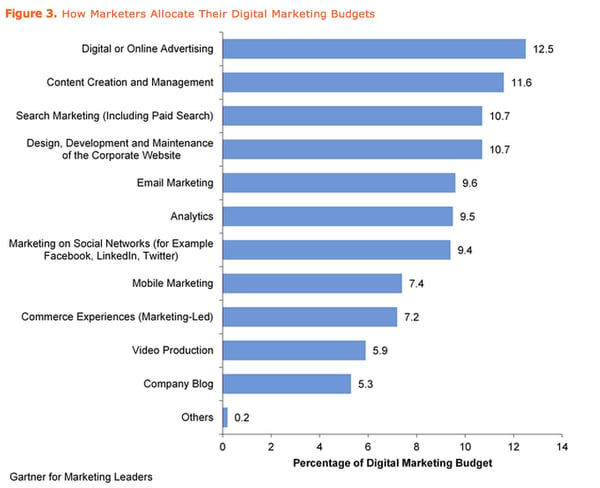 Talent: Digital Marketing Teams & Services
The survey found growing adoption of a new position: chief marketing technologist (CMT)—70% of companies surveyed have one. (Again, the Gartner audience of larger, more tech-savvy companies may have a role that SMBs may not currently have.)
The survey also found that companies with a dedicated digital marketing leader spend more (an average 9% more) on their digital marketing budget than those without. The finding is likely a nod to the added pressures of the more tech-savvy and tech-responsible CMO: with deeper integrations of marketing, tech and sales, CMOs face greater expectation to deliver quantifiable, bottom line results for marketing efforts.
In his assessment, Slicing Gartner's Digital Marketing Spending Survey, Bill Gassman (@bgassman) sums it up: "The take-away here is; if digital marketing is important to your corporate goals, hire a digital marketing director with ownership of the technical resources to get the job done."
Another finding: up to 50% of digital marketing activities are outsourced. Marketing departments are used to outsourcing to agencies and technology providers, and it's a trend that may be increasing as marketers need additional help with specialized activities like search, mobile and online advertising.
Top outsourced activities, according to the survey, include search (50% outsource), online advertising (46%), mobile (45%), email (37%), content (36%) and analytics (36%). Other activities noted included web design and maintenance, social marketing, ecommerce and corporate blogging.
Results: Digital Marketing Success
What activities or channels are driving sales, and which do marketers surveyed find most successful? When surveyed, the top 3 digital marketing activities key to success include the corporate website, social marketing and digital advertising.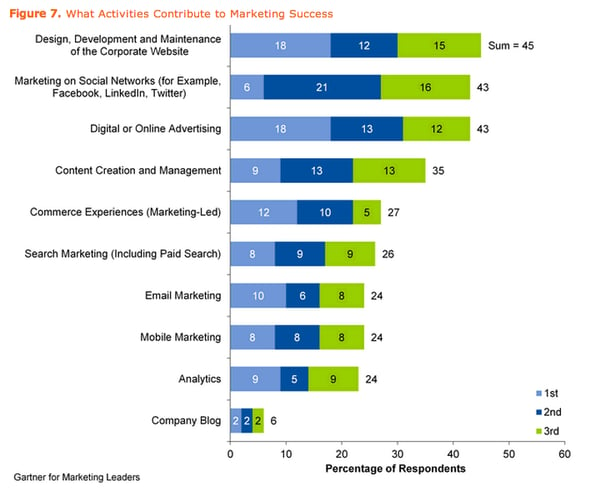 Your Turn
What percentage of the budget does your organization allocate toward digital marketing? What are your most successful activities, or do your website, social marketing and digital advertising rank at the top such as in the findings above?
About Jessica Miller
Jessica Miller is VP and managing director of PR 20/20, where she guides strategy and performance, and champions the ongoing pursuit of building a great marketing firm. For more than a decade, Jessica has built lasting partnerships that connect marketing strategy to bottom-line business outcomes. Jessica joined PR 20/20 in 2011 with global agency experience. She is a graduate of the E.W. Scripps School of Journalism at Ohio University. Full bio.