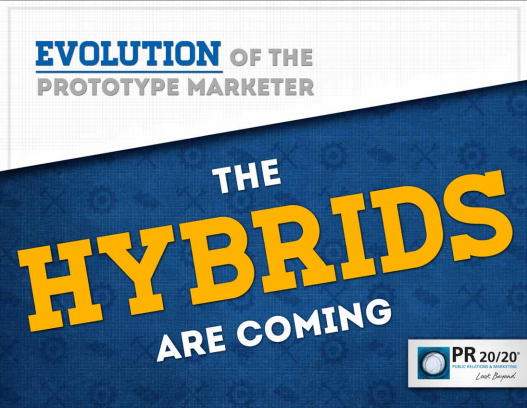 Subscribe
Modern Marketing Team Resources [ebook + webinar]
IDC predicts that this year, more than half of all new marketing hires will have a technical background. (source)
How do existing marketers without that background keep pace? And how can teams best merge traditional, digital and new highly technical marketing skill sets for a seamless customer experience and with bottom line results? The following PR 20/20 resources dive into this evolution of marketing talent.
Free Ebook: Evolution of the Prototype Marketer—The Hybrids Are Coming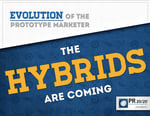 In Evolution of the Prototype Marketer (download the free ebook), Paul Roetzer (@paulroezter) and Tracy Lewis (@tracy_j_lewis) delve into the marketing industry's rapidly growing talent gap, driven by the velocity of change and technology, evolving consumer behavior, and demand for marketing to produce measurable business results.
Complimentary On-Demand Webinar
Like what you read in the ebook above? Check out the complimentary on-demand webinar, hosted by Paul and Tracy, which dives into additional details, resources, and action items for the modern marketing team.
The webinar covers:
What defines a hybrid marketer, and what it takes to recruit and retain this highly sought after talent.
How to advance your team with the skills required for hybrid marketing professionals.
Why agile marketing may be critical to your success.
The impact of algorithms and automation on the marketing industry—and how strategic marketers fit the technology to overall strategy and the bottom line.
Rank Your Team, Evolve Your Talent
What does it take to compete in the modern marketing era, and where does your team stand?
If you haven't already, check out the Marketing Score assessment. It's a free survey that asks you to rank more than 130 factors most relevant for a successful marketing program. The survey includes a section specific to marketing team talent. For more information on this section specifically, read the recent blog post, 15 Skills of the Modern Marketing Team.
Additional resources and next steps are found within these additional posts:
Let us know what you think! Please share your thoughts, and any additional resources you've found helpful on the evolution of marketing talent, in the comments below.
About Jessica Miller
Jessica Miller is VP and managing director of PR 20/20, where she guides strategy and performance, and champions the ongoing pursuit of building a great marketing firm. For more than a decade, Jessica has built lasting partnerships that connect marketing strategy to bottom-line business outcomes. Jessica joined PR 20/20 in 2011 with global agency experience. She is a graduate of the E.W. Scripps School of Journalism at Ohio University. Full bio.