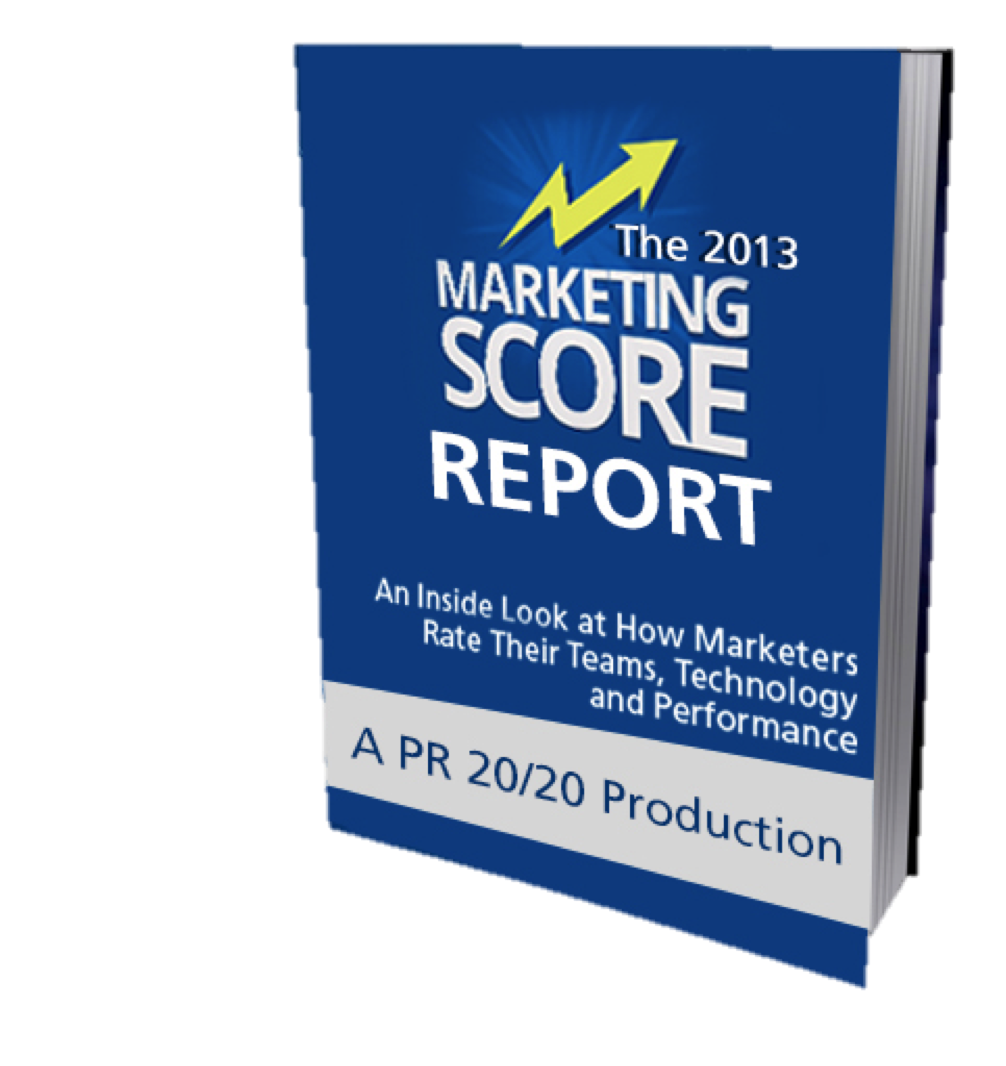 Subscribe
Register to Receive PR 20/20's Free Marketing Score Report
Marketing Performance | Marketing Resources | Marketing Assessment
This fall, PR 20/20 will publish its inaugural Marketing S
core Report based on more than 300 responses to Marketing Score, a free, 132-factor online marketing assessment.
When we launched Marketing Score in December 2012, we knew it had potential to provide unparalleled insights into the marketing industry. The goal of the assessment was to enable marketers to more accurately benchmark the foundation of their marketing program, identify top priorities and goals, and set realistic expectations and strategies into motion that would help them achieve success. The journey to its inception is detailed in the post, Origins of a Marketing Intelligence Engine, by Paul Roetzer (@paulroetzer).
Marketing Score's description from that post summarizes where we are now, and where the potential lies:
"It's a subjective analysis from the viewpoint of internal stakeholders, including sales/marketing management and company executives. It's also a marketing intelligence engine that recommends actions to improve your performance."
The second half of that sentence is what we're now one step closer to achieving.
Marketing Score Report Findings: What's in Store?
As marketers continue to use the assessment to subjectively rank the performance of their marketing programs, we're able to draw correlations between various factors and how they relate to organizations' overall business and marketing goals, industry, marketing budget, and more.
The outcome is an inside look at how marketers and other key company stakeholders rate their talent, technology and performance across more than 130 factors. The report will offer key findings, visualizations, as well as strategic analysis, all of which aims to help marketers apply lessons learned to their own organizations, and drive improved performance.
You'll see key findings, such as:
Overall, the 3 highest rated sections are Business Cores (63%), Marketing Cores (56%) and Audiences (50%).
B2B organizations score 13% higher on average than B2C organizations.
51% of B2B organizations do not use webinars, 43% do not publish ebooks and 17% do not blog.
Interested in more findings from the report? Paul will preview Marketing Score Report findings at Inbound13, HubSpot's annual inbound marketing conference in Boston. And you can register to be among the first to access the report when it's published in September.
Complete your Marketing Score assessment to see how you rank against report findings, and register to receive the free report once it's available.
About Jessica Miller
Jessica Miller is VP and managing director of PR 20/20, where she guides strategy and performance, and champions the ongoing pursuit of building a great marketing firm. For more than a decade, Jessica has built lasting partnerships that connect marketing strategy to bottom-line business outcomes. Jessica joined PR 20/20 in 2011 with global agency experience. She is a graduate of the E.W. Scripps School of Journalism at Ohio University. Full bio.