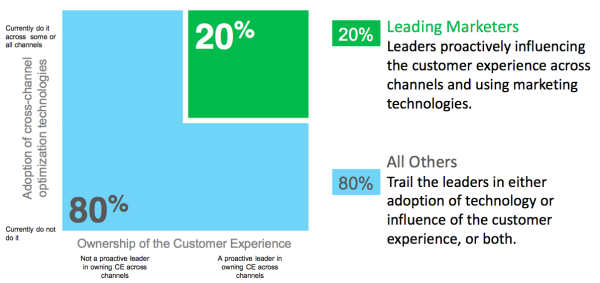 Subscribe
Marketing Talent: How to Know If You're a Leading Marketer
Earlier this year, The State of Marketing 2013: IBM's Global Survey of Marketers, introduced marketers to the idea that traditional marketing demands are shifting, and leading marketers now have a hand in—and are being held more accountable for—the overall customer experience.
The report, based on survey responses from more than 500 global marketers, asked about common marketing challenges and technology integration, especially in response to shifting customer purchase habits.
Within the report, IBM segments two types of marketers: leaders and others. "Leading marketers" are defined as those who have adopted cross-channel optimization technologies and who have proactive leadership owning customer experiences across channels. These are the marketers who have found new ways to "integrate technologies and transform their marketing approaches in order to keep up (with today's consumer)."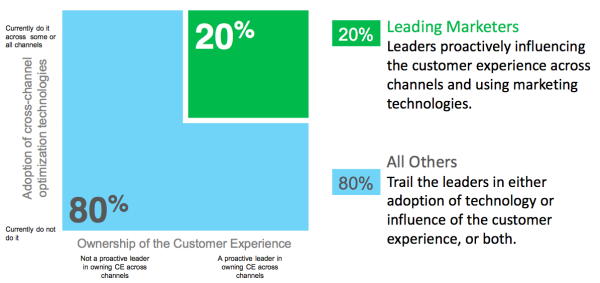 What are marketers' top marketing challenges? According to the survey, respondents rank:
Acquiring new customers.
Retaining existing customers and improving loyalty and satisfaction.
Creating consistent, relevant and positive customer experiences across channels.
Top challenges relate to customer acquisition (traditionally a sales function), loyalty (traditionally a service or support function), and a personalized experience on every brand front (finally, a traditional marketing function).
The chart below lists additional marketers challenges from the report.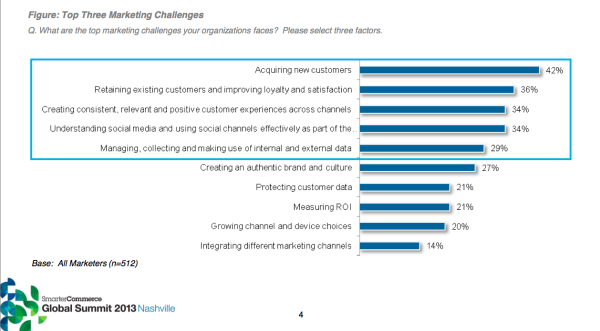 So, How Do You Take Action?
The IBM report advises marketers to become leaders by working on 3 steps: integrate your channels, act on insights, and be the customer.
Integrate channels. Identify touchpoints across digital and traditional systems, and start integration. Gather stakeholders to collaborate on a centralized brand story, consistent cross-channel experience, regular results reporting, and updated process for aligned strategy and fostered teamwork across existing channels or silos.
Act on insights. How are marketing teams owning metrics across the funnel? For example, is the blog team reporting on new visits, post engagement, network shares, and other relevant brand metrics? Is the conversion team reporting new leads or sales, and what touchpoints are consistently bringing the most qualified leads to the business? Report regularly, and take stock at least on a quarterly basis to act on insights with adjusted strategy.
Be the customer. This means going beyond the more traditional marketing role of brand building deeper into the full funnel—into conversions, customer acquisitions, retention, and deep brand loyalty.
Move Toward Marketing Leadership
How have your ideal customers' buying habits shifted? And how are you responding to the need for multi-channel, full-funnel support?
Would love to hear how your challenges align with the survey results above, and the tips you have on moving your marketing forward.
About Jessica Miller
Jessica Miller is VP and managing director of PR 20/20, where she guides strategy and performance, and champions the ongoing pursuit of building a great marketing firm. For more than a decade, Jessica has built lasting partnerships that connect marketing strategy to bottom-line business outcomes. Jessica joined PR 20/20 in 2011 with global agency experience. She is a graduate of the E.W. Scripps School of Journalism at Ohio University. Full bio.