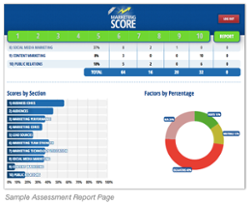 Subscribe
The 2014 Marketing Score Report: An Inside Look at How Professionals Rate Their Marketing Potential and Performance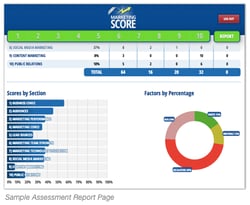 The 2014 Marketing Score Report takes an inside look at how 318 marketers, executives, and entrepreneurs rate their organizations, using 132 factors across 10 sections. The factor ratings (0-10 scale) are combined with 27 profile fields (e.g. annual revenue, revenue goals, marketing budget, employee size, industry, sales cycle length) to provide strategic insights, and help drive change and improved performance.
The report is free to download now (large file, no contact information required):
Learn how hundreds of marketers, executives, and entrepreneurs rate their marketing programs.
Drill into charts, data, and analysis from 27 profile fields and 132 assessment factors.
Compare your Marketing Score report to the benchmark findings.
Gain insight into critical questions to consider as part of your 2014 marketing strategy.
Discover how high performers excel in key marketing metrics.
Get 15 tips to improve your marketing performance.
Marketing Score is designed to be a marketing strategy and management tool. Consider the following questions when reviewing the report, or completing your own assessment, and use them to drive change and improvement within your organization.
Does your organization have the right marketing talent, technology, and strategy to achieve its performance goals?
Are your expectations for growth aligned with your potential?
Are there weaknesses in your business and marketing cores?
Are you maximizing the return on your marketing investments?
Do you have the right agency partners that fill internal marketing team gaps, and add expertise and skills in critical growth areas?
Are your resources aligned with priority marketing goals? For example, if "generate leads" is a high-priority goal, do you have the right talent, technology, and strategy to achieve it?
What are the opportunities for underdogs and innovators that don't have the resources of their larger competitors?
What can large enterprises do to stay on top, when nimble organizations develop more modern marketing teams, more quickly adapt to marketing technology advancements, and build more intelligent and efficient marketing strategies?
Download The 2014 Marketing Score Report.
10 Sample Findings
Business Cores (63%) and Marketing Cores (56%) are the highest rated sections. Lead Sources (32%), Public Relations (29%), and Content Marketing (25%) are the lowest.

Generate leads (86%)

is the highest priority marketing goal, followed closely by convert leads into sales (85%).

64% of organizations have aggressive (>20%) or moderately aggressive (15-20%) growth goals. 56% of organizations have conservative (<5% of revenue) or moderately conservative (5-10% of revenue) marketing budgets.
Organizations founded post-1990 are more social media savvy, have higher marketing technology utilization scores, and are better at creating and distributing content.
57% of organizations plan to launch new products, and 51% plan to target new vertical markets, in the next 12 months.
Key performance indicator (KPI) weaknesses at every stage of the marketing funnel affect the ability of organizations to achieve business goals.
Marketing automation high performers (8-10) have an average lead-to-sale conversion rating of 6.1, 1.6x the average rate of all others (rated 0-7). These high performers rate cost of customer acquisition (COCA) 1.4x stronger, and have an average overall Marketing Score of 61%, 1.5x all others.
Internal social network high performers (8-10) have an average internal communications strength rating of 8.2, 1.3x the average rate of all others (rated 0-7). These high performers have stronger corporate cultures (1.2x), employee relationships (1.2x), and employee retention rates (1.2x).
21% of organizations are not blogging. Another 36% rated their blogging 1-5. Only 23% are high performers, rating blogging as an asset (8-10).
Blogging high performers (8-10) dominate all others in a number of critical marketing performance metrics, as well as overall Marketing Score.
I hope you find value in the report, and that it plays a small role in helping to move your organization's marketing forward. Download your report here, or check out the SlideShare below.
About Marketing Score
PR 20/20's Marketing Score is a free online marketing assessment tool designed to rate the strength of business and marketing foundations, forecast potential, and align expectations. The product was released into public beta December 2012.
Marketing Score is based on the principle that every element of an organization, as it relates to marketing, can be divided into assets, neutrals, and escalators. Assets are strengths that can accelerate marketing success, and escalators are weaknesses that require additional resources to improve.
About Paul Roetzer
Paul Roetzer (@paulroetzer) is founder of PR 20/20, author of The Marketing Performance Blueprint and The Marketing Agency Blueprint, and creator of The Marketing Artificial Intelligence Institute and Marketing Score. Full bio.