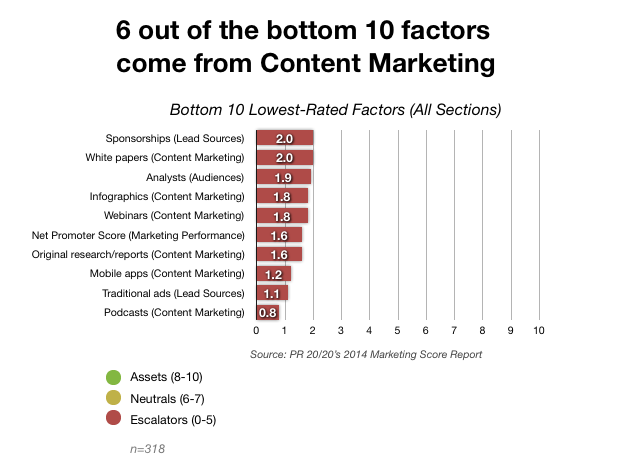 Subscribe
How Does Your Content Marketing Compare?
If you could rate your organization's content marketing on a scale from 1-10, what score would you give? If you could look at the whole of what your team has produced—blog posts, white papers, case studies, ebooks—and compare it to marketers across the country and around the world, how would it hold up?
These are some of the questions that our 2014 Marketing Score Report set out to raise and to answer. After compiling assessment results of more than 300 marketers, executives and entrepreneurs, some of the findings are tough to swallow:
Overall, content marketing is the lowest rated among Marketing Score's 10 sections, with an average section score of 25% (slide 11). And, as shown in the chart below, of more than 130 factors ranked, 6 out of the 10 lowest ranked factors fall under content marketing (slide 13, below).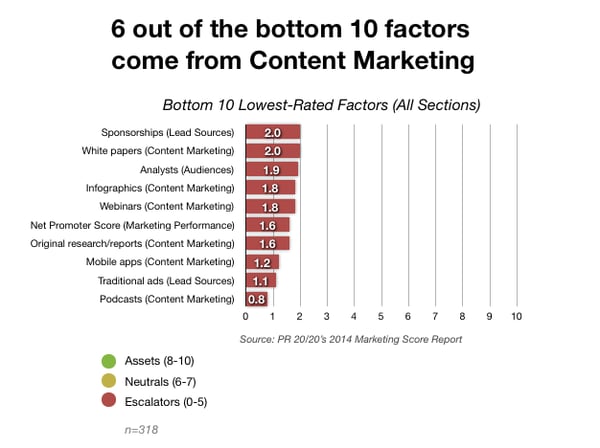 Ouch. While content marketing seems to be all the rage (see Mashable, Search Engine Journal, Forbes), clearly something else is going on inside company walls. Let's dig a little deeper.
Content Marketing Is Struggling
Organizations are missing opportunities to generate and nurture leads due to enormous gaps in their content marketing programs (slide 46, below).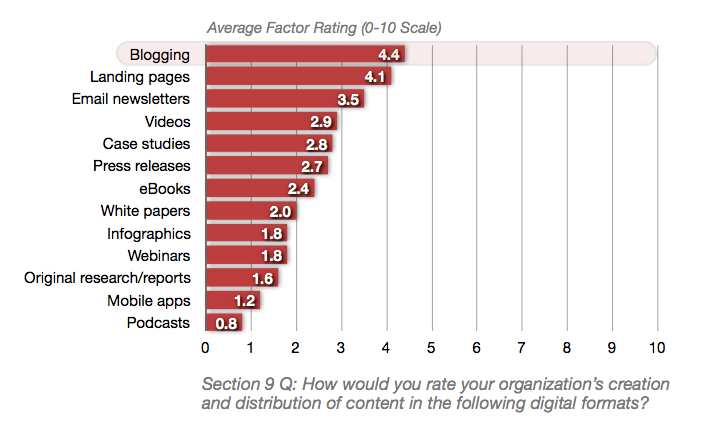 Of the factors specific to content marketing above, the highest rated factor is blogging at a relatively weak average score of 4.4.
Why do so many organizations struggle with content marketing? In part, it's because businesses lack the marketing talent, technology and strategy to realize their potential. And it shows:
Organizations with moderately aggressive budgets (the highest scoring budget segment) dominate organizations with conservative budgets (the lowest scoring budget segment) in all 10 sections (slide 27, below).
Comparing these segments, the largest gaps occur in:
Content marketing (1.9x)

Social media marketing (1.9x)
Marketing technology utilization (1.5x)
Public relations (1.5x)
Lead sources (1.4x)
Marketing performance (1.4x)
Moderately aggressive budgets rated themselves 1.9x higher in content marketing than conservative budgets, drawing a clear line between resources and results.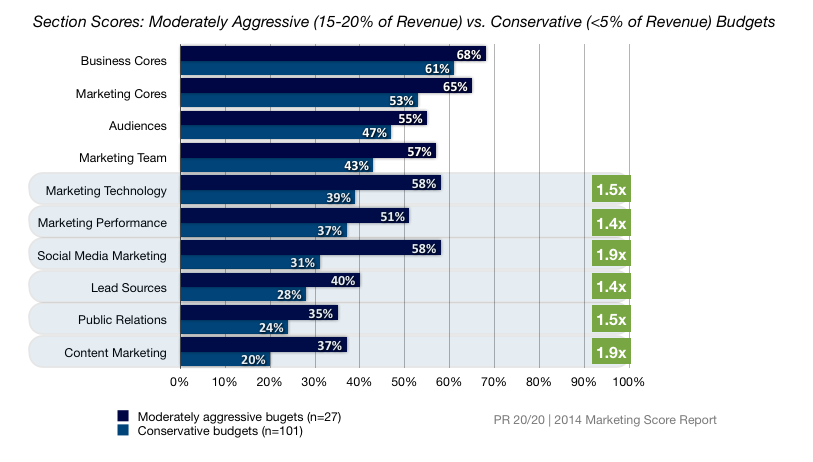 For more details related to content marketing and overall marketing performance, read the full 2014 Marketing Score Report.
Collectively, we're struggling to create effective content marketing—but you don't have to be a statistic. If you're ready to do what it takes to outperform the competition, here's how to address organizational weaknesses in content marketing.
1. Commit to content.
The 2014 Marketing Score Report found that 21% of organizations are not blogging, and another 36% rated their blogging 1-5. Only 23% of organizations are high performers, rating their blogging as an asset (8-10) (slide 47).
Success begins and ends with an organizational commitment to content as a viable strategy to support search, social, email, web and marketing automation efforts. This likely requires buy-in from decision makers and your content team.
Raubi Perilli's (@RaubiMarie) Prove Content Marketing ROI to Your CEO: 4 Values to Communicate is a good place to start.
2. Build from the ground up.
"Those who fail to plan, plan to fail." No, really. Don't expect to launch an aggressive content marketing program if you're still lacking the building blocks of a modern marketing foundation.
Whether you sign up for a free Marketing Score assessment, or use another means to evaluate your organization's content, conduct an honest assess where you are right now, and make sure you have the infrastructure, assets and processes to succeed. If not, align performance expectations accordingly and focus short-term efforts on addressing weaknesses.
3. Set benchmarks and track your progress.
If you can't tie your efforts to quantifiable performance metrics, you'll never know whether your program is succeeding or failing. And as Paul Roetzer (@paulroetzer) predicts in Mapping the Next Frontier in Content Marketing:
"Next-generation marketers must have a clear understanding of how their actions impact organization goals. Closed-loop sales monitoring ensures marketers can tie activities to metrics that matter, easily identify bottlenecks in marketing campaigns and sales processes, and continually improve over time."
To start, identify the 5-10 metrics most important to your organization and build a scorecard to track performance over time. Two great resources are Paul Roetzer's How to Build a Scorecard to Measure Content Marketing Effectiveness and Justin Gray's (@myleadmd) Marketing Metrics to Embrace & Ignore.
4. Remember to be useful.
Don't forget what content marketing is really about: Being useful to your target audience. Many organizations can't think outside the written-word box, and are focused on production instead of purpose.
Meet your audience where they are, and don't be afraid to step outside your comfort zone—Infographics, webinars, original research and mobile apps were some of the lowest-rated factors.
To stand out from the crowd, you need to be exceptional. (I love this no-nonsense post from Jay Baer (@jaybaer).)
5. Repurpose.
It's time to reduce, reuse, recycle your content. Work smarter, not harder.
Plan your editorial calendar in advance and create fully integrated content campaigns that incorporate search, social, web and email while addressing each stage in the buying process. Then take each topic and repurpose it: roll a blog post series into an ebook; turn ebooks into slideshows; morph that slideshow into a webinar.
Create Great Content? How to Get More From It Through Repurposing, by Arnie Kuenn (@ArnieK) will get you started.
To round out your reading list, here are additional resources that can kick-start your content marketing efforts:
How have you identified and addressed weaknesses in content marketing? What marketing challenges do you plan to take on in 2014?
About Taylor Radey
Taylor Radey is the director of marketing and a senior consultant at PR 20/20. She joined the agency in April 2013 with a background in digital and content marketing. She is a 2009 graduate of the E.W. Scripps School of Journalism at Ohio University, where she received a Bachelor of Science in Journalism, with a focus in public relations. Full bio.