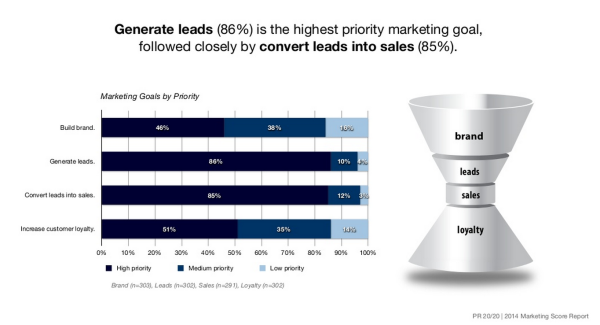 Subscribe
Leads & Sales: Marketers' Top Goals for 2014
According to The 2014 Marketing Score Report, marketers, executives and entrepreneurs' highest priority goals are to generate leads (86%) and to convert leads into sales (85%).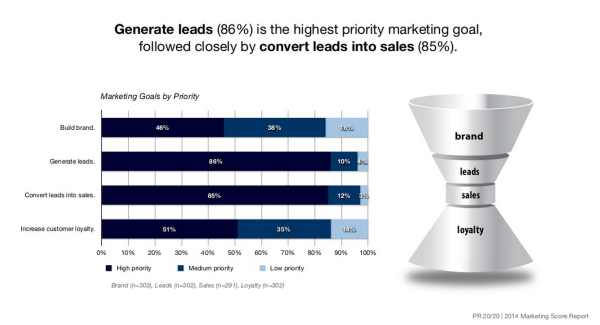 However, when asked to rank overall Marketing Performance (slide 35 of the report), scores on factors critical to leads and sales have room for improvement. On a scale from 1 to 10, average scores across more than 300 responses rank in the red:
Lead Volume: 3.7
Lead Quality: 3.1
Lead-to-Sale Conversion Rate: 3.9
Despite being identified as top goals, a majority of respondents are not satisfied with existing lead volume, quality, or conversion rates.
Let's dive a little deeper into insights on leads and conversions—and how teams can take action to achieve top marketing goals.
Lead Generation
Organizations lack strength and diversity in their lead sources (slide 37). As shown in the chart below, key digital channels—such as organic search, social media and blogging—are rated on average as weaknesses.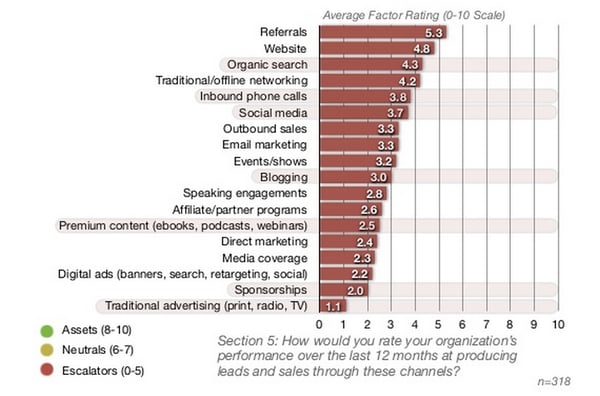 The Marketing Score assessment asks members to rank the above 18 potential sources for marketing- and sales-qualified leads. Not only do organizations need to consider multiple channels for lead gen, but they must also have the right marketing technology in place to measure and attribute leads to those channels.
Lead-to-Sale Conversion Rate
Lead-to-sale conversion rates for organizations with sales cycles greater than 12 weeks are 23% below the all-member average (slide 26).
Why so low? The chart below shows ratings for tactics critical to lead nurturing and conversion in organizations with long sales cycles.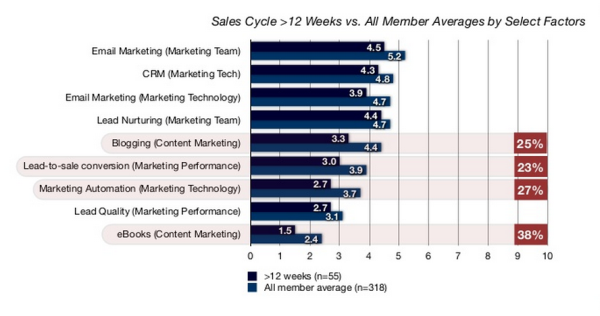 Especially in longer sales cycles, compelling content across the complete customer journey is critical for staying top-of-mind and helpful during the decision-making process. Yet as shown in the chart above, publishing blog posts and ebooks are some of the lowest ranked factors. In addition, the right foundational technologies (i.e. CMS, CRM, marketing automation) are needed to align marketing and sales efforts for conversion.
For more details related to leads, sales and overall marketing performance, read the full 2014 Marketing Score Report.
Take Action to Achieve Top Marketing Goals
We've established that marketers have a bit of work to do this year to hit lead gen and conversion goals out of the park. Consider the following 4 tips to improve.
1. Evaluate benchmark performance.
Examine your organization's average ratings for lead source factors. Exclude those that are irrelevant, and highlight channels that should be a priority focus for your team moving forward.
Next, compare responses to actual data, and consider how you're tracking performance overall. Do you have the right marketing analytics and technologies in place to attribute lead sources and overall campaign success? Are assessments on target against actual performance metrics, or are there gaps in perception versus actual results?
Consider improved tracking technology an immediate foundational project—or builder campaign—for this year.
2. Set realistic lead gen expectations.
Lead Sources currently scores a low 32%, and the section ranks 8th among the 10 sections overall. Therefore, marketing teams need to evaluate current benchmark performance, and set realistic expectations across the organization from the start.
Examine last year's data, and work backward against sales goals: how many marketing qualified leads (MQLs) will it take to achieve your desired conversion rate? Are you confident in working against actual quantity and quality performance goals?
For a good resource article, I recommend How to Set the Right Lead Gen Goals for Your Marketing Team, by HubSpot's Alison Savery (@AlisonSavery).
3. Optimize content marketing efforts for leads and sales.
Customer-focused content is the heart of most marketing strategies, and plays a critical role when it comes to finding new audiences, leads and loyal customers.
Take a new approach and centralize content around your top goals: lead generation and conversion. Ask yourself:
What are your most popular downloads, and are there opportunities to revitalize these assets for quick wins?
What are your most clicked-through links in existing nurturing campaigns? Can you better optimize these pages for conversion?
Can you create additional deeper-funnel content (e.g. testimonials, case studies) to further shorten sales cycles and improve conversion rate?
4. Align marketing and sales efforts to close the loop.
You can bring in new and qualified leads all day long, but unless you're on the same page with your sales team in terms of processes, lead quality, handoff, measurement and the like, your efforts may be in vain.
According to Forrester, "57% of marketing execs reported weak or mixed collaboration with sales when, 'defining lead qualification criteria' and 'administering leads and lead pipelines.'"
Get marketing and sales on the same page with the following tactics:
Review each team's performance benchmarks and goals.
Define your ideal customer profile (ICP) together.
Review requirements for MQLs and sales qualified leads (SQLs).
Discuss capacity. How many leads can your sales team actually work?
Refine the handoff process. Ensure sales is aware of where leads are in the funnel, what communications they've already received, and how to report on quality and conversion.
Interested in additional resources? Consider the following recommended reads:
Compare your own Marketing Score to findings from our 2014 Report above. Become a member today.
About Jessica Miller
Jessica Miller is VP and managing director of PR 20/20, where she guides strategy and performance, and champions the ongoing pursuit of building a great marketing firm. For more than a decade, Jessica has built lasting partnerships that connect marketing strategy to bottom-line business outcomes. Jessica joined PR 20/20 in 2011 with global agency experience. She is a graduate of the E.W. Scripps School of Journalism at Ohio University. Full bio.