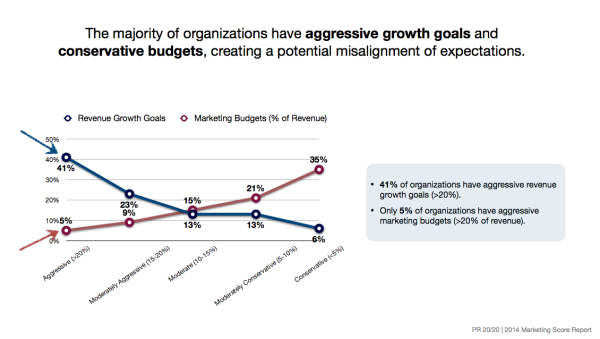 Subscribe
Misaligned Marketing Expectations?
3 Tips to Better Align Marketing Budget & Revenue Growth Goals
One of the most fascinating slides (in my opinion) within The 2014 Marketing Score Report, tells the tale of an inverse relationship between marketing budget and revenue goals.
Of the 300+ Marketing Score surveys included in the report, the majority of organizations have conservative budgets (35% of those surveyed allocate less than 5% of revenue toward marketing), yet aggressive growth goals (41% plan to grow revenue more than 20%).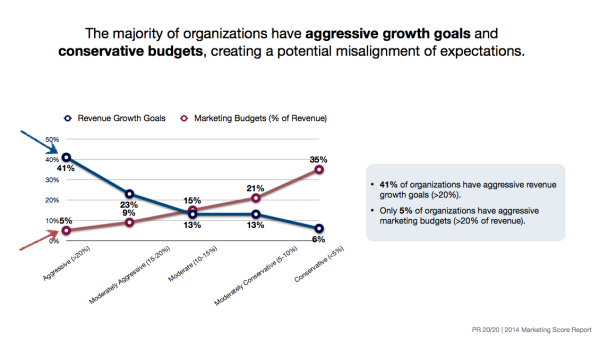 While budgets and goals do not align for a majority of respondents, report findings show that those organizations that do allocate moderate budget toward marketing outpace all others when it comes to marketing performance and results—especially in terms of top- and mid-funnel marketing activities.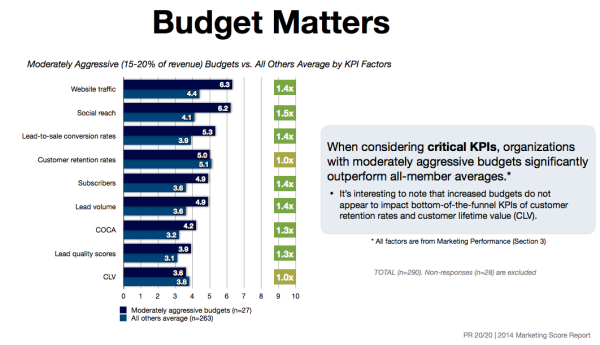 For more insight, check out the full
2014 Marketing Score Report
.
As an agency marketer with two perspectives—helping clients forecast and construct recommended marketing budgets, and working within parameters of predetermined marketing budgets—it's interesting to ask whether businesses are thinking about budgets and goals congruently, and if so, which comes first?
While we could get into the details of mapping revenue goals or marketing budget, I'll save that for a later post. Instead, let's dive into actionable steps you can implement today to better align expectations, show marketing's worth (AKA speak revenue more naturally), and secure a place in the next revenue goal conversation.
1. Tell Stories that Tie Activities to Outcomes
Stop hiding behind arbitrary metrics and outputs! Gone are the days where impressions, ad equivalency, and number of blog posts, social updates, or emails sent justify marketing's worth. Marketing and sales technology is ready to tie every campaign you're running, and channel it's delivered through, to bottom-line business results that will help reserve or secure marketing's seat at the executive table.
Here's a challenge for that next time you're asked, 'What's new from marketing?' Rather than only mentioning a newly published blog post, tie in the fact that 100+ new visitors already found the website via that specific post; those visitors stayed on the site 3 minutes longer (and saw 500% more site pages) than those who did not enter via that blog post; and that the post already assisted in 8 goal conversions.
Being able to tie activities to outcomes (e.g. web traffic, leads and sales) starts with your familiarity with what's possible. Develop digital analysis skills with Google's training and certification resources, and track marketing efforts all the way through your CRM to close, upsell, and loyalty.
At every stage of the customer journey, showcase marketing's most impactful touch points with examples. Gain a new follower who also happens to fit your ideal customer profile? Media relations' efforts result in a few new media blog subscribers? Automated email campaign move new contacts to SQLs? Spotlight those specific stories in your next performance update to tell a more colorful, powerful story on marketing activities and outcomes.
2. Know Marketing's Worth
… And by that, I mean be able to fluently speak the language of modern marketing performance metrics. This is huge in terms of setting expectations, and tying marketing goals more closely to your organization's overall revenue goals.
Pop Quiz: What's your organization's average CPL (consider MQLs and SQLs), how does if vary per channel, and which campaigns have produced highest quality leads? Shift focus from leads to customers—what's your current cost of customer acquisition, how does it vary per channel, and which implicit and explicit factors signal greater lifetime value?
Kudos if you're able to answer the above questions. You've successfully tied marketing performance goals and intelligence to overall bottom-line impact.
For a refresher on metrics that will matter most to your executive team, check out the links and resources included in the later half of the blog post, 18 Marketing Performance Metrics that Matter.
3. Align Revenue Channels and Marketing Strategies
Tie benchmark performance and revenue goals to benchmark marketing performance and short- and long-term targets. Parse incoming revenue by channel for a look at what's currently driving the needle via partners or resellers, existing customer upsells, new acquisitions, one-off sales, and/or recurring revenue.
Look for opportunities to more deeply integrate marketing activities per revenue stream. Forecast potential from there to better align marketing budget and performance goals with overall revenue goals.
Are your organization's budget and revenue growth goals on target, or do you rank with the majority represented in the results above? How are you working to better align marketing performance and overall business growth? Share your experiences below.
About Jessica Miller
Jessica Miller is VP and managing director of PR 20/20, where she guides strategy and performance, and champions the ongoing pursuit of building a great marketing firm. For more than a decade, Jessica has built lasting partnerships that connect marketing strategy to bottom-line business outcomes. Jessica joined PR 20/20 in 2011 with global agency experience. She is a graduate of the E.W. Scripps School of Journalism at Ohio University. Full bio.