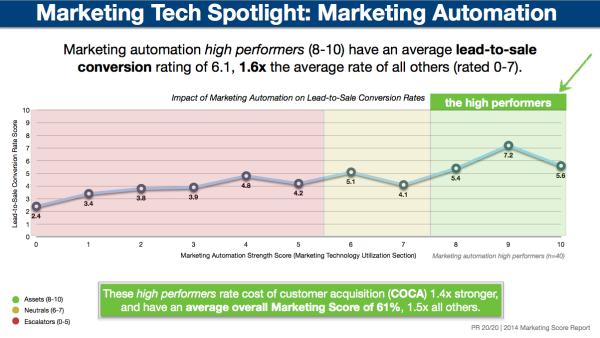 Subscribe
Marketing Automation Software: Market Trends and Implications
How are marketers approaching marketing automation technologies? And what types of trends and options affect their decisions?
The 2014 Marketing Score Report asked about the specific technologies organizations were using to power their marketing programs. Twenty-six percent* reported not having marketing automation in place, a technology critical for organizations focused on improving lead-to-sale conversion rates, driving repeat purchasing, and enhancing the overall customer experience.
* Note that The 2014 Marketing Score Report takes an inside look at how 318 marketers, executives, and entrepreneurs rate their organizations using 132 factors across 10 sections. These professionals are a more tech-savvy audience than most, which may account for a higher adoption rate. For a breakdown of respondent demographics, see slides 61-69 of the full report.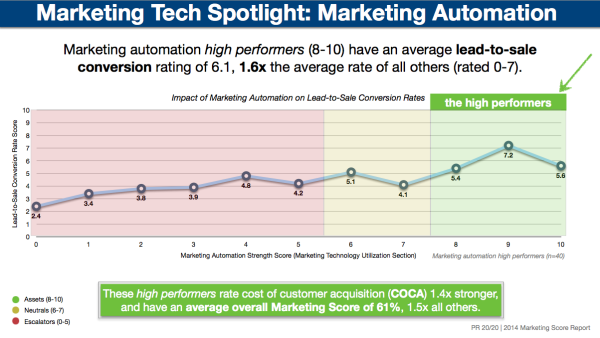 Source: The 2014 Marketing Score Report, page 43.
The marketplace for marketing automation software is in constant flux; acquisitions and emerging players are continually making headlines. As marketers strive to meet demands for more personalized customer communications, across multiple channels and along multiple stages of the customer journey, marketing automation software becomes critical for achieving day-to-day marketing activities.
Recently, Software Advice released research on marketing automation buyer trends among small- and medium-sized businesses. The report's key findings are telling of the current state of marketing automation software adoption:
Most (91%) are evaluating marketing automation software for the first time.
To function without marketing automation software, 48% of those surveyed are currently managing marketing activities with CRM software.
Why are they interested in marketing automation? Improved lead management ranks as a primary motivator for 40% of those surveyed.
Relatedly, 81% of marketing automation buyers' most desired feature is "lead nurturing," which ranks ahead of reporting and analytics (70%), lead scoring (64%), and email (47%).
Overall, findings echo the challenge marketers face to "do more with less," and tie results to campaign activities.
"The pressures on marketers today keep getting greater and greater as there are more channels to market in, more types of marketing programs to manage, more data available for intelligent buyer segmentation and higher expectations for personalized communication among your buyers and prospects. As a result, there's an increasing need for a marketing automation solution that can help manage these challenges."
- David Raab (@draab), owner of Raab Associates, Inc.

Read the complete report findings here: Marketing Automation Software BuyerView | 2014.
About the Report: Findings from the report are based on data from 896 interactions with marketing automation software buyers throughout 2013. Of those surveyed, 50% of organizations have less than 50 employees; 15% have 500+ employees.
How Do You Navigate the Marketing Automation Marketplace?
The marketing automation landscape is in constant flux. Between acquisitions and new emerging vendors, it's a busy space and hard to keep up. Below I've listed a few of the major players, as well as a few tools to compare each. If you're in the market, I'd recommend a look at the top players, with comparisons and demos for your short list.
There are demos, user groups, and forums to help you vet marketing automation options. To start your search, consider the following tools:
G2 Crowd: Review products on a grid, or with a side-by-side comparison.
Software Advice: Featured above, the site includes overviews, demos, reviews, pricing, etc.
TrustRadius: In-depth software reviews, ratings and comparisons.
About Jessica Miller
Jessica Miller is VP and managing director of PR 20/20, where she guides strategy and performance, and champions the ongoing pursuit of building a great marketing firm. For more than a decade, Jessica has built lasting partnerships that connect marketing strategy to bottom-line business outcomes. Jessica joined PR 20/20 in 2011 with global agency experience. She is a graduate of the E.W. Scripps School of Journalism at Ohio University. Full bio.