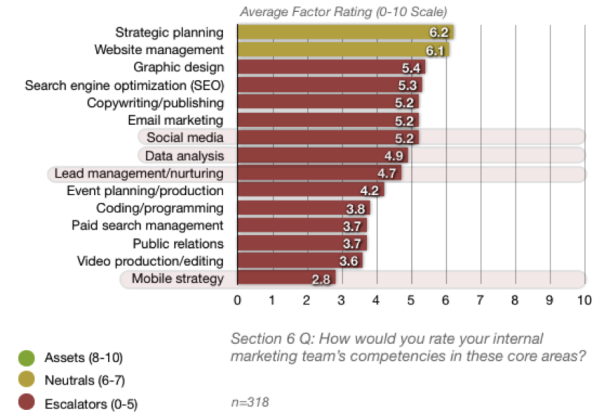 Subscribe
How to Train Your Existing Marketing Team
According to 318 respondents included in The 2014 Marketing Score Report, "Organizations lack confidence in their internal marketing teams, which are particularly weak in key digital marketing skills." With an average section score of 47%, some of the most highly valued digital skills—social media, data analysis, lead management/ nurturing and mobile strategy—were rated as weaknesses.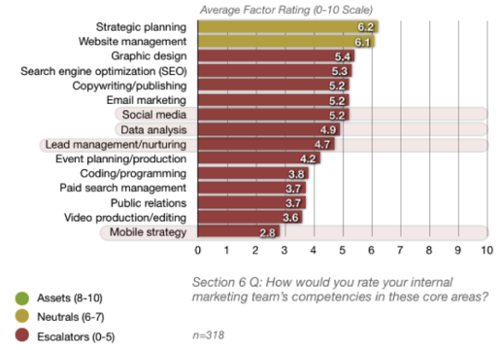 From slide 39 of The 2014 Marketing Score Report.
Why Are Marketing Teams Falling Behind?
According to the 2013 Forrester report, B2B CMOs Must Evolve Or Move On, "96% of CMOs feel that the breadth of marketing skills needed for their teams to succeed has increased dramatically, and 44% say that they can't find the right combination of people and skills in the job market."
None of these factors, however, offer a solution to the problem.
So unless your organization has the resources to find and hire top-quality, hybrid marketing professionals needed to support your advancement, you must look internally to re-train and educate your existing team. And while this approach poses challenges of its own, it is an immediate step in the right direction.
Below are recommendations on how you can update and/or implement a training program to bring your marketing team up to speed with the latest digital marketing skillsets.
3 Ways to Build an Internal Training Program
Think you can't teach an old dog new tricks? It can be done, but requires that your team understands the value of innovation, and wants to progress in their professional skill sets and expertise.
Need some inspiration? Daniel Pink's (@DanielPink) Drive is a must-read for organizations looking to build a team of intrinsically motivated professionals.
Review Current Onboarding Program

Consider what your organization requires of new employees. Cut the fat on unnecessary, outdated training for new employees, and infuse any new technologies, processes and systems used by your staff.

Create a list of the fundamental requirements for all employees, and put new hires on a 6-month completion deadline.

Items to consider:

Basic industry books and webinars that speak to each of the 15 core marketing skills.
Certifications (see list below).
Internal Assets (require your team to read and/or watch the most important content you're producing—blog posts, ebooks, recorded webinars, white papers, etc.).

Once this list is established, take it to your existing employee base, and have them complete a self-assessment (see step 3).

Take Advantage of Existing Programs and Resources

Why recreate the wheel? If your team is lagging in fundamental areas such as data analysis, SEO or general digital best practices (or inbound), use training programs developed by leaders in those spaces.

A few suggestions worth including in your professional development requirements:




Note: Many of these programs are free, though some may include exam fees, such as Google Analytics for $50.

Implement Professional Development Requirements at All Stages

Whether at the beginning of their career or a senior pro, marketers must continually educate themselves to stay at the top of their game. Otherwise, they will fail to reach target audiences, produce results, reach goals and "win" in their market.

According to Accenture Interactive's Turbulence for the CMO report, "Seven in 10 CMOs expect the marketing function to change fundamentally in the next five years."

With no abatement in sight, marketers have the choice to either evolve or become obsolete—the choice is yours.

To keep your marketing team at the forefront of innovation, enact a professional development plan for employees at every stage of their career. Tie these items to goals of efficiency, expertise and needed areas of improvement.

Have current marketing pros benchmark their proficiencies and outline action items for professional development moving forward. Most importantly, hold them to this plan! Create quarterly check-ins with your team to ensure old habits aren't readopted.

Lastly, bridge the gap between young and experienced team members. Create an environment rooted in continual learning and agility that meets the ever-evolving marketing landscape. Look to shared knowledge, and tools that collaboration and the distribution of worthwhile industry news and trends (i.e. internal social network).
Do you have a plan (post-orientation) that encourages pros to remain on the cutting edge of marketing advancements? Or, do you take a hands-off approach that has resulted in a stagnant team? Consider training programs you can implement now that will help your team get caught up to speed.