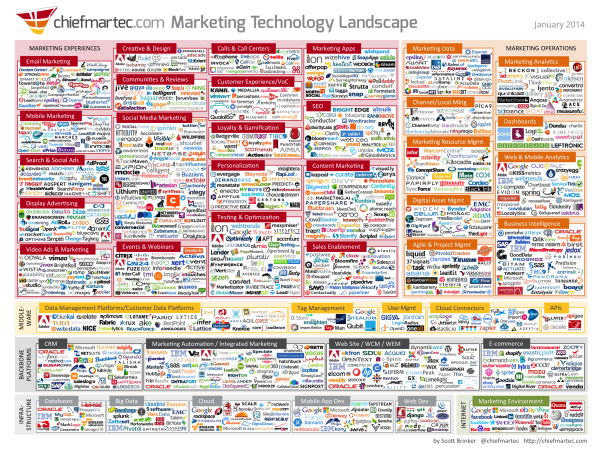 Subscribe
Ready for a New Brand of Marketing?
Marketing Tech Meta-Trends from Scott Brinker
This post recaps Scott Brinker's (@chiefmartec) latest short book, A NEW BRAND OF MARKETING: The 7 Meta-Trends of Modern Marketing as a Technology-Powered Discipline, a quick and important read for the modern marketer.
- - -
As Adobe reported in its survey of more than 1,000 marketers, Digital Distress: What Keeps Marketers Up at Night, 76% feel marketing has changed more in the last two years than in the last 50. What's changed? In summary, the internet revolutionized business 20 years ago. Since then, we've experienced unprecedented proliferation of consumer and business technology.
The marriage of marketing and technology, aimed at delivering customer-centric digital experiences, is an opportunity for marketers—as well as a challenge. Staying on top of the latest in marketing tech can be daunting. It's a vast maze of marketing technology to sift through, select, learn and implement. Take for instance the latest Marketing Technology Landscape Supergraphic (below), with nearly 1,000 marketing software providers.
Source: Scott Brinker, chiefmartec.com
Luckily, there are those dedicated to this space, and doing well to share lessons learned along the way. Scott Brinker (@chiefmartec), co-founder and CTO of ion interactive, launched the Chief Marketing Technologist Blog in 2008. The blog is rich in content—dedicated to the latest in marketing technology, including talent, agile management, data, interviews with marketing leaders and more.
In his latest short book, Brinker takes the core catalysts for change and overall trends shaping the latest in modern marketing technology. Summarized into 7 meta-trends, marketers are able to take a wider lens view into reasons why the tech movement is happening, the possibilities tech brings to the customer experience, and why it's so important.
As Brinker pens:
"These three forces—open information, open communications, and customer experience—coalesced into the perfect storm. Superstorm Internet. And it's the marketing department who ended up right in the center of it … Figuring out how to harness the awesome power of that storm, rather than being battered about by it, is a daunting responsibility. But it has elevated marketing to the very top of the organizational pyramid."
So how is marketing taking over business, and how is technology taking over marketing? The shifts are results of Brinker's 7 meta-trends:
From traditional to digital.
From media silos to converged media.
From outbound to inbound.
From communications to experiences.
From art and copy to code and data.
From rigid plans to agile iterations.
From agencies to in-house marketing.
Has your organization dedicated resources to manage emerging marketing technologies? Or does it fall on the current team to select and activate new marketing solutions? Brinker calls those rising to master the marketing-tech duo, marketing technologists, and explains the breed as follows:
"… they don't think of marketing and technology as separate disciplines. To them, technology is simply the clay from which modern marketing is sculpted. Marketing technologists have fundamentally changed the capabilities of the marketing department. They've cured it of blind codependency on IT and external service providers. They've helped integrate technology into the bones of its strategy and tactics. They've made marketing tech-savvy."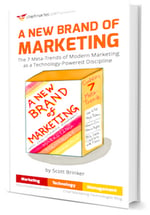 Dive into Brinker's A NEW BRAND OF MARKETING here, and enjoy.
"Anything is possible when marketing and technology collide. Brinker's A New Brand of Marketing concisely captures the fundamental shifts driving the most transformative time in marketing history. Read it, share it, and use it to accelerate change within your organization."

– Paul Roetzer (@paulroetzer),
PR 20/20; Author, The Marketing Agency Blueprint
Want more on the latest in marketing technology? Earlier this month, Brinker and Search Engine Land announced MarTech, a "vendor-agnostic forum for understanding the breadth of marketing technologies and how organizations can effectively integrate them into their marketing strategy and operations." This is the first year for the conference, held in Boston, August 19-20. Hope to see you there!
About Jessica Miller
Jessica Miller is VP and managing director of PR 20/20, where she guides strategy and performance, and champions the ongoing pursuit of building a great marketing firm. For more than a decade, Jessica has built lasting partnerships that connect marketing strategy to bottom-line business outcomes. Jessica joined PR 20/20 in 2011 with global agency experience. She is a graduate of the E.W. Scripps School of Journalism at Ohio University. Full bio.