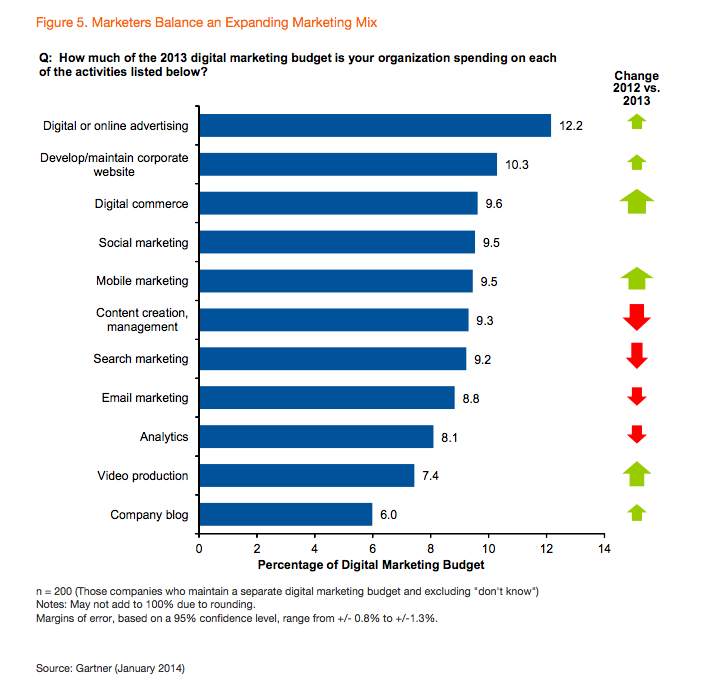 Subscribe
Digital Marketing Budgets Continue to Rise: Up 10% in 2014
Digital marketing budgets continue to rise. From Gartner's Digital Marketing Budgets Increase, Reflecting Focus on Customer Experience report: "digital marketing budgets will rise by 10% in 2014 following a double-digit percentage increase the prior year." The largest increases were reported in digital or online advertising, mobile, ecommerce, and the corporate website.
This was the Gartner digital team's second annual report. (We recapped the first here: U.S. Digital Marketing Spend to Increase 9% in 2013.) For context, 2014 findings were based responses from 285 individuals (located in the U.S.) responding on behalf of their entire organizations. Respondents' average company revenue was $4.4 billion.
The biggest takeaway from Gartner's 2014 report: As marketing leaders work to manage a myriad of technology, processes, and channels for customer engagement (think website, blog, social, chat, in-person, calls and more), it's increasingly critical to have the resources in place to track and decipher the data trails customers leave on those channels—and use that insight for future engagements.
Marketing Budget By Activity
What's the potential for increased digital spend? According to Gartner's report release:
"Marketing leaders are securing bigger budgets to define markets, develop offerings, and attract, acquire and retain customers," said Yvonne Genovese, managing vice president at Gartner. "Digital marketing is taking an increasing share of the marketing budget with annual digital marketing operating budgets totaling 3.1 percent of a company's revenue in 2013, as compared with 2.6 percent in 2012, representing a 20 percent increase."
Where are marketers spending the most? Top responses from the Gartner survey include digital or online advertising, development on the corporate website, ecommerce, social and mobile.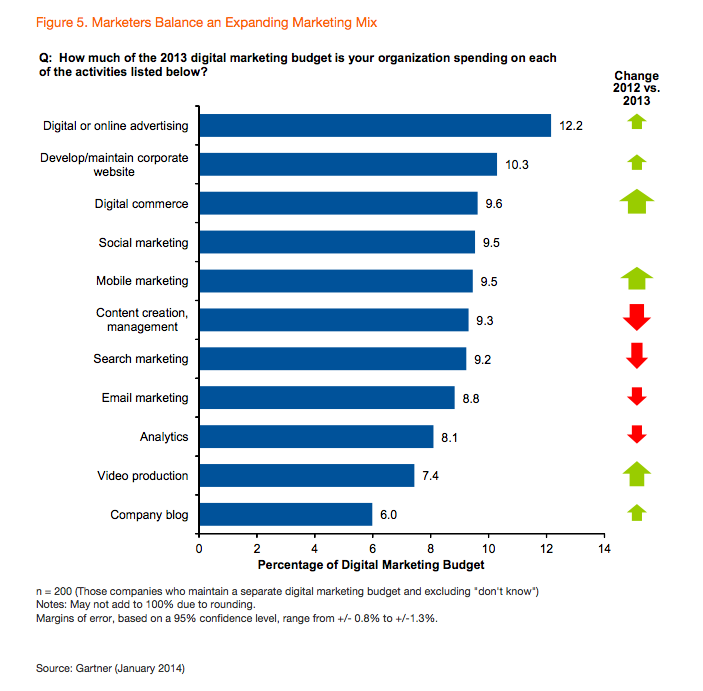 Marketing's Share in Business Results
What does the digital focus mean for marketers?
Bottom Line: Consumers and organizations want to be more customer-centric, so organizations are therefore putting more resources toward digital solutions.
The consumer shift arms marketers with the digital footprints and data needed to track performance, improve customer relationships, and bring performance-driven solutions to the executive table. When digital marketing leaders are the ones driving and reporting on that customer-centric strategy, they earn a seat at the table.
According to the survey results, more marketers have a greater say in digital business strategy:
20% are limited to managing marketing and communications.
42% say they participate in "strategic planning and investment decisions that share business results."
Take Action for Your Organization
So, how is your organization allocating digital marketing budgets, and how does it compare to the findings of the Garter report featured above? Ask:
Who owns our customer experience?
Are sales, marketing, service, IT and executive teams collaborating effectively around the customer journey?
Do we have the foundational and customer-facing technology in place to offer a consistent, omni-channel customer experience?
Where is our current marketing budget spent?
Are budget, technology and talent allocated in a way that keeps our business on par with the way customers choose to engage or purchase?
How are we proactively and continually improving the digital customer experience?
Start the conversation strategically among your own executive team—the Marketing Score platform enables the right conversations to talk goals, resources, and strategy for getting there. Take your Marketing Score assessment, share it with your executive team, then schedule your Marketing Score Brief for additional insights.
About Jessica Miller
Jessica Miller is VP and managing director of PR 20/20, where she guides strategy and performance, and champions the ongoing pursuit of building a great marketing firm. For more than a decade, Jessica has built lasting partnerships that connect marketing strategy to bottom-line business outcomes. Jessica joined PR 20/20 in 2011 with global agency experience. She is a graduate of the E.W. Scripps School of Journalism at Ohio University. Full bio.