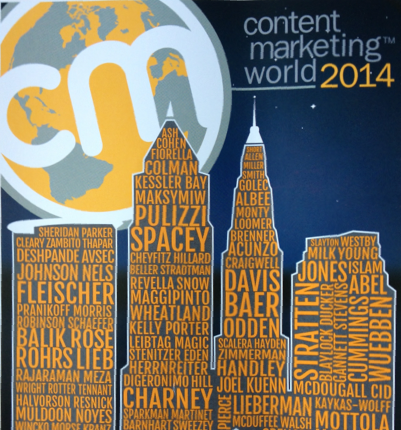 Subscribe
The Future of Content Marketing: 3 Takeaways from Content Marketing World 2014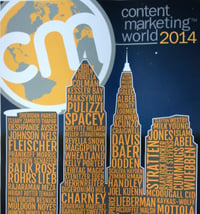 Content Marketing World 2014 in Cleveland, Ohio was punctuated by best-of-breed marketers from all over the world sharing information, insights and, at the event's keynote, a little wisdom from none other than Kevin Spacey.
What does the future hold for content marketing? What trends and takeaways should you be paying attention to? Unlike Spacey's iconic character in House of Cards, Frank Underwood, we can—and will—possibly comment.
1. Scale and Scope Are Bigger Problems Than Selling Content Marketing
Last year, marketers grappled with just how to sell their bosses on content marketing. Talk about a sea change. This year, sessions ranged across the following topics:
How Kraft captures ROI from content marketing.
The process GE uses to determine which channels its visual content performs best on.
SAP's alignment of processes and personas across a 1,600-person marketing team.
How to translate, communicate and scale content marketing to international audiences.
With great scale comes great saturation. As Mark Schaefer (@markwschaefer) talked about in his much-discussed Content Shock post early this year, it can be harder than ever to break into the conversation. Or afford to—as increasing participation from big brands with deep pockets happens on the same playing field with small businesses and startups.
Content marketers must step up their game. It's not just about selling the C-suite on blogging and premium content anymore. Those who can expand the scale and scope of their company's content marketing efforts stand to reap the biggest rewards.
2. Inspiration Is More Important Than Ever
With the very important talk of ROI, data and analytics, content marketers may have found the brains behind the discipline—but forgotten about its soul in the process. A number of talks discussed just how valuable an advantage it is to inspire customers through stories:
Andrew Davis (@TPLDrew) opened with a rousing keynote on "moments of inspiration," or those moments that inspire customers to act. His take? Great storytelling is hard, and proving its ROI even harder. But getting to the heart of storytelling and proving its value couldn't be more necessary in a content landscape that desperately needs a story bigger than itself.
Ann Handley (@annhandley) went so far as to say that writing is the future of content. She made the compelling case for a transition from "too long; didn't read" to "great read; loved it," proving in the process that the most effective marketers are strong storytellers.
Kirk Cheyfitz (@KirkCheyfitz) walked his audience through a real-life example of how one baby food brand transformed its market through an incredible product paired with soulful storytelling.
There's a reason both Handley and Cheyfitz come from journalism backgrounds: the ability to uncover and tell a stirring story is more important to the future of content marketing than ever.
What really gets your customers excited, inspired and, most importantly, active? Chances are it's not your ad spend, but the underlying narrative you tell about yourself and your brand. In the future, content marketers won't need to simply know how to turn a phrase. They'll need to go deeper than that, doing the work to track down and tell the stories that resonate with audiences.
3. We Need to Practice What We Preach
In his spectacular keynote to end Content Marketing World, Kevin Spacey highlighted an important truth about the film and television business: Giving customers what they want, when and where they want it, and making it easy to purchase leads to lasting success. It's the Netflix model writ large, and it also happens to be a key takeaway for content marketers.
As Andrew Davis pointed out in his keynote, we need to rethink the funnel. The internet is far too vast to expect consumers will always find you. Instead, get closer to the center of their universe.
We've always preached that it's the customer's journey, not ours. But how many of us practice that? How many of us truly internalize that customer behavior doesn't always break down into clean, clear channels?
It's a distinction that content marketers must take to heart in the near future, or lose out on passionate brand advocates who drive business. That's why it's never been more important to build your own modern, hybrid marketing team—one that can find, inspire and delight customers anywhere they decide to be.
What future trends did you see on display at the event? We'd love to hear your thoughts.
For additional industry resources from Marketing Score, including top books, blogs, influencers and more, visit our content marketing page.