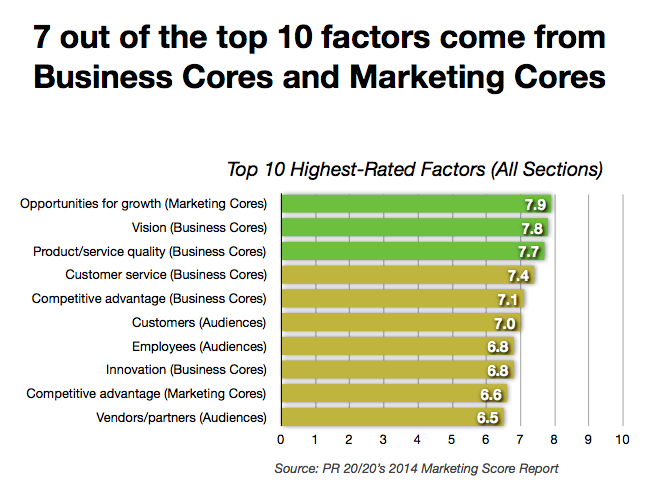 Subscribe
Work Core Business Strength into Marketing Strategy and Performance
When the PR 20/20 team evaluated Marketing Score assessment responses from more than 300 marketers, executives and entrepreneurs at the end of last year, Business Cores and Marketing Cores led as highest rated sections, at 63% and 56% respectively.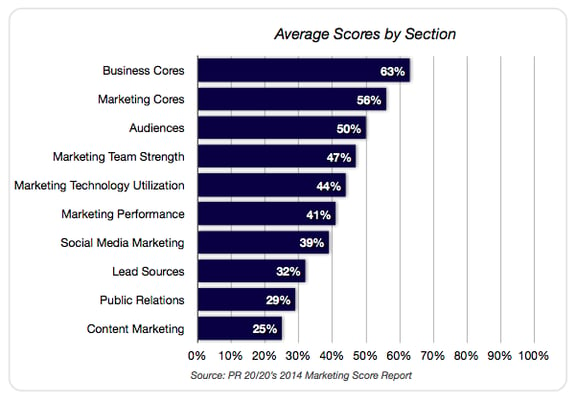 Source: The 2014 Marketing Score Report.
The Business Cores section asks respondents to rank factors essential to the overall success of an organization, such as leadership, vision, culture, product or service quality, financial stability, pricing strategy, sales staff, marketing team, and more. Marketing Cores include factors that directly impact an organization's strategy and performance, and range from opportunities for growth and competitive advantage, all the way to website, marketing and sales integration, existing customer and lead databases, and brand positioning.
The two sections dominated all others when looking at highest-rated factors overall, with 7 of the top 10 factors.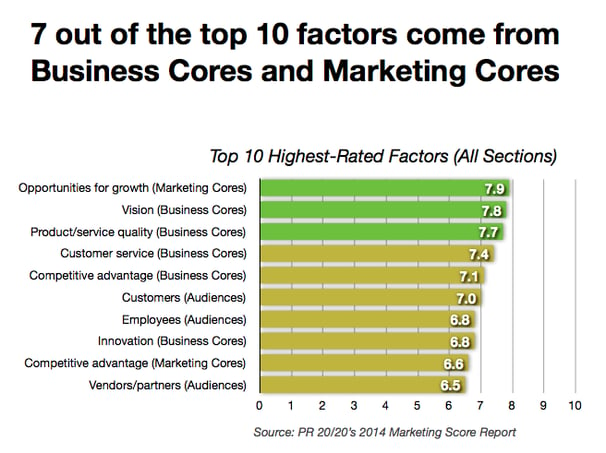 Source: The 2014 Marketing Score Report.
In theory, business and marketing cores set the foundation for overall performance-driven marketing success. If you're tasked with marketing a high quality product or service, for an organization with strong vision and leadership, with a solid marketing platform to build from, the job should be cake. Right?
Yet, the average overall Marketing Score for this same group of respondents is 42%. So where's the disconnect, and why the variance? In this consultant's opinion, the scenario isn't uncommon across many organizations—a real belief in the overall foundation, product or service, and vision, yet failure to translate that strength into tangible marketing performance and results.
Just like your own physical fitness, the core can be activated with every movement. On top of being our body's stabilizer, the core also supports our endurance, flexibility and controlled motions. Weaknesses in your organization's business cores serve as early signals of misaligned and unrealistic growth expectations; strengths should extend throughout the entire organization, bolstering opportunities for successful marketing campaigns. It's critical to work on core, fundamental building blocks early in the marketing strategy process—then translate those strengths across internal and external audiences.
This post examines why, and offers suggestions for alignment.
Who's Rating What?
To start the conversation on the right foot, let's first remind ourselves about just who is taking this survey. Marketing Score is a PR 20/20 product, and gains natural traction through PR 20/20's existing network, which includes those in the inbound marketing space. Here's a deeper breakdown of survey respondents by company position or title:
57% founder, owner, partner

18% marketing manager or director

11% other

8% senior executive

6% sales manager or director
The majority of responses that shape survey results come straight from organizational founders and partners. One could say that stronger ranked business cores, followed by weaker responses to more tactical sections like content, PR, leads and social may be a natural bias. After all, these individuals are focused on building fundamental business cores—not necessarily the details of the blog, enewsletter or social accounts.
Instill Core Business throughout Function and Performance
So, we've established the fact that business and marketing cores rank high across survey respondents. Now let's throw in a curveball: Marketing Performance. This section includes traditional marketing metrics like visits, downloads, social engagement, etc., as well as more integrated marketing and sales metrics, like cost of customer acquisition, customer lifetime value, retention rates, churn, profitability, growth and more.
Overall the marketing performance section ranks just lower than the complete average, at 41%. If the core business and marketing foundations are strong, you'd think overall performance would follow suit. That's where differentiating through action and results plays a major role toward the right performance-driven marketing programs.
Connect Core Strength & Marketing Performance
How do you infuse strong business and marketing cores throughout the organization's different teams, tasks and goals? Let's go back to basics: think of your audiences. Internal and external audiences, plus the message you're bringing to each, can undermine or bolster an aligned marketing strategy.
Involve the C-Suite. Is your executive team footing the bill for marketing resources, yet unsure of what marketing is actually working on, or it's impact on the bottom line? As a marketer, what can you be doing to better show value consistently?

Involve leadership from the start. Take an honest assessment of where marketing sits now, then work together to determine KPIs that move the needle toward overarching goals. Track progress, and report on a monthly basis to the c-suite to keep them involved and aware of the activities that drive performance.

Another tip: get leadership talking about what they see in the industry, how your brand differentiates from the competition, or an overall vision for your organization along with an industry outlook. Take the strengths they already recognize, and make sure you're weaving opportunities for those messages and sound bites into internal and customer-facing content, thought leadership and PR efforts.

Market What Matters. Yes, customers may find you because of content that's specifically targeted to a certain challenge they face and solution your brand provides. And it's easy to fill a content calendar (or year's worth of marketing activities) with that minutia. But it's a deeper connection—one that differentiates and shows purpose—that makes for lifetime customers.

As you map content to the customer journey, discuss competitive advantages to help customers during decision making; make room for c-suite vision to connect on a deeper level with customers; and involve employees and customers as you set pace, work toward that greater purpose, or move an industry forward into thought leadership and PR efforts, as necessary.

Always Consider Your Customer. How would a customer rank your organization's business cores, including leadership, product quality, customer service or competitive advantage? As a marketer, do you have direct customer intelligence or insight that can be passed along to other departments for a better overall experience?

Consider social mentions, comments, active forums, email replies, ratings, survey responses, etc., when thinking about your customers' perception of the overall brand and experience. Enable customers to gain greater access into your organization's core strengths by positioning leadership and their points of view in articles where your customers go for news. Or, connect customers with sales or service reps on social platforms—so they can listen and respond as needed.
Put Potential Into Action
Armed with a more comprehensive view on organizational core strengths—and how to communicate these strengths to internal stakeholders and customers—work messaging around the brand's competitive advantage, vision, etc., into your overall strategy.
How is your marketing team incorporating business and marketing cores into its overall strategy and performance? Or as a business executive, how are you communicating core strengths across the organization and customer base? Share these and any additional thoughts below!
About Jessica Miller
Jessica Miller is VP and managing director of PR 20/20, where she guides strategy and performance, and champions the ongoing pursuit of building a great marketing firm. For more than a decade, Jessica has built lasting partnerships that connect marketing strategy to bottom-line business outcomes. Jessica joined PR 20/20 in 2011 with global agency experience. She is a graduate of the E.W. Scripps School of Journalism at Ohio University. Full bio.