Don't you love it when Gmail finishes your sentences for you? Or when Grammarly helps you sound a little less grammatically incorrect? We have sentence generation in artificial intelligence, machine learning, and machine translation to thank for that.
Natural language processing (NLP) and natural language understanding (NLU) are the programming of computers to recognize and understand large amounts of natural language data. Natural language generation (NLG) then uses that structured data and transforms it into text and language we can understand.
Advancements in artificial intelligence, machine learning, and sentiment analysis in this space are providing huge opportunities for marketers-primarily thanks to developments in natural language processing and natural language generation.
In fact, thanks to a new, powerful language model like GPT-3, many commercially available artificial intelligence and machine learning tools now offer sophisticated ways to generate human language using machines.
Keep reading to uncover the three goals that sentence generation thanks to natural language processing and natural language generation can help you achieve.
Use Case #1: Freeform Text Generation
The one thing you want as a marketer with NLG is freeform text generation. Freeform text generation doesn't rely on structured data, meaning that you don't need a database or spreadsheet readily available.
With freeform text generation, you provide an input like a phrase, sentence, or paragraph. Next, the user allows the output to be controlled. As a result, the NLG system produces an output as a continuation of the input.
Google Smart Compose is a great example of this in action. Gmail attempts to predict a phrase following a one-word input. This model leverages human feedback to continuously improve.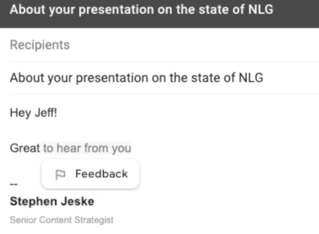 Source: MarketMuse
Freeform text generation can be beneficial to marketers when creating long-form articles, blog posts, emails, and much more. The possibilities are endless with freeform text generation that uses natural language.
Use Case #2: Question Answering
Using NLG, you can also apply question answering to your business. Question answering is a system that can answer questions posed by humans using natural language, either through text recognition or speech recognition. These systems can be open-ended or closed-ended (domain specific). Some NLG models function quite well even though they are not designed for question answering.
The use cases for NLG question answering are as follows:
Knowledge base queries for support

Chatbots

FAQs

Intent research

Search engines

Content brief creation
An example of question answering in action is The BASEBALL System. This was an early example of a closed-domain answering system built in the 1960s, which was designed to answer questions on one year's worth of baseball stats and facts. You can ask this system simple questions like, "What is this person's batting average?" and it will return with the correct and accurate answer.
Another example of this in action is IBM Watson. This was originally an open-domain system that defeated the two greatest Jeopardy! champions. The underlying technology drives a number of AI applications in a wide variety of fields.
Use Case #3: Summarization
The final use case is summarization. This is simple to understand because we have been manually summarizing our writing for as long as we've been in business, using previews, outlines, and headlines. Summarization reduces the amount of text data, while capturing the most important details in a narrative.
The two main things you have to know as a marketer with summarization is the difference between extractive and abstractive. Extractive summarization uses text analytics to take the most important phrases or sentences and stitches together a summarized narrative. On the other hand, abstractive summarization is the equivalent of a human writing a summary in his or her own words.
The use cases for summarization are as follows:
Headlines

Overview for mobile browsing

Summarizing multi-text/multi-page documents

Abstracts for journals

Whitepaper abstracts
An example of summarization in practice is with DeepAI. DeepAI uses extractive summarization to reduce the size of any document to 20% of the original size.
Another example is with Aylien. Aylien employs extractive summarization to summarize an article into a fixed number of natural language sentences determined by the user.
Sign Up for the AI Academy for Marketers Today!
These insights came from The State of Natural Language Generation, an AI Academy for Marketers course presented by Jeff Coyle (@jeffrey_coyle ) of MarketMuse.
AI Academy for Marketers is our members-only online education platform and community. The Academy features dozens of on-demand courses and certifications taught by leading AI and marketing experts.
The courses are complemented by additional exclusive content, including:
Live monthly Ask Me Anything sessions with instructors.

The Answering AI series of quick-take videos that provides simple answers to common AI questions.

Keynote presentations from the Marketing AI Conference (MAICON).

AI Tech Showcase product demos from leading AI-powered vendors.
Individual and team licenses are available. Discounts are offered for students, educators and nonprofits.
Gianna is an intern for Ready North and Marketing Artificial Intelligence Institute. She is a senior at Ohio University studying Management Information Systems, Analytics, and Marketing.