AI for CMOs:
The Real-World Blueprint for AI-Powered Digital Transformation
Presented by Intellimize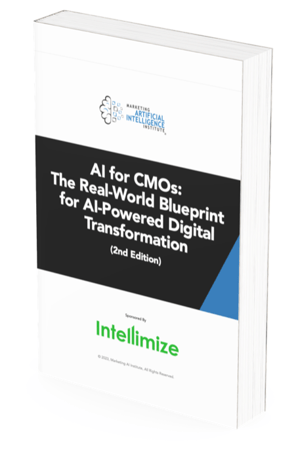 The world of CMOs today can be summed up in four simple words:
Do more with less.
No wonder so many CMOs are paying attention to artificial intelligence.
AI gives teams of all sizes the ability to dramatically increase productivity and performance at scale.
CMOs that embrace AI technology now stand to develop a potentially insurmountable competitive advantage in their markets, their companies, and their careers.
There's just one problem…
AI moves so fast—and there's so much hype and misinformation in the market—that actually figuring out what AI is, how you can actually use it, and where to focus your efforts is a major challenge.
This guide is here to help…
In AI for CMOs: The Real-World Blueprint for Digital Transformation, you'll find:
Clear, actionable definitions of AI, machine learning, deep learning, and generative AI…
Specific AI use cases across eight major areas of marketing, from advertising to ecommerce to social media…
Real-world examples of how CMOs are using AI, in their own words, over interviews with 14 leaders…
And a practical playbook to start adopting and scaling AI in your organization.
Fill out the form to get your copy today.
Download the Blueprint Now