An Essential Blueprint to Understanding and Applying AI in Marketing
The truth is, AI possesses the power to change everything.
While AI-powered marketing technologies may never achieve the sci-fi vision of self-running, self-improving autonomous systems, a little bit of AI can go a long way toward dramatically increasing productivity, efficiency, and performance.
Marketing AI Institute's Founder & CEO, Paul Roetzer, and Chief Content Officer, Mike Kaput, join forces to show marketers how to embrace AI and make it their competitive advantage.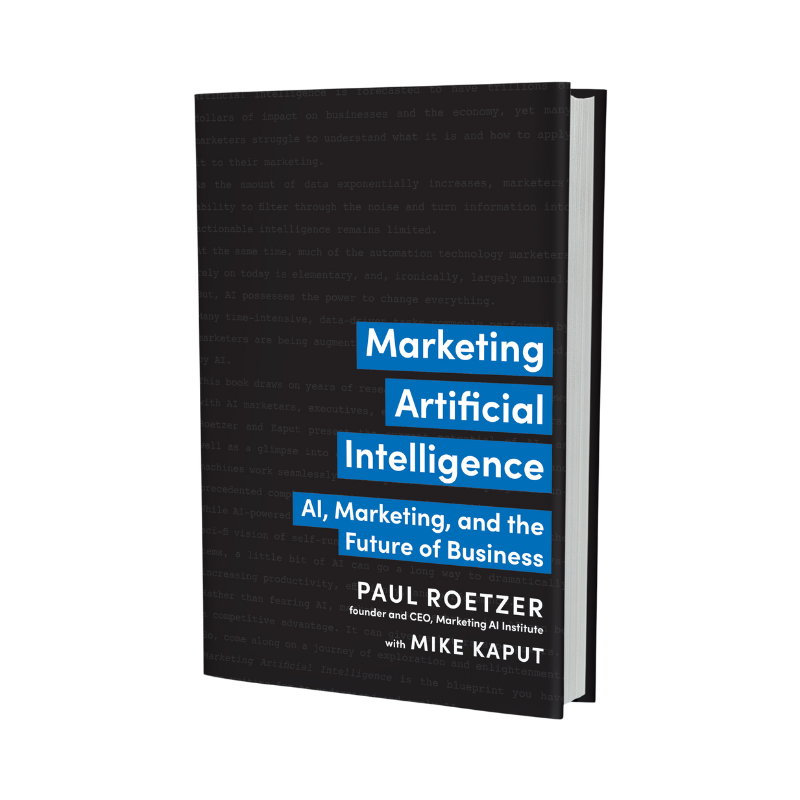 Marketing Artificial Intelligence draws on years of research and dozens of interviews with AI marketers, executives, engineers, and entrepreneurs.
Roetzer and Kaput present the current potential of AI, as well as a glimpse into a near future in which marketers and machines work seamlessly to run personalized campaigns of unprecedented complexity with unimaginable simplicity.
As the amount of data exponentially increases, marketers' abilities to filter through the noise and turn information into actionable intelligence remain limited. Roetzer and Kaput show you how to make breaking through that noise your superpower.
So, come along on a journey of exploration and enlightenment. Marketing Artificial Intelligence is the blueprint for understanding and applying AI, giving you just the edge in your career you've been waiting for.
Paul Roetzer
Paul Roetzer is founder and CEO of Marketing AI Institute, and founder of Ready North (formerly PR 20/20), HubSpot's first partner agency.
He is the author of Marketing Artificial Intelligence (Matt Holt Books, 2022) The Marketing Performance Blueprint (Wiley, 2014) and The Marketing Agency Blueprint (Wiley, 2012); and creator of the Marketing AI Conference (MAICON).
As a speaker, Roetzer is focused on making AI approachable and actionable for marketers and business leaders. A graduate of Ohio University's E.W. Scripps School of Journalism, Roetzer has consulted for hundreds of organizations, from startups to Fortune 500 companies.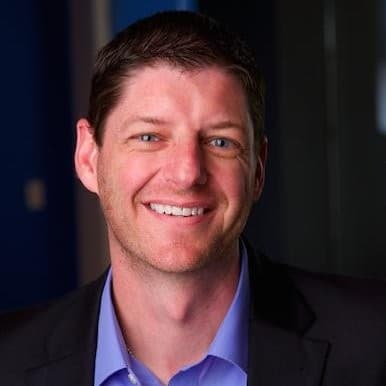 Mike Kaput
Mike Kaput is the Chief Content Officer at Marketing AI Institute. Kaput uses content marketing, marketing strategy, and marketing technology to grow and scale traffic, leads, and revenue for Marketing AI Institute.
An avid writer, Kaput has published hundreds of articles on how to use AI in marketing to increase revenue and reduce costs. He is also the author of Bitcoin in Plain English, a beginner's guide to the world's most popular cryptocurrency.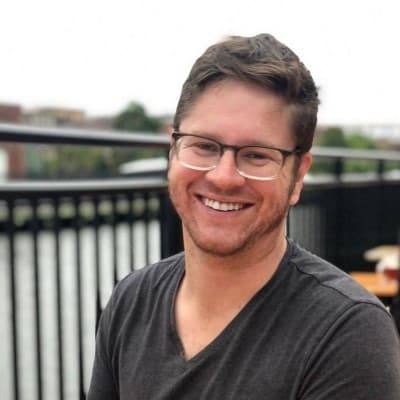 Table of Contents
Introduction
Chapter 1: The Science of Making Marketing Smart
Chapter 2: Language, Vision, and Prediction
Chapter 3: The Marketer-to-Machine Scale
Chapter 4: Getting Started with Marketing AI
Chapter 5: Advertising and AI
Chapter 6: Analytics and AI
Chapter 7: Communications, PR, and AI
Chapter 8: Content Marketing and AI
Chapter 9: Customer Service and AI
Chapter 10: Ecommerce and AI
Chapter 11: Email Marketing and AI
Chapter 12: Sales and AI
Chapter 13: SEO and AI
Chapter 14: Social Media Marketing and AI
Chapter 15: Scaling AI
Chapter 16: More Human
Chapter 17: AI and You
Piloting AI Workbook
Download our Piloting AI workbook, as mentioned in the book.
This workbook is designed to help you brainstorm and prioritize AI use cases based on the value to intelligently automate all or portions of the activity, and the ability to intelligently automate the activity with the right resources.
What Others Are Saying About Marketing Artificial Intelligence
For any marketer exploring the power of data and AI to create better outcomes for their customers and their business, Marketing Artificial Intelligence is an essential primer. This book lucidly explores a multitude of relevant use cases with examples, vendors to watch, and questions to reflect on. Best of all, the authors do a remarkable job of unpacking the possibilities for the reader, without drifting into technical complexity.

Chief Product Officer, Publicis Sapient
When it comes to Marketing AI, Roetzer is one of the best at simplifying the complex—and in an easy and straightforward way everyone can understand. Marketing Artificial Intelligence is a must-read to understand how AI is evolving and transforming the discipline of marketing. It's what you need to know to stay ahead of the curve and deliver experiences that engage and wow consumers.

Head of Paid Search, Microsoft
Today no business can succeed without a digital presence, and in the very near future no brand will succeed without AI. Roetzer and Kaput have done a masterful job with this book by giving you the roadmap of AI's impacts and how you can leverage them for a more successful future.

Author of The Context Marketing Revolution (HBR) and Cofounder Salesforce Web3 Studio
Tapping their deep expertise in the marketing applications of machine learning, Paul and Mike have written a masterful handbook for marketers looking to understand what AI/ML can actually do, how to get started, and who can help. Marketing Artificial Intelligence is a smart, sensible, and comprehensive survey of the landscape, full of inspiring examples and practical advice. Whether you are just getting started or already using AI in your marketing, this is a guidebook not to be missed!

Clinical Associate Professor of Marketing, Northwestern's Kellogg School of Management and Coauthor of The AI Marketing Canvas
Like Paul, I was intrigued with AI, but I did not know what I did not know. Paul has taken the mystery out of evaluating AI for marketers. Revenue teams are always looking for ways to leverage technology to improve the customer journey for their product or service, and to boost the ROI of their campaigns. With AI's ability to gain insight into your target audience, it is simple to understand why Paul and Mike wrote this valuable book to educate business leaders.

Chief Revenue Officer, OneScreen.ai and Former VP of Marketing, HubSpot
A vital roadmap to plan and deploy AI in marketing, regardless of industry or company size. For any CMO or marketing leader who understands the need to innovate quickly with the latest and best technologies, especially in today's digital transformational environment. AI, which is 'more profound than electricity or fire,' will reset marketing completely, and this book is a lifeline for CMOs who think the next five years will look any thing like the last five years.

Chief Marketing Officer, Brighton Jones
I consult with hundreds of agency owners every year and I've seen a wide array of reactions to AI from disdain to eager curiosity. Wherever you are on the spectrum—this is the book that will answer your questions, push aside your fears, and illuminate the possibilities. If you want your agency to thrive, continue to be in demand, and be profitable . . . you can't really afford not to read this book. It's written by marketers for marketers. And it is your future.

Agency Management Institute
Order Your Copy
Marketing Artificial Intelligence: AI, Marketing, and the Future of Business is now available in print, audio and digital.