Use cases, vendors, and case studies created to help you accelerate your understanding and adoption of AI.
Custom Marketing AI Blueprints Created for You
General marketing AI education is a great starting point, but for particular marketing disciplines, industries, and job functions, there will be variances in nuances, regulations, challenges, and opportunities.
The Marketing AI Institute is rolling out Marketing AI Blueprints to help you understand the impact and benefits of AI for your business and your career.
Bookmark this page and check back often to see new Blueprints added to the series!
AI for Content Marketing Blueprint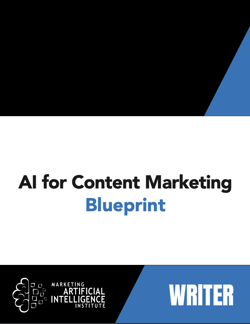 With the AI for Content Marketing Blueprint, presented by Writer, you'll get clear, actionable guidance on exactly how to use AI in your content marketing.
In it, you'll learn:
What AI is and what it can do.
What AI use cases are available for content marketing, and how to find your brand's specific use cases.
What specific AI tools can create real business outcomes for you.
AI for Personalization Blueprint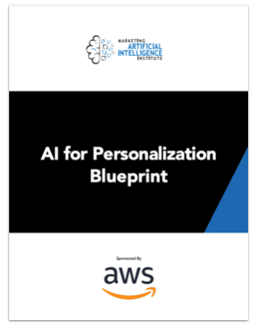 It has never been more important to master the art and science of personalization, and this AI for Personalization Blueprint was created to help.
And the only way to truly personalize at scale across different channels is with artificial intelligence (AI).
Now, a new resource sponsored by AWS shows you exactly how to leverage the power of AI to create sophisticated personalization in your marketing.
More blueprints to come!
Subscribe to our newsletter to stay informed
as new resources are published.
Meet your Marketing AI community in person.

Join us at MAICON 2023! Learn more about our annual Marketing AI Conference and register today.