Editor's Note: This post is part of a series featuring speakers from the Marketing Artificial Intelligence Conference (MAICON). For more information, visit www.MAICON.ai.
To stay relevant, you must have a pulse on what consumers are seeing from top competitors.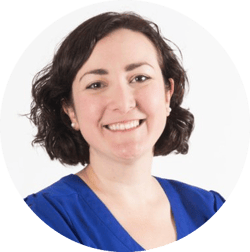 Unfortunately, mining competitive intelligence can be a time-intensive, manual process... one that leaves little time to act on your findings.
What many marketers don't know (or don't take advantage of) is that they can tap into competitive intelligence technology to do the heavy lifting. Ellie Mirman (@ellieeille), CMO at Crayon, will join us at the Marketing Artificial Intelligence Conference (MAICON) this July 16 - 18, 2019 to shed light on How to Build a Competitive Intelligence Strategy. Read on to get an inside look at her session and what you can expect to learn.
Q: For those marketers getting started with competitive intelligence, how can it make an immediate impact on their marketing programs?
A: One of the most immediate takeaways marketers can get from competitive intelligence is inspiration for new and differentiated campaigns and messaging. Our audiences are overwhelmed by options, by content, by marketing. So if you're going to stand out among the noise, you need to know what else is getting found or getting pushed in front of that target audience. Creating new and differentiated campaigns and messaging should yield higher performance across the board—more traffic, leads, customers, and conversion rates throughout the marketing funnel.
Q: How does competitive intelligence technology impact the data collection process?
A: Traditionally, competitive intelligence data collection has been manual. Whether a company employed their teams to do manual research or hired firms to do that research for them, it was all reliant on humans. The challenge with this is that it's an expensive, slow, and error-prone approach to data collection. CI technology has the power to automatically capture, organize, and identify trends in data so that humans can then analyze and create action plans based on the data collected. Many of our customers save at least one day per week due to automating the data collection.
Q: What are a few key data points that you should always be collecting on your competitors?
A: There's no one data point that will be the silver bullet, the secret sauce to knowing your competitor's strategies. It's the 360 degree view that is key—analyzing their content marketing topics but also their product page headlines but also their customers' feedback on review sites. There is infinitely more data available online about your competitors, and if you tap into it, you can learn a lot about their tactics and strategies.
Q: How can you harness new data and start to build a comprehensive CI program?
A: The first step is capturing all the data on the competitors in your space. Part of this exercise should include thinking through who are those key players to keep tabs on—your direct competitors, indirect competitors or partners, even key customers or aspirational competitors. Then you can start to map the digital footprint of each of those companies, capture and surface relevant data about them, and feed your analysis and action plans.
Another key step to making the most of your CI efforts is to identify your stakeholders and what each of you wants to get out of your CI program. This will help guide and prioritize your CI efforts to make sure it will have an impact on the areas that matter most.
If you're getting started with your CI program, or are looking for ways to get more out of it by using AI-driven CI technology, check out this six-step overview and join my session at MAICON!
Q: What are you most excited about at MAICON 2019?
A: There's an incredible lineup of sessions that really take a new concept and make it tangible, turning AI from a big question mark to real strategies and tactics to employ across marketing areas. I'm expecting to fill up a notebook of ideas to bring back to the office!
Q: What advice do you have for marketers just starting with AI?
A: Think about what you want to accomplish first, rather than trying to shoe-horn a new technology, and you'll find real needs where AI can help your specific business case. Find those areas that can be automated and start to imagine where you can put your effort once those repetitive, manual tasks are off your plate!
Sandie Young was formerly the Director of Marketing at Ready North. She started at the agency during the summer of 2012, with experience in magazine journalism and a passion for content marketing. Sandie is a graduate of Ohio University, with a Bachelor of Science from the E.W. Scripps School of Journalism.