Crayon, an AI-powered competitive intelligence tool, just released its 2018 State of Market Intelligence report. The in-depth study dives into the practices, challenges, and trends in market and competitive intelligence. Based on responses from more than 700 business professionals, the report contains significant data-driven findings that marketers will want to pay attention to.
The study found that most large companies, 89%, dedicate staff to market intelligence work. But only 22% have goals for their competitive intelligence programs. More than two-thirds of these companies use 10 or fewer data sources, such as websites and publications online.
Most business pros surveyed are tracking their competitors. But many also are looking for more intelligence on how their own brand performs online. The lion's share of time spent on this type of competitive intelligence work goes towards research, according to Crayon's report. The rest of the time is split between analysis and communication of findings. Most of the findings from competitive intel are communicated by email, say participants.
From these efforts, 49% of respondents say they've seen quantitative benefits from their market intelligence efforts, while 61% have seen qualitative benefits.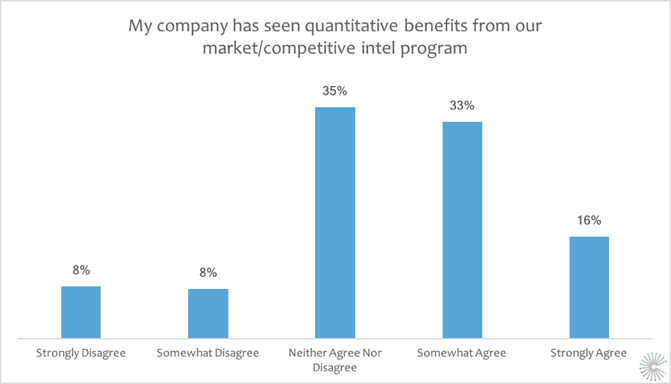 The 50+ page report includes even more findings on how business pros use competitive intelligence. Check out the full report below.
Why Does This Matter to Marketers?
Because it shows that your competitors are hard at work on competitive intelligence programs to learn what you're up to. But this is clearly a nascent trend: there is still plenty of time to build your own competitive intel program. In fact, a full 40% of respondents say their competitive intelligence programs have been in place for less than a year.
"There is a lot more competitive intelligence available now, but businesses are still learning how to leverage and measure it," says Jonah Lopin, Crayon's CEO and cofounder.
Crayon's platform gives marketers who need competitive intel fast a leg up. For each competitor you track, Crayon creates a digital footprint that is "composed of all web pages that might reveal important insights about the company, including the main corporate website, social media sites, product forums, career sites, online news publications and more," says CTO John Osborne.
The product analyzes these footprints constantly, looking for changes to websites and online profiles. It then draws real-time insights from these changes to give marketers solid competitive intelligence on other companies.
But this is just the beginning. Crayon recently updated its product to use artificial intelligence. Today, the company's AI analyzes more than 100 different types of data online from more than seven million sources.
The Crayon Dashboard also uses AI to find and display the most meaningful insights and trends in competitor activities. Its Analytics product applies quantitative analysis to qualitative, unstructured market data to spot trends. Together, these new features help marketers make sense of the vast amounts of competitive intelligence data that Crayon provides.
This is part of a larger trend. Marketers are turning to AI-powered tools to suggest and recommend strategic actions. Tools like Crayon are beginning to augment marketing roles, acting as "members" of marketing teams. Marketers looking for competitive advantages may want to check out tools like Crayon to give them an AI-enabled edge.
As Chief Content Officer, Mike Kaput uses content marketing, marketing strategy, and marketing technology to grow and scale traffic, leads, and revenue for Marketing AI Institute. Mike is the co-author of Marketing Artificial Intelligence: AI, Marketing and the Future of Business (Matt Holt Books, 2022). See Mike's full bio.