As marketers, we're obsessed with trends and technologies that make us more efficient, drive better campaign results and simplify performance reporting. The majority of marketers wear multiple hats—juggling strategy, implementation and performance (among the nitty gritty details between each stage)—for our companies or clients.
So, what if you could gain access to technologies that would make your day to day better? With artificial intelligence (AI), you can.
AI is more than a "buzzword." It's the next frontier of the digital marketing transformation; it helps marketers more intelligently automate repetitive tasks, drive more revenue by making predictions, unearth hidden insights in data and analytics, and much more.
Most importantly, AI has the potential to transform our industry and your career.
That's why PR 20/20 and Marketing Artificial Intelligence Institute launched the Marketing Artificial Intelligence Conference (MAICON).
At MAICON 2019, we welcomed 300+ marketing practitioners, leaders, thought leaders, speakers and vendors from 12 countries to Cleveland to discuss how marketers can better understand, pilot and scale AI technologies in their organizations.
Did you miss MAICON 2019, or are you mining your notes now that you're back from the event? Either way, check out our team's top takeaways from MAICON.
1. AI will transform marketing.
According to Christopher S. Penn (@cspenn), Trust Insights' co-founder and chief innovator, marketers constantly seek opportunities to make our marketing better, faster and cheaper.
AI enables us to do each of these, when implemented correctly. AI is all about making predictions based on data. AI reviews data infinitely faster than any human can.
And because of that, it's more accurately recommending when we should send our next email, which CTA button generates more clicks, and so on.
"Data is the new oil" is a saying referenced by several MAICON speakers. AI enables us to make better use of this new oil. Data unlocked by AI makes us smarter, more efficient and more cost-effective marketers. AI is not replacing marketers, but enables us to make sense of the millions of data points we're just not capable of analyzing at scale.
Today, AI can already do the following:
Create personalization at scale (e.g. newsletter and website content, email send times and subject lines).
Adjust ad spend in real time (e.g. reallocate budget to higher-performing paid channels, mix and match an infinite number of ad copy and creative).
Complete repetitive marketing tasks (e.g. write press releases, generate analytics reports).
Analyze content for completeness and effectiveness.
In each case, the machine does an isolated task better, faster or cheaper than humans can. Do not fear AI adoption, but rather consider what it can do to augment your own capabilities (more on this in takeaway #4). AI helps you make smarter decisions, gives you back more time to focus on the work you love doing and enables marketing that was never possible before.
With AI, the mantra—right time, right place, right customer, right message, right context—becomes attainable.
2. AI-powered technology is in its infancy.
This AI-specific marketing conference featured about 40 sessions, 50 speakers and attracted 300 attendees. It may have you thinking, "Am I behind?" The overwhelming answer from several speakers and other attendees is no.
Karen Hao (@_KarenHao), AI reporter for MIT Technology Review, discussed the history of AI, citing a meeting of professors in 1956 as its inception. However, even 60+ years later, all AI applications are considered narrow AI. A narrow AI tool can only do one task and can do that task very well.
The average company uses 90 tools for marketing across social, analytics, CRM, ecommerce and more, meaning AI adoption is up against a fractured business system. AI capable of cognitive functioning and understanding environments as humans would, known as general AI, is years away—especially for marketing.
As Paul Roetzer (@paulroetzer), PR 20/20 and Marketing Artificial Intelligence Institute founder and CEO, reminded us in his opening session, "You don't just flip a switch and everything becomes automated."
Forward-thinking marketers can beat the curve and learn about AI, identify use cases, and implement initial pilot projects.
3. Is it really AI? Do your homework to find out.
A quick search on business and marketing software review platform G2 Crowd for "artificial intelligence" yields nearly 75 vendors. Keep in mind that AI in marketing is still a new market—meaning the vendor pool for AI technologies is only going to get larger and muddier for marketers.
Consider something you're probably more familiar with like marketing automation, social media management tools or email marketing solutions. There are dozens of vendors in each of these categories, and it's your job as a marketer to find out which fits your needs in terms of functionality, user experience, scalability and cost.
Marketing AI technologies are no different. But as you embark on your journey to marketing AI, it may be difficult to sift through unfamiliar platforms and select the best for your needs.
As Roetzer pointed out in his opening keynote, the marketing AI vendor market is crowded and many claim to be AI when they're really not. In actuality, it's hard for both the vendor and marketer making a purchase to really read between the lines and identify true AI functionality.
Hao shared her litmus test for deciding if AI systems are truly AI. She asks:
Can it see? It's AI technology if it can identify what it sees using computer vision and image processing.
Can it hear? It's AI, specifically natural language processing (NLP), if it can hear, process, transcribe and respond in a useful, sensible way (think Siri).
Can it read? It's AI if it can read what you type, analyze text for patterns, and respond in a useful way.
Can it move? It's AI if it can move without help based on what it hears and sees, without a programmed path (think smart robots).
Can it reason?

It's AI, specifically machine learning, if it is looking for patterns in massive amounts of data, then using those patterns to make decisions and get smarter.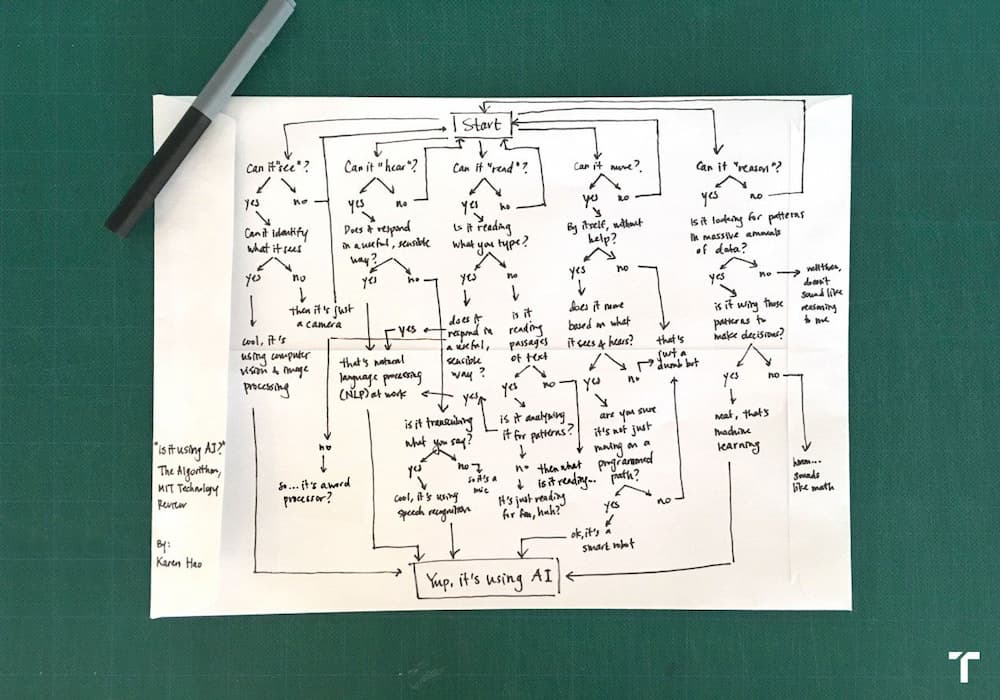 Image credit: Karen Hao, MIT Technology Review
Additionally, Penn recommends marketers familiarize themselves with the most basic industry terminology. This will help to ask the right questions like "What kind of machine learning do you use?" or "What kind of data are we going to need to make use of this technology?"
4. The future of marketing still requires humans.
A top concern among marketers around the AI revolution is that their jobs will be replaced by computers or machines. While the concern is understandable, it doesn't mean resistance is the answer. The revolution is coming, and those marketers who brace for impact will be the ones who have improved jobs (not replaced ones).
In her session, Tameka Vasquez (@tameka_vasquez), assistant vice president, global marketing lead at Genpact, explained that the future of marketing requires both humans and machines. In other words, our future careers as humans will be augmented by machines, not eliminated.
Vasquez shared what we (marketer + machine) are already achieving together and will continue to in the future:
Clustering and interpreting consumer data in real time.
Providing more relevant search results and making recommendations.
Predicting trends and analyzing sentiment.
Reverse-engineering customer experiences to determine strategy.
Augmenting reality to create interactive brand experiences.
Pam Didner (@PamDidner), author of Global Content Marketing and Effective Sales Enablement and tech marketing consultant, built upon this, explaining where humans are still integral:
Setting up processes and tools.
Taking over at some points.
Conducting quality checks.
Filling gaps in technologies and platforms.
Penn backed up these ideas, mentioning that AI and machines aren't able to replace unique human characteristics like empathy, judgement, general life experiences and relationships.
5. It's imperative to get your data AI-ready.
Marketers have a ton of data on their hands. Thanks to the explosion of data sources like Netflix, social media networks, Google, Amazon and more, we have more information than ever to understand consumer behavior and preferences and personalize around it.
However, we understand the word "data" can be intimidating. Unless you're the magic intersection of marketer and data scientist (which most of us aren't), data analysis can feel daunting—without the help of AI that is.
Penn pointed out in his keynote "How AI Will Change Marketing Forever" that marketers have an overwhelming amount of data. That data is largely messy, making it time-consuming, expensive and sometimes nearly impossible to extract any insight from. But, AI can make data extraction faster, cheaper and better—you just have to know what types of data you're working with and how to apply an AI solution.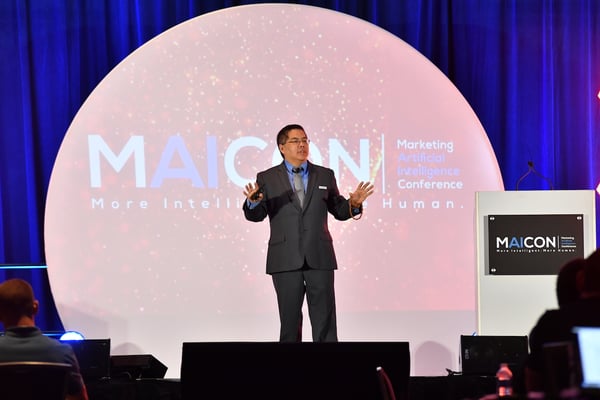 Penn recommends marketers look for the following types of data when figuring out how and where to apply AI across their organizations:
Untapped data.
Unknown data.
Unclear data.
Unfocused data.
Unprepared data.
Still feeling overwhelmed? Don't worry, you don't have to go on this mission alone. Cal Al-Dhubaib (@caldhubaib), chief data scientist at Pandata, went on to mention that data analysis is a team sport that requires stakeholders, engineers, scientists and analysts.
He recommends following these steps to set the foundation for success:
Get buy-in by creating alignment: Empathize with stakeholders, address cross-department boundaries, and start small and prioritize ROI.
Create a foundation of trust: Identify data champions, communicate assumptions and definitions, and document data sources.
Maintain and report on performance

: Continually test and document performance, make trusted data accessible, and ensure data solutions are versioned and owned.
6. The key to AI in marketing: Get started.
If you're anything like us, you chose a career in marketing to avoid anything resembling data science. Terms like algorithm, neural network and big data may make your eyes roll back.
Do not fear! Though dedicated AI learning can be advantageous, it is not required for the average marketer to make a huge splash with AI (check out Marketing AI Institute's Ultimate Beginner's Guide to AI in Marketing if you want somewhere to start).
As Roetzer tells us, AI in marketing "is just about finding smarter marketing technology." It's not about the inner-workings of how the tool works, but about how it helps your business. You should not crave AI for AI's sake, but think about it as you would any other new technology or process.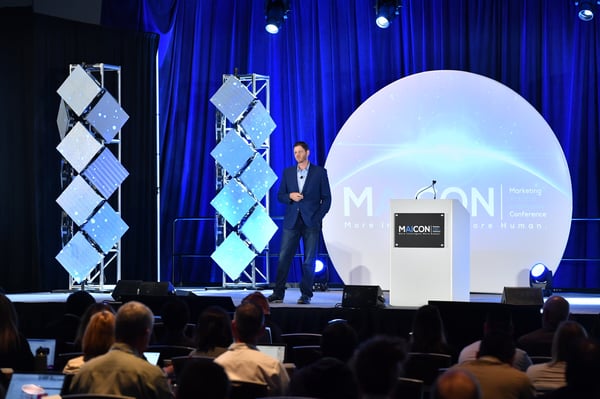 Start with a business problem.
"If you don't clearly define the problem, people won't use it," said Sara Hocking, a self-dubbed "regular" marketer who has undergone AI experimentation at Grant Thornton LLP.
Jessica Miller (@jessica_joellen), PR 20/20's VP and managing director, tells marketers to start with questions about your business:
Where are we spending our time?
What are the repetitive tasks that could potentially be automated?
What data do we have access to?
Your answers can point you to the biggest opportunities for AI technology to save you time and money, and potentially improve your effectiveness as a marketer.
"Don't worry that you don't know everything, that's okay, just get started." - Dr. Kanishka Bhattacharya, senior director of data science and analytics at Publicis Sapient.