"Everyone you will ever meet knows something you don't." — Bill Nye
As a marketer, when you come across a topic that's unfamiliar (artificial intelligence, perhaps), what do you do?
Maybe you ignore it completely—you have enough to worry about already, right? Or, you might do a quick Google search and read a few articles before getting back to writing your fifth blog post of the day.
Or, if you're truly interested in learning and growth, you'll find and follow experts on the topic.
At the Marketing Artificial Intelligence Conference (MAICON) 2022, marketers have the opportunity to learn from more than 50 marketing AI leaders and over 300 next-gen marketing peers.
Expert-led sessions will cover how marketing AI can enhance planning and production, personalization and promotion, and data and performance. Here's an inside look at five main stage speakers and sessions happening on Aug 4, 2022, that you won't want to miss.
1. Language AI and the Future of Writing (Register Here)
There is a race among technology companies to understand and generate language. In part, entrepreneurs and AI researchers seek to augment and automate copywriting in order to make advertising, communications, content marketing, email marketing, and social media marketing more efficient. But that's only the start of the story.
Language, to some, is considered fundamental to intelligence. And as language AI capabilities rapidly expand through innovations from Google, DeepMind, Microsoft, OpenAI, Meta AI and others, we are entering a realm of excitement and uncertainty.
The potential for more intelligent marketing is seemingly limitless, but so many critical questions remain unanswered.
For example, how do we protect consumers and businesses from disinformation and misinformation? How does bias in language models affect the tools we use as marketers? And how do we prepare for unintended consequences on our customers and employees?
This panel, featuring Jeff Coyle, Christopher Penn, Lisa Spira, and Mike Kaput, will:
Discuss the current capabilities of language AI to augment and automate your team, while addressing the limitations and concerns of today's language models.
Offer practical advice on language AI tools that can bring immediate value to companies.
Explore the potential near-term language AI advancements that could disrupt media companies, agencies, and brands.
Meet the Language AI Experts
Jeff Coyle, Co-Founder and Chief Strategy Officer at MarketMuse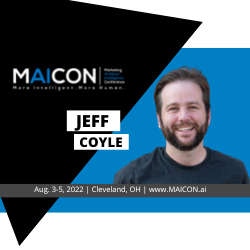 Jeff Coyle is the Co-Founder and Chief Strategy Officer for MarketMuse. With more than 21 years of experience, Coyle focuses on helping content marketers, search engine marketers, agencies, and e-commerce managers build topical authority, improve content quality and turn semantic research into actionable insights. Connect with Jeff on LinkedIn.
Christopher Penn, Co-Founder and Chief Data Scientist at Trust Insights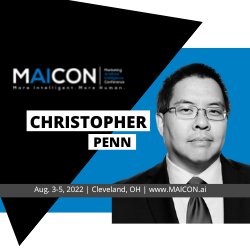 Christopher S. Penn is an authority on analytics, digital marketing, marketing technology, data science, and machine learning. Penn is a recognized thought leader, best-selling author, keynote speaker, and co-founder and Chief Data Scientist of Trust Insights.
Penn is a 2021, four-time IBM Champion in IBM Data and AI, a Brand24 Top 100 Digital Marketer, an Onalytica Top 100 AI in Marketing influencer, and co-host of the award-winning Marketing Over Coffee marketing podcast. Connect with Christopher on LinkedIn.
Lisa Spira, Head of Content Intelligence at Persado
Lisa Spira is a linguist who has focused her career on leading the design of language-based digital products. Her professional passions live at the point where language, technology, and humans intersect. As Head of Content Intelligence at Persado, Spira leads the team responsible for the language innovation and insights within the platform. Connect with Lisa on LinkedIn.
Mike Kaput, Chief Content Officer at Marketing AI Institute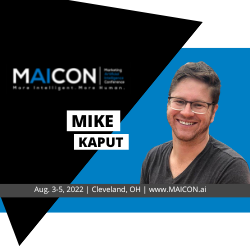 Mike Kaput is the Chief Content Officer at Marketing AI Institute. Kaput uses content marketing, marketing strategy, and marketing technology to grow and scale traffic, leads, and revenue for Marketing AI Institute. An avid writer, Kaput has published hundreds of articles on how to use AI in marketing to increase revenue and reduce costs. Connect with Mike on LinkedIn.
2. Ethical and Trustworthy AI: Lessons from the Front Lines (Register Here)
Much has been written and commented on about AI and Ethics from an academic perspective. But very little practical work has been done in implementing ethical and trustworthy AI.
This keynote from Dr. Gemma Galdón Clavell will help you realize that certain industry standards are increasingly in risk of falling out of the eyes of the general public and legislators; from a functionality point of view to a discriminatory and unfair outcome.
And the truth is that the examples that can be shown relating to day-to-day situations and processes that we go through individually, at work or at a personal level, and as a society are outrageous and extremely impactful and, quite frankly, they pass unnoticed.
Ethics is becoming the quintessential piece in creating and developing technology and AI that performs in the most complete and thorough way possible. The conversation about innovation and the future must include it.
Meet Gemma Galdón Clavell, PhD, Founder and CEO at Eticas Consulting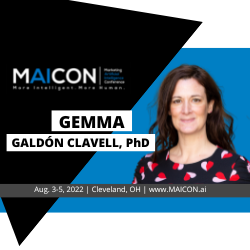 Dr. Gemma Galdón Clavell is a leading voice on technology ethics and algorithmic accountability. She is the founder and CEO of Eticas Consulting, where she is responsible for leading the management, strategic direction, and execution of the Eticas vision.
Her multidisciplinary background in the social, ethical, and legal impact of data-intensive technology allows her and her team to design and implement practical solutions to data protection, ethics, explainability, and bias challenges in AI. She has conceived and architected the Algorithmic Audit Framework which now serves as the foundation for Eticas flagship product, the Algorithmic Audit.
Connect with Gemma
Content from Eticas Consulting
Many times AI systems come into use—augmenting processes, making predictions, and affecting communities—without any ethical audit to ensure they are fit for use. Today, countries are slowly starting to recognize the consequences of unaudited AI and are releasing more and more regulations to protect the privacy and wellbeing of humans.
3. Dawn of the Next-Gen Marketer (Register Here)
As artificial intelligence advances what's possible with technology, the next generation of marketers is emerging. These professionals aren't defined as next-gen because of age but rather their approach to embracing change and applying smarter (i.e. AI-powered) technologies.
In this MAICON 2022 opening keynote, Paul Roetzer, Marketing AI Institute founder and CEO, lays out the vision and opportunity for next-gen marketers who use AI to deliver the personalization and experiences modern consumers expect; unlock previously unimaginable creative possibilities; and drive efficiency, revenue growth, profits, and societal impact that leadership demands.
We have entered the age of intelligent automation. AI is not going to replace you. Rather, it will replace specific tasks, and augment what you are capable of doing. Don't wait for the marketing world to get smarter around you. Take the initiative now to understand, pilot, and scale AI. The opportunities are endless for marketers with the will and vision to transform their careers, and the industry.
Meet Paul Roetzer, Founder and CEO at Marketing AI Institute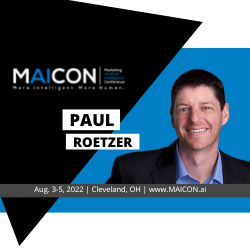 Paul Roetzer is founder and CEO of Marketing AI Institute and PR 20/20; author of Marketing Artificial Intelligence (Matt Holt Books, 2022), The Marketing Performance Blueprint (Wiley, 2014), and The Marketing Agency Blueprint (Wiley, 2012); and creator of the Marketing Artificial Intelligence Conference (MAICON). As a speaker, Roetzer is focused on making AI approachable and actionable for marketers and business leaders. A graduate of Ohio University's E.W. Scripps School of Journalism, Roetzer has consulted for hundreds of organizations, from startups to Fortune 500 companies.
Connect with Paul
Content from Paul
The Future of Business Is AI, or Obsolete
With each day that passes and each advancement in artificial intelligence language and vision technology, Paul writes it is becoming more apparent that there will be three types of businesses in every industry: AI Native, AI Emergent, and Obsolete.
4. How Do Companies Use AI and Predictive Analytics to Drive Marketing Strategy (Register Here)
The combination of human and artificial intelligence in marketing is highly needed, as marketing is increasingly becoming center-stage and accountable for business.
In her session, Horenshtien will share insights around AI and marketing through industry use cases. She'll also discuss how to leverage AI to increase marketing performance and ROI, and how to be more critical of daily business activities.
Meet Atalia Horenshtien, Customer Facing Data Scientist and Evangelist at DataRobot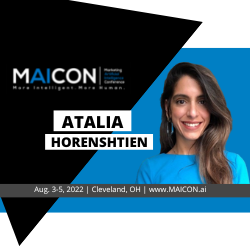 Atalia Horenshtien is a Customer Facing Data Scientist and Evangelist at DataRobot. In her role, Horenshtien serves as a trusted advisor on AI for various customers. She enables customers to solve complex data science problems and adopt AI/ML across the organization using the DataRobot platform.
Connect with Atalia
Content from DataRobot
The Risks of GPT-3: What Could Possibly Go Wrong?
GPT-3 is a powerful language model that can complete tasks like drafting full articles, detecting patterns in natural language, and generating summaries. It has a wide range of applications and benefits to marketers, but it also poses several risks if misused.
5. The Cognitive Human Enterprise: When AI, the Metaverse, and Humanity Collide (Register Here)
There exists a false narrative today that Machine Learning (ML) and Artificial Intelligence (AI) are replacing humans in the workplace. In fact, the reality is very different where ML and AI are being deployed at scale,and yet industry are hiring more than ever.
There is, however, a massive gap within industry around enhancing and leveraging human creativity and unlocking human potential at scale. Humans have knowledge, understanding and wisdom that machines and algorithms don't have and we need to tap into that knowledge to create more value for society. However, machines and algorithms can perform certain tasks at a speed and scale that humans can never achieve.
In this talk, EY Global Lead, Domhnaill Hernon, will give examples where AI enhances human creativity, and how we fuse art and technology to bring together the very best of humanity with the best of technology. He will also share EY's work fusing the physical and the virtual, and placing humans@center in the evolving Metaverse landscape.
Meet Domhnaill Hernon, Global Lead of Cognitive Human Enterprise at EY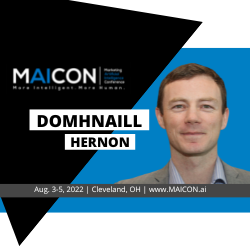 Domhnaill Hernon is an award-winning technology, innovation and creativity executive. Hernon received an undergrad in Aeronautical Engineering and a PhD in Aerodynamics from the University of Limerick and an executive MBA from Dublin City University, Ireland. He is the global lead and co-founder of a new imitative at EY to create the Cognitive Human Enterprise. Hernon's work has been featured in Wired Magazine, Times Square, SXSW, Nasdaq, MWC, Ars Electronica, TEDx, and Inspirefest to name just a few, and he advises innovation and cultural programs globally.
Connect with Domhnaill
Content from EY
How To Become an Integral Part of Your Customer's Life
Today, consumers have higher expectations than ever before when it comes to personalized brand experiences. As marketers, it's no longer enough to show your products or services via one-size-fits-all messaging. Instead, in the eyes of the consumer, brands must do it all: Save time, offer convenient solutions, anticipate consumer needs, and enrich the consumer's life as a whole.
Join these experts and 300+ other next-gen marketers at MAICON 2022 from Aug 3-5 to learn how you can get the most out of data with AI.