We are surrounded by AI every day and don't pay much attention to it. Our lives are automated more and more as months and years pass, but as marketers, we struggle to implement AI at work. How do we get started?
Marketing Artificial Intelligence Institute (MAII) founder Paul Roetzer shared a presentation on this topic titled, 2018 Marketing AI Update: How to Get Started with Artificial Intelligence in Inbound at the 2018 IMPACT Live event. You can view his complete presentation here, or we've pulled out the highlights below.
The Marketing AI Road Map
To understand where marketing AI is today and where it is going, Roetzer uses a map analogy. Marketers are still in the early days of AI navigation. Marketing automation is largely manual, like a traditional road map. Marketers do EVERYTHING behind the scenes; setting workflow automation rules, drafting email subject lines, determining send times and more. You have to route your course manually and make time-consuming adjustments as you go.
But what does the future marketing AI roadmap look like? Think about Google Maps.
You plug in your destination and are given recommendations on how to get there most efficiently. If there is an accident, you are rerouted in real-time. Data is collected and results are surfaced. The human still makes all the decisions, but the machine makes intelligent suggestions, and continually learns and evolves.This is where marketing AI should be today, but we're not there yet.
Marketers need to prepare for this change and embrace it when it comes. We're not too far off, and chances are we're already using AI every day.
AI in Your Everyday Life
Look through the apps on your phone. You most likely have Google Maps and a slew of other AI-powered apps that are part of your everyday.
Just look at Roetzer's phone. >>>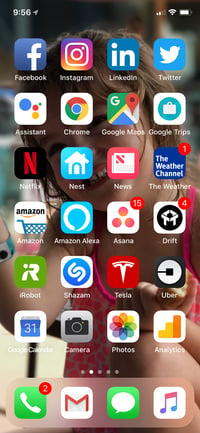 Your home screen probably looks pretty similar, and each of these apps use AI algorithms.
Facebook and Twitter monitor activity and surface posts to your feed you are likely to engage with based on your top friends and past behavior.
Google Assistant uses natural language processing (NLP) and voice recognition to know what you are asking.
Nest cams use computer vision to know who is in your house and when.
Netflix makes personalized recommendations based on your activity and people like you.
What loops these tools into the category of artificial intelligence is that there is no human behind the scenes making the calls, and the tool does not inherently know these things. The tools are learning as they go.
Making AI Your Competitive Advantage
Roetzer predicts 80% of what marketers do will be intelligently automated to some degree in the next 3-5 years. This is both terrifying and exciting for those of us being paid by our bosses and clients to make marketing magic happen.
The truth is, you could do nothing and AI will change your professional life. However, you can also be proactive and make AI your competitive advantage.
Marketers who take AI into their own hands now and start experimenting with and then implementing tools that save time and money will differentiate their brand and propel their career.
Want to get started? Take the AI Score for marketers assessment to determine which use cases will move the needle for your brand, then, start experimenting today.
Sammie Fisher was formerly an associate consultant at Ready North. She joined the agency in January 2018 with a background in PR, marketing and business analytics. Sammie graduated from Ohio University's E.W. Scripps School of Journalism in 2018 with a degree in strategic communication and a marketing minor.