InsideSales.com recently released its State of Artificial Intelligence for Sales and Marketing 2018 Report. Based on responses from 600 business professionals, the report dives into what leaders need to know about the coming revolution of AI in sales.
We've highlighted the three most important findings for marketers below, but download the full report for more information on what AI trends have leaders most concerned, most excited, and more.
We Are in an Era of Rapid Adoption
Sales leaders are putting a strong emphasis on the utilization of AI and other technologies to drive efficiency and effectiveness in their organizations. When asked what trends are impacting sales leaders today, all signs point to tech.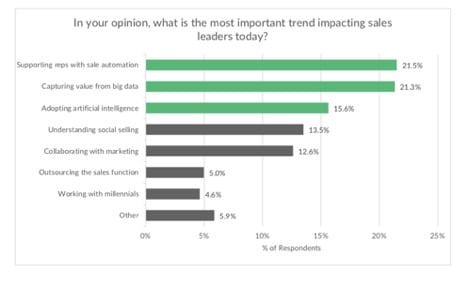 But AI is no longer just an idea, it's becoming actionable for sales leaders, and we're seeing adoption sweep across the workplace. InsideSales.com reports a +97.7% increase in AI adoption at work from 2017. People are familiarizing themselves with the AI-powered tools available both in and outside of the workplace. In fact, over 80% of respondents recognize that they use some form of AI outside of the workplace.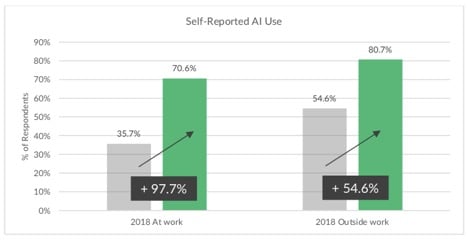 Expectations Around AI are Increasing
90.7% of respondents expect AI to improve sales performance, yet a majority still have not implemented AI in their sales stack. Implementation is on the horizon, though, as it is a 2019 priority for many companies. The public sector, media, and telecommunications expect the highest performance lift from AI out of industries surveyed, and sales and marketing are the departments where the greatest benefit is expected.
Specifically, respondents believe AI will be most valuable in helping score and prioritize leads, assist with contacting and qualification, and form content and messaging.
We Have Recognized The AI Leaders
Many tech giants stand out as leaders in AI. They are boisterous about their investments in AI and are widely accepted as experts. But you don't need to be a Google or Amazon to reap the rewards of AI, and there is still time to get ahead. So what's stopping companies from adopting available tech?
According to the report, over 25% of companies say understanding AI is the biggest obstacle to implementation. Our biggest advice is you don't need to understand machine learning to use AI in an impactful way. There's a lot of hype around the term, but at the end of the day it's just smarter tech. Start by identifying use cases that would be most impactful for your business, and find the tools that match your business needs. Or, join us and hundreds of your colleagues at the inaugural Marketing Artificial Intelligence Conference (MAICON) in July 2019 where you'll learn to truly understand artificial intelligence and what your options are.
Sammie Fisher was formerly an associate consultant at Ready North. She joined the agency in January 2018 with a background in PR, marketing and business analytics. Sammie graduated from Ohio University's E.W. Scripps School of Journalism in 2018 with a degree in strategic communication and a marketing minor.