What are the best books about artificial intelligence available today?
Artificial intelligence is a complex and fascinating subject that is changing business as usual.
But, it can be hard-especially for beginners-to find the right book for your needs.
Where do you start?
Which books, older and newer, offer the most bang for your buck?
We've got you covered.
At Marketing AI Institute, we've spent years helping marketers and business leaders understand, adopt, and scale AI.
These books are some of the best we've found to understand how artificial intelligence is changing life, business, and the world.
To make this post as valuable as possible, we've arranged the books into "reading tracks" depending on what you may be looking to achieve with AI...
Some of Our Current Favorites
The AI Marketing Canvas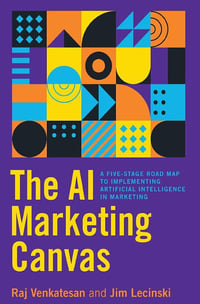 Authors: Raj Venkatesan and Jim Lecinski
Why you should read it: Venkatesan and Lecinski give marketing leaders an actionable playbook to plan and execute AI initiatives at every stage of organizational maturity.
Key takeaway: Brands that are successful with weaving AI into their marketing strategies all share a common set of best practices that any marketing leader can learn from.
AI for Marketers, Third Edition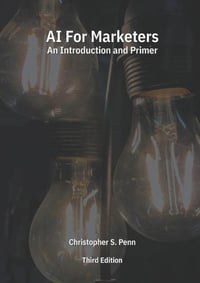 Author: Christopher S. Penn
Why you should read it: Penn gets marketers up to speed on everything they need to know about AI to successfully use the technology to supercharge their careers and companies.
Key takeaway: Being successful with AI isn't just about understanding the technology. It's about taking plenty of other steps to also prepare yourself, your career, and your company for the impact AI will have on work, jobs, and marketing as a whole.
The Agile Brand Guide to AI and Marketing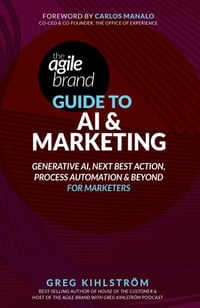 Author: Greg Kihlström
Why you should read it: The book explores how marketing and CX leaders can be successful with artificial intelligence in their planning, implementation, and optimization. This includes an exploration of both the current uses of AI and machine learning in marketing, as well as the four primary areas where marketers should be paying attention.
Key takeaway: AI is fast becoming indispensable for brands and marketing leaders. The quicker you act to incorporate it into your marketing operations, the quicker you'll stay ahead of the curve.
Voice Marketing: Harnessing the Power of Conversational AI to Drive Customer Engagement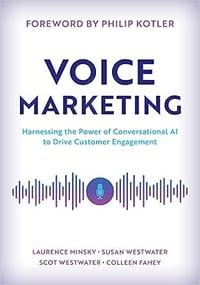 Authors: Scot Westwater and Susan Westwater
Why you should read it: This book from voice experts Scot and Susan Westwater teaches marketers the key strategies and tactics of the world of voice and offers a clear roadmap for developing and executing a voice marketing program.
Key takeaway: Voice-enabled technologies are an integral part of our lives, and they present vast opportunities for marketers who are up to the challenge.
Artificial Intelligence for Marketing: Practical Applications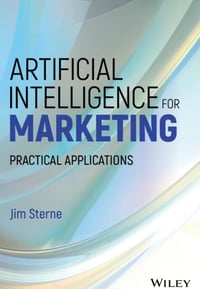 Author: Jim Sterne
Why you should read it: This book is a tightly-focused introduction to machine learning, written specifically for marketing professionals. In it, you'll find clear explanations of how AI and machine learning will revolutionize your company's marketing strategy, as well as how to use it most effectively.
Key takeaway: Marketing and data science are two fast-moving, turbulent spheres that often intersect; that intersection is where marketing professionals pick up the tools and methods to move their company forward.
Marketing Artificial Intelligence: AI, Marketing, and the Future of Business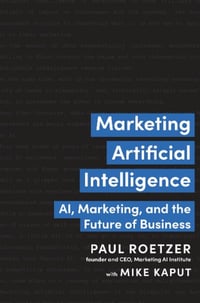 Authors: Paul Roetzer and Mike Kaput
Why you should read it: Marketing Artificial Intelligence contains everything the Marketing AI Institute team knows about applying AI to real-world use cases in marketing and business, drawing on our years of research and dozens of interviews with AI marketers, executives, engineers, and entrepreneurs.
Key takeaway: While AI-powered marketing technologies may never achieve the sci-fi vision of self-running, self-improving autonomous systems, a little bit of AI can go a long way toward dramatically increasing productivity, efficiency, and performance.
---
Best Artificial Intelligence Books for Beginners
When you're just getting started with AI, there's a ton to learn. It can be overwhelming. And it's easy to get lost in jargon and technical terms—and miss the big picture entirely.
These books provide accessible introductions to AI and why it matters. You don't have to read them in order, but if you want to, this is the order we would recommend.
Genius Makers: The Mavericks Who Brought AI to Google, Facebook, and the World
Author: Cade Metz
Why you should read it: Genius Makers is a highly readable account of the history of AI as a field, and how tech leaders at Facebook, Google, and a range of companies and universities turned AI from a niche technology into a world-changing reality.
Key takeaway: Artificial intelligence has been with us in one form or another for decades, but has only begun to reach its full potential in the last 10 years.
Prediction Machines: The Simple Economics of Artificial Intelligence
Authors: Ajay Agrawal, Joshua Gans, and Avi Goldfarb
Why you should read it: Written by three economists, this book details how the economics of AI will transform business as we know it. In the process, it offers real-world advice on how to build business strategies and plans around the technology.
Key takeaway: By lowering the cost of making accurate predictions, AI is a no-brainer for business owners and executives to use and adopt.
You Look Like a Thing and I Love You: How Artificial Intelligence Works and Why It's Making the World a Weirder Place
Author: Janelle Shane
Why you should read it: Author Janelle Shane takes a funny and informative journey through the world of AI, by running experiments that test the limits of what AI can and can't do-often in hilarious fashion. (Like having AI truly botch coming up with new ice cream flavors.) In the process, you'll come away with a true understanding of how AI works.
Key takeaway: AI isn't going to take over the world. But it is going to transform it-sometimes in extremely weird ways.
---
Best Artificial Intelligence Books for Business Leaders
AI is projected to have trillions of dollars of annual impact on the economy. Business leaders will be at the front lines of these impacts as the ones tasked with developing their company's AI competitive advantage.
But every business leader has too little time and too many priorities. So, we put together the most practical, actionable books to quickly understand the AI landscape and get started with the technology.
The Algorithmic Leader: How to Be Smart When Machines Are Smarter Than You
Author: Mike Walsh
Why you should read it: Walsh breaks down exactly how business leaders need to adapt their skills, approaches, and mental models to manage effectively in the age of AI.
Key takeaway: Business leaders will need to design new paths of personal transformation with AI in order to build a competitive advantage for themselves and their companies.
The AI-Powered Enterprise:
Harness the Power of Ontologies to Make Your Business Smarter, Faster, and More Profitable
Author: Seth Earley
Why you should read it: Knowledge management is the fastest growing area of AI spend. There's a good reason for that.
Without proper management of every piece of your organization's digital knowledge, you won't get much value out of AI. Earley's book reveals exactly how to develop an ontology, a holistic digital model of every piece of information that matters to your business. This model allows you to get true—and transformative—value out of AI.
Key takeaway: Most companies still stumble when it comes to deploying artificial intelligence, and it's because they've failed to manage and organize their internal knowledge and data correctly. Building an ontology solves that problem.
The Second Machine Age: Work, Progress, and Prosperity in a Time of Brilliant Technologies
Authors: Erik Brynjolfsson and Andrew McAfee
Why you should read it: Erik Brynjolfsson and Andrew McAfee, both professors at MIT, were early advocates of the idea that AI would transform business. In The Second Machine Age, they make the case that we are entering a new era of technological progress.
Key takeaway: The Second Machine Age describes how technology has been improving exponentially since the Industrial Revolution. It offers some insight into how AI will change business in the future.
Applied Artificial Intelligence: A Handbook for Business Leaders
Author: Mariya Yao
Why you should read it: Applied Artificial Intelligence offers practical advice on AI adoption specifically designed for business leaders, including how to prioritize your AI projects at your company.
Key takeaway: You do not need to be a machine learning engineer to apply AI to your business, as long as you have the right framework and ask the right questions.
Human + Machine: Reimagining Work in the Age of AI
Authors: Paul Daugherty and H. James Wilson
Why you should read it: The authors worked with 1,500 companies to determine practical advice for how professionals and firms need to adapt to the transformations wrought by AI.
Key takeaway: Every company needs six hybrid human + machine roles to thrive in the age of AI.
---
Best Artificial Intelligence Books for Pros with More Technical Backgrounds
These books are for those with at least a little technical background in computer science or data science. Each one is a deeper dive into the nuts and bolts of how AI technology works.
Artificial Intelligence: A Modern Approach
Authors: Stuart Russell and Peter Norvig
Why you should read it: Widely considered a classic, this book is a comprehensive look at AI as a field and technology. The book is now on its fourth edition, and covers machine learning, deep learning, and other types of AI, as well as important concerns around AI safety and privacy.
Key takeaway: AI has the power to transform our world, if we approach it with the right considerations and concerns in mind.
The Master Algorithm: How the Quest for the Ultimate Learning Machine Will Remake Our World
Author: Pedro Domingos
Why you should read it: Pedro Domingos is a professor at the University of Washington, and his book The Master Algorithm provides a clear overview of the field of machine learning. It's a great place to start if you want to learn about the evolution of artificial intelligence.
Key takeaway: The Master Algorithm explains how you can apply machine learning to various fields, including robotics and medicine.
How to Create a Mind: The Secret of Human Thought Revealed
Author: Ray Kurzweil
Why you should read it: Ray Kurzweil is one of the most prominent inventors in artificial intelligence, and he is quite optimistic about the future of AI. In his book How to Create a Mind, he explains how the brain works and how we can recreate it on a computer.
Key takeaway: Ray Kurzweil predicts that by 2029, a $1,000 computer will have the same power as the human brain.
Deep Learning
Author: Ian Goodfellow, Yoshua Bengio, and Aaron Courville
Why you should read it: Deep learning is one of the most promising approaches to artificial intelligence, and this book explains the basics of the field. You'll learn how deep learning systems work, how to design them, and how to make them work well.
Key takeaway: Deep Learning explains how to apply deep learning to various fields, including computer vision and speech recognition.
---
Best Artificial Intelligence Books for Big Picture Thinkers
While practical knowledge is key to getting the most out of AI, it's also helpful to grasp the big picture—where the technology is taking us and how it's changing what it means to be human.
These books provide several possible roadmaps for what our future could look like.
Homo Deus: A Brief History of Tomorrow
Author: Yuval Noah Harari
Why you should read it: Yuval Noah Harari is a historian at the Hebrew University of Jerusalem, and in Homo Deus, he explores the future of humanity. He argues that artificial intelligence will change the world as much as fire, agriculture, and writing did.
Key takeaway: Harari believes that artificial intelligence will make inequality even worse, and he warns that it could lead to major political upheavals.
Atlas of AI: Power, Politics, and the Planetary Costs of Artificial Intelligence
Author: Kate Crawford
Why you should read it: Crawford takes a novel approach to the field of AI. She looks at the negative effects that AI as a technology is having on politics and economies.
Key takeaway: AI has the potential to go wrong, and knowing the risks and downsides is a main way to make sure it goes right.
AI Superpowers: China, Silicon Valley, and the New World Order
Author: Kai-Fu Lee
Why you should read it: AI Superpowers is an expert look at how AI development in China and the United States is about to disrupt work and the world. In it, AI and China expert Kai-Fu Lee details which types of jobs and industries will be most effected by AI, and what to do about it.
Key takeaway: Competition and/or collaboration between China and the United States could determine the pace and extent of AI adoption globally.
Superintelligence: Paths, Dangers, Strategies
Author: Nick Bostrom
Why you should read it: Nick Bostrom is a philosopher at the University of Oxford, and in Superintelligence, he explores the dangers of artificial intelligence. He argues that if AI becomes more intelligent than humans, it will be difficult to control.
Key takeaway: Although most experts agree that we need to be vigilant about the risks of artificial intelligence, some of the most prominent AI researchers disagree with Nick Bostrom's conclusions.
---
Many of the "Books Topping Our List" are MAICON 2023 speakers. Happy reading! What books would you add to this list? Join our Marketing AI Institute Slack community to join in the conversations.
As Chief Content Officer, Mike Kaput uses content marketing, marketing strategy, and marketing technology to grow and scale traffic, leads, and revenue for Marketing AI Institute. Mike is the co-author of Marketing Artificial Intelligence: AI, Marketing and the Future of Business (Matt Holt Books, 2022). See Mike's full bio.