We've all been there. Bored after one sentence of a marginally relevant marketing email, fumbling for the SKIP button while bombarded by a pre-roll Youtube video ad, and skimming through a barrage of social posts and outreach focused on an ebook that doesn't align with your goals or responsibilities, followed by the obligatory sales rep call.
Frustrated, I've often muttered under my breath, "How can they expect me to buy this stuff?!"
But, as a marketer myself, I begin to self-analyze: how do our prospects and subscribers feel about the content we are producing, and the manner and degree to which we are connecting?
The term "Modern Marketer" has been thrown around for years, but the "Modern Prospect" has evolved at an equally rapid pace.
Google's Zero Moment of Truth (ZMOT) perfectly captured the concept of consumers researching via their own terms and channels to ultimately build up to a buying decision, and technology during this time has continued to help marketers provide as organic and educational an experience to potential customers as possible.
While search made content easier to find and social media created communities and trumpeted posts and opinions over a larger scale, artificial intelligence (AI) has emerged to help marketers read and analyze billions of pieces of content in seconds to help forge a better understanding of what resonates with coveted prospects.
Because of this technological breakthrough, marketers can begin to repair some past missteps:
Mistake #1: Creating Content That Isn't Relevant for Your Audience
To create content that is going to hit the mark with an audience (and keep them engaged over an extended period of time), you simply must have as much data as possible about your audience.
The 2018 B2B Content Marketing Benchmarks, Budgets & Trends Research by the Content Marketing Institute and MarketingProfs revealed that only 18% of content marketers deem their content marketing "much more successful" than the year before—a result of content that isn't emotionally or intellectually connective.
AI has fundamentally changed how fast marketers can react to audience and prospect content digestion data, as well as the volume of data available. In seconds, AI helps marketers understand why and not just the what.
AI powers the vision to combine social engagement data with topical understanding and semantic analysis to provide content marketers with insights on what topics are actually resonating with consumers and why: A marketer with instantaneous access to this wealth of data will certainly better serve the interests of this coveted audience.
Mistake #2: Your Content Isn't Exceptional Enough to Position You as an Expert
Jay Baer coined the term "Brick Content," and this should be the crux of positioning you and your key executives as thought leaders in the industry.
Are you creating memorable, sharable, savable content that is increasing your company's brand exposure by the day while serving the needs of others simultaneously? Extrapolating on the Brick Content concept, CONCURED CEO Tom Salvat articulates this content as the "Sweet Spot:"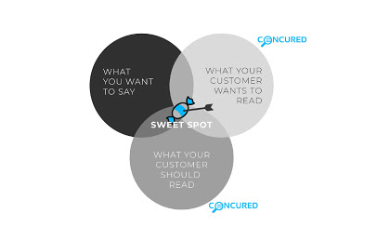 To do this, you need to know what content currently produced has been on point, which content has badly missed, and how competitors are addressing a particular topic niche better than you may be (a.k.a. the dreaded content gap).
AI can help power real-time analysis that identifies content opportunities where audiences' interests are currently underserved while recommending existing content to re-purpose and promote. What was once a spray-and-pray system of educated guesses is now backed by data hinged to the ideal roadmap to engage, interest, and ultimately help your audience.
To paraphrase my good friend and CMI founder Joe Pulizzi, when an audience subscribes and engages with "stuff," they tend to buy "stuff." An interested audience leads to more engagement, more trust…and ultimately more revenue and a healthier bottom line.
Mistake #3: You Expect Immediate Results
So you've put together a nice, integrated mix of blog posts, videos, and social storytelling, and you find yourself refreshing your Google and Social Analytics dashboards for a week, wondering why the needle is moving so slowly.
Your management team wants results—and impact to the bottom line—and you are sequestered into the arduous task of leading a full-scale content audit, which you know will take you away from creative storytelling for anywhere from weeks to months at a time.
AI has shaved down the auditing process to seconds, providing comprehensive analysis that paints a complete picture of your content strengths and weaknesses, allowing content marketers to get back to spending time on creating wonderful stories (with data to back up their focus and direction).
Mistake #4: Limiting Your Content to 1 or 2 Channels
A colleague of mine runs a successful marketing agency, and only creates Facebook posts. Nothing else. And while engagement is high for now, his strategy is one algorithm change away from some serious limitations to his messaging.
Others I have met simply don't know what to post, so they pin their hopes to a blog, ultimately letting it die on the vine when traction is slow based on little consistency or internal buy-in.
I've seen one-off videos with no sequels, I've listened to some pretty ill-prepared podcasts, and I've even attended conferences that offered sessions not in line with how the show was marketed.
AI can provide multi-channel analytics, showing how your content—stacked up by channel—performs and aligns in comparison to industry averages. This data helps double down on channels that are performing well, and helps bridge the gap in areas that need extra attention.
Having instantaneous access to this scope of data has evolved the content marketing landscape, and better arms marketers to maintain pace with today's rapidly evolving modern prospect.
Are you equipped to keep up?
Want to learn more about how to incorporate data intelligence into your content direction? Read Creating a Data-Driven Content Strategy and learn more about how AI can help champion your connection to your audience.
Peter Loibl is President & Chief Strategy Officer at CONCURED, the world's first AI-powered Content Strategy Platform that guides the ultimate content strategy to help maximize engagement and ROI. CONCURED provides a SaaS platform that enables content marketers to Audit, Research, Plan, Distribute and track the Performance of content like never before.