As voice search develops from something like a fad, to hands-free technology that's here to stay, it's an ideal time to adapt your pages to answer verbal searches.
But whereas traditional SEO techniques won't boost your voice search, you can follow best practices to increase the odds of getting your page—with relevant information about your brand ambassador contract template, for example—read aloud.
We've put together this guide to help you get started.
What is voice search optimization?
Voice search optimization is the practice of increasing the likelihood of your pages to show up in voice searches. If done right, you can set up your site to answer people's questions on devices like Alexa and Siri, and uncover untapped opportunities.
Voice search optimization starts in an understanding that few of us speak the way we type when we're conducting search queries.
Businesses that want to improve their search visibility through voice-activated devices need to upgrade their SEO efforts to reflect this new reality.
Why is voice search optimization so critical for SEO?
According to Gartner, 26% of people in the U.S. use voice-activated speakers at least once per week. 72% of people who use voice search devices consider them an essential part of their daily lives.
And the smart speaker market will reach $35.5 billion by 2025. While much of the search activity on this software will serve search results that are unrelated to your business, voice search has already been insanely lucrative, driving sales amounting to more than $2 billion.
(Here are some more stats about voice search you need to know.)
If you aren't optimizing your websites for voice search, you're likely leaving a lot of revenue on the table. Anytime, anywhere, you need to meet your customers where they are. And they're increasingly making use of voice search.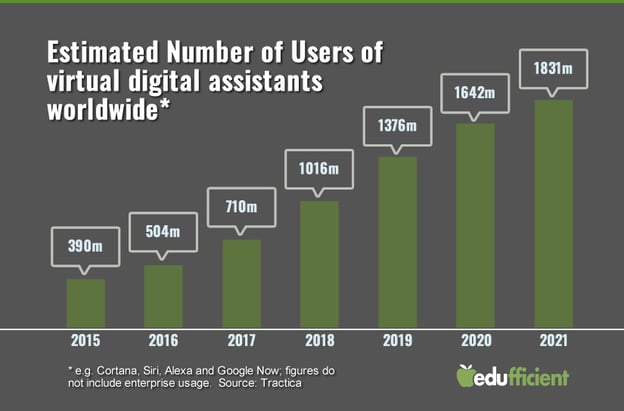 Need some customer appreciation ideas for the holiday season? Mobile assistants will furnish us with instantaneous information, allowing us to multi-task and go about our day. This is to say nothing of voiceover's ability to enable a more inclusive experience for visually impaired people.
Yet while voice search technology is near-ubiquitous and smart speaker sales reached a record high in 2020, consumer adoption still has a ways to go.
How does voice search work?
When users summon the voice search device using the wake word and ask a question, spoken words get translated to text, with the query being performed on a search engine.
The search engine returns an answer, before the words get translated back into voice. They then get sent through the device.
How to optimize content for voice search?
As technology marches on, including artificial intelligence and virtual reality in ecommerce, voice search is becoming ever more reliable and helpful.
What better time to squeeze more from optimization?
Keyword research
When we type searches into Google, a short answer appears in a box at the top of the organic results. Google extracts these brief descriptions—called featured snippets—and with the help of knowledge graphs, provides users with quick results. When we conduct voice searches, we want fast answers above all. Google ranks pages based on how well they perform.
Achieving this coveted position increases your chances of a high CTR. The first step in optimizing for voice search is ranking atop search results. To achieve this, answer queries directly, providing users with the information they need in the most precise way possible.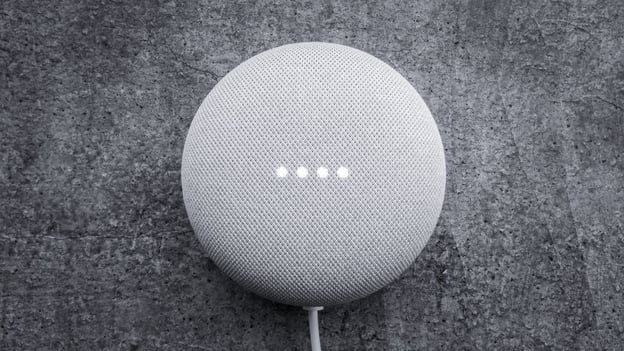 Long-tail keywords
You've probably noticed that voice searches differ from typed queries. When we type into Google, we use short-tail keyword-based searches. For example, we might conduct a search targeting the keyword 'affiliate program'. Or we type in a stilted question that omits a few filler words: 'how to find company affiliates?'
When we talk to devices, our spoken language is much more conversational, and question-based voice searches often take the form of issued commands. We speak in longer phrases, asking complete questions like we would ask a friend. All of which makes sense. Not shockingly, we go for the path of least resistance, spending the least amount of time and energy searching for answers.
Long-tail keywords are more specific phrases and longer than other keywords. While they don't command as high search volume as short-tail keywords, they boast a high conversion rate. Create content using long-tail keywords to improve your voice search optimization results.
Avoid the flowery language and fancy vocabulary that can also hurt your chances of appearing in voice search results. Your goal should be to write conversational content that channels the language people actually use when they talk.
Know your customers
How do you know which keywords your target audience will use when searching for solutions to pain points? Think about your customer persona, the customer journey, and questions about your products and services. Then, include clear and direct answers on your pages. Research the 'People Also Ask' section on Google if you're short on ideas about the questions people might ask and related queries you need to optimize for.
A rule of thumb is to give searchers what they're after by being concise, relevant, and readable in answering the most common questions. You might create a webpage with a headline that covers it. For example: 'what is an affiliate program and how does it work?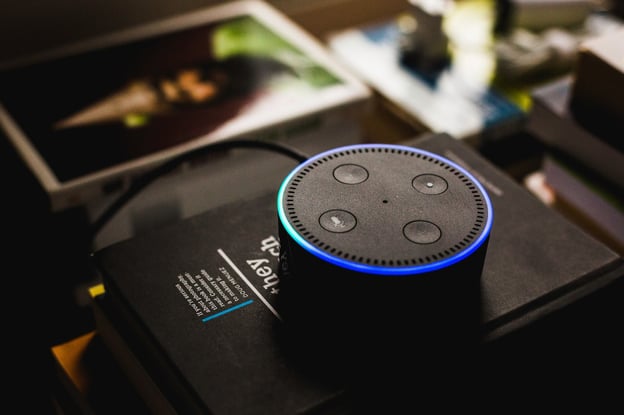 Optimize for local search results
Mobile devices are changing consumer behavior. It's not a stretch to say that most of us are familiar with initiating online 'near me' searches on our phones. Local queries represent a significant proportion of Google searches, and voice search devices return results by listing business names chronologically. For that reason, optimizing their local presence is one of the best tactics for businesses to rank for relevant keywords in impactful local search results.
Claim your Google Business Profile listing first. Be sure to fill out all possible information, double-checking your name, address, and phone number to verify you're providing the correct information. Next, keep it updated with store hours, sales, and events, including photos on your listing to show off your store and seek reviews to boost your rankings.
Write a comprehensive, relevant keyword-rich blurb about your business that functions as the answer to a voice search query. Claiming your local listing will help you rank in local voice searches and drive more traffic to your location.
A useful tip is to account for regional dialect and slang in your research when optimizing for local keywords, which may not be the same as the natural language used in the area your company operates.
Frequently asked questions
An FAQ section is a doubly efficient tool for helping you rank for voice searches while answering all the common questions people ask about your business and related to your target keyword. For example, 'why contact centers need digital asset management solutions? Building one is an opportunity to serve up a compendium of easy-to-find replies, answers to voice queries that arise across the entire shopping journey. Voice searches start with question words like who, why, and how, so present answers to these questions while tackling sales objections.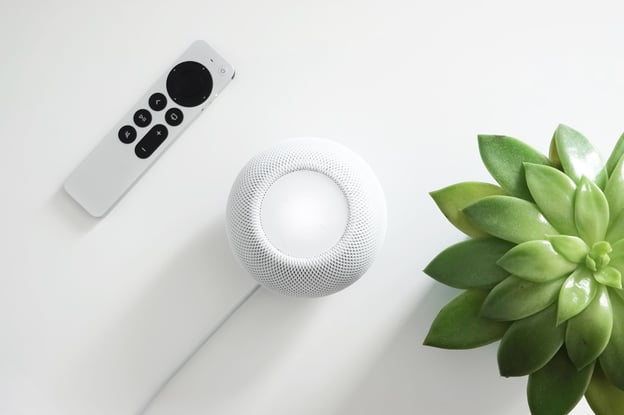 Remember also that people use voice search to buy and shop. By creating content with transactional keywords such as 'like', 'buy', 'sale', or 'deals', integrated into descriptions of your products, your ecommerce site will more likely become a source of answers to these valuable voice searches.
Include schema markup
Having technically sound pages is also crucial for optimizing voice search. Schema markup is a system for coding information so that search engines can better understand, display, and rank your content. Because it makes it easier for search engines to mark up the intent and relevance of your content and site, it increases the chances that you'll wind up with a featured snippet in voice search queries. Google likes structured data and speed. And while it requires technical knowledge to implement, schema markup can make a difference in the competition for top SERP rankings.
Optimize your website for mobile
The mobile landscape has reshaped the customer experience. Most of us have voice search software on the mobile devices in our pockets and responsive design is a must in order to make browsing easy for users whose research has taken them to your site. It needs to answer their search query without a hitch, no matter which device they're using.
In our mobile world, the case for a mobile-friendly website is being overtaken by a mobile-first imperative. Voice searchers can't see your website, but the experience it delivers matters because Google likes speed and voice-activated devices pull answers from the top of the rankings. With the added emphasis on answering questions instantly in voice searches, the mobile experience you provide to users will make or break your website discoverability.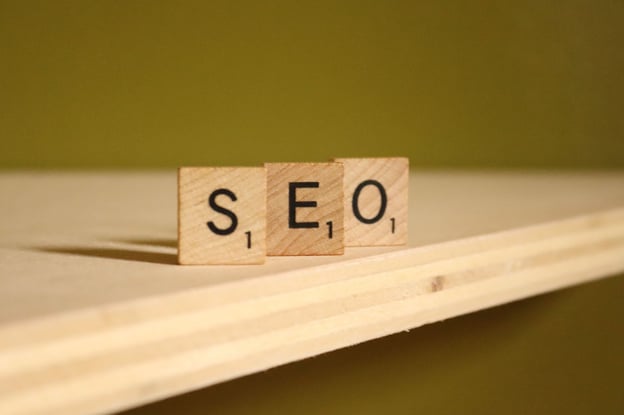 Speed up your site
Website loading speed is vitally important for SEO and voice search for the same reasons. A slow site that takes eons to load will affect the bounce rate. Laggard websites will also get passed over by search engines seeking to provide answers fast. Test your site's speed with Google PageSpeed Insights to see if it makes the grade and learn how you can make sure it does.
Your opportunities; their commands
Thanks to advances in AI and natural language processing, and the agile manifesto that sets the parameters of software testing and development, voice search devices are only getting better at finding answers.
Their popularity will surely explode as we grow accustomed to their convenience. Search engines have updated their algorithms, and you need to follow suit. The good news is that to reach more customers, many of the adjustments you need to make build on the SEO best practices of yesteryear.
Sam O'Brien is the Chief Marketing Officer for Affise—a Global SaaS Partner and Affiliate Marketing Solution. He is a growth marketing expert with a product management and design background. Sam has a passion for innovation, growth, and marketing technology.