Brands are constantly on the lookout for new technology to help them in their marketing efforts. Marketing is the key to promoting their products and gaining new customers in a competitive market.
One popular AI-powered innovation for marketing in recent years is natural language processing (NLP) technology.
What is Natural Language Processing?
Natural language processing (NLP) is the way in which technology is able to process the human voice to understand language.
It's a kind of artificial intelligence (AI) that focuses on creating machines that can find the context and meaning of so-called natural language. It combines a number of disciplines, including computer science, information technology, and linguistics.
Natural language just refers to the fact that language is a natural feature of humans. This is not the case for machines.
A well-known example of NLP in action is Siri. Siri is Apple's voice recognition software assistant, installed on most Apple devices and capable of understanding speech to return results from the web. For example, if you ask Siri "where is the nearest restaurant to me", it will return a list of restaurants near to the location of your device.
This is an instance of a machine processing and interpreting human speech.
It's a powerful capability, and one big reason the market for NLP is growing,.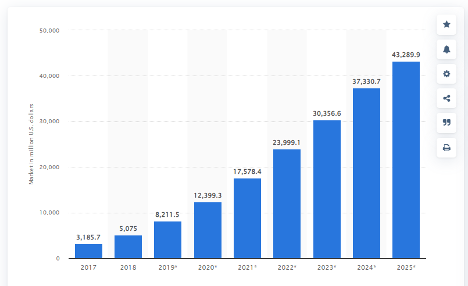 Data source - NLP sector revenue worldwide
Machines are now able to analyze our speech and the information it conveys, as well as just understanding it. This has some exciting new implications for the world of digital marketing.
Here are some case studies of AI in digital marketing.
How is NLP Influencing Digital Marketing?
Innovations in NLP have a lot of potential uses in digital marketing. These applications are generally focused on improving the individual experience for each customer and promoting a good customer-business relationship.
1.
Content Writing
This use of NLP is potentially controversial in the digital marketing community. This is not to say that AI can be as diverse and creative as a human team of content writers. Humans still know how other humans speak better than machines.
Where NLP comes in handy is for scaling up your web copy. Product descriptions can become difficult to write consistently when your business has a lot of new products. NLP can help an AI system to understand typical language patterns. This allows the AI system to produce more convincing product description copy.
NLP can also be useful for small bursts of blog writing. It's an invaluable tool for generating the right keywords for blog content.
Marketers can even use it for researching the SERPs of voice searches. Voice searches are highly individual and so are their results pages, meaning choosing the right keywords can create highly targeted content.
Imagine an affiliate marketing company writing a piece of content on how to find affiliates. Their AI system could use its understanding of human language patterns, supported by NLP data, and map out sentences and plans for content. Their AI can also explore the web to learn the typical structures of pieces similar to this one.
Here is an example of a piece of blog content written using AI. Blog content is still largely written by human content writers, but NLP and AI are valuable tools for scaling up your content marketing strategy.
2. Experience Personalization
NLP can be used to customize each user's experience with a business. NLP systems, like mobile voice analytics, can recognize patterns and tones in a person's voice and present them with information accordingly.
So, someone with a frustrated tone using a lot of short, clipped words is likely to get straightforward, informative content. On the other hand, a person speaking slowly with a curious tone may receive encouragement to explore the site further.
For example, imagine a marketing professional searching the term "how to become an affiliate marketer" in the search bar. NLP allows an AI system to recognize this as a repeated search term and personalize their web experience. It also recognizes it as being different from a voice search.
With a voice search, NLP can recognize that this usually means urgency, so the search engine is likely to return informative content with a short reading time.
Practically, this means that job boards may show them affiliate marketing positions and they may be shown more information on the best affiliate programs for their niche.
3. Analyzing Data
Digital marketing produces huge amounts of useful data. Take social media marketing as an example. Most social media platforms allow business users to collect real-time analytics of followers, impressions, engagement rates, and more.
By integrating NLP with machine learning, you can more effectively analyze the data produced by your marketing campaigns across different platforms.
Let's say that you want to measure the success of integrating affiliate marketing software into your digital marketing strategy. You're collecting data based on five affiliates' social media posts.
You can tell how their audience feels about your products based on their comments on your affiliates' posts. Their syntax, word choice, and tone can all be detected by NLP technology. You can then adjust your affiliate marketing program accordingly.
This can be a real time money-saver for companies. NLP and machine learning can quickly show you issues in a strategy that might take weeks or months to reveal themselves manually.
4. Customer Service Bots
In the world of social media, customers are increasingly expecting rapid responses from companies, particularly when they have a problem. Being responsive to customers can help to build your brand image as reliable and customer-centered, which is a big plus for consumers in a competitive market.
NLP can be used to develop bots that will manage some elements of digital customer service. You may have used something like this already.
Have you ever messaged a page on Facebook Messenger and been presented with a selection of possible first questions? These questions have been developed from commonly asked questions in that sector. For example, a restaurant usually has questions like "when do you open?" and "do you cater to vegetarians?"
These questions are worded based on how Facebook has recognized that real people speak and chosen based on the most common queries. More sophisticated chatbots, too, can understand custom queries and provide relevant responses.
Another good place to use NLP in your customer service is in your call center. You can use voice recognition and NLP to have customers answer questions about their call in order to direct them to the right department. This makes their experience quicker, more relevant, and hopefully gets them closer to solving their problem.
You can also use NLP to improve your digital chat service. Your NLP infrastructure can learn common speech patterns and word collections in customer service calls. This can be used to build an online chat service that doesn't initially require an agent.
This can save you and your customer time and energy. You may also be able to take more calls per day as machines manage customers initially.
5. Tracking Competition
Competitor analysis is vital to any digital marketing strategy. You need to understand what your competition is doing well and what isn't working for them, to shape your strategy.
Using its understanding of speech and language, an AI system can search the web for product reviews mentioning a feature or fault of a rival product. Your business can then either replicate or avoid this as necessary.
They can also map similar businesses to yours and create a list of competitors that may be poaching your customers.
This can also be useful for converting brand affiliates. AI systems can track when a competitor product is mentioned in the online sphere by an affiliate. You can then approach brand affiliates, directly or indirectly, for other brands and present the virtues of your product.
Final Thoughts
Overall, NLP can help brands to understand their customers' needs better and meet these needs more effectively. Improvements such as these can lead to attracting new customers, keeping existing customers, improved brand loyalty, and higher revenue.
It might help you to research limitations of AI in marketing to make sure that it's the right option for you. If you're planning to integrate NLP and AI into your marketing strategy, make sure to take the time to go over it with your team.
Everyone in your team should understand how to use the relevant software, what role it's going to be playing, and, most important of all, why you've chosen to integrate these technologies.
Sam O'Brien is the Chief Marketing Officer for Affise—a Global SaaS Partner and Affiliate Marketing Solution. He is a growth marketing expert with a product management and design background. Sam has a passion for innovation, growth, and marketing technology.