The AI Academy for Marketers Ask Me Anything members-only program kicks off this week! During each scheduled session, members will have a full hour to have meaningful, open discussion with featured experts from the Academy.
During the Ask Me Anything (AMA) Zoom sessions, our featured instructors will answer your questions LIVE. These sessions offer a great opportunity to engage with instructors and further your understanding on core AI and marketing topics. Once you become a member, we recommend completing the instructor's courses before the AMA to make the most of your time.
Join AI Academy for Marketers today to gain access to the Ask Me Anything sessions.
The Upcoming AMA Member Schedule

Aug. 13, 2020: AMA with Paul Roetzer, Founder & CEO, Marketing AI Institute
Roetzer is the founder of the Marketing AI Institute and creator of the AI Academy for Marketers. During his AMA session, Roetzer will talking about his Academy courses (see below), and anything else about AI and the Academy that you want to know: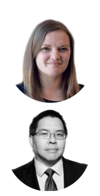 Sept. 10, 2020: AMA with Christopher S. Penn, Co-Founder and Chief Data Scientist, Trust Insights; and Katie Robbert, CEO, Trust Insights
As CEO of Trust Insights, Robbert oversees the growth of the company and sets overall strategy. She is an expert when it comes to compliance, governance, change management, agile methodologies, and dealing with high-stakes data. As co-founder and chief data scientist of Trust Insights, Penn is a recognized thought leader in the industry, best-selling author and keynote speaker, with specializations in: Google Analytics adoption, data-driven marketing and PR, modern email marketing and AI/machine learning.
Take these courses and certification to prep for their session:
Oct. 8, 2020: AMA with Mike Kaput, Director, Marketing AI Institute

Over the past few years, Kaput has written 200+ articles for the Marketing AI Institute while serving as the Institute's director. You can prep for this AMA by taking the following course and certification:
Nov. 12, 2020: AMA with Jim Sterne, President, Target Marketing of Santa Barbra

With more than 35 years in sales and marketing, Sterne has published 12 books and founded the Marketing Analytics Summit (the eventual birthplace of the Digital Analytics Association). Take the following course and certification to prepare for this session:
Dec. 10, 2020: AMA with Jessica J. Miller, Managing Director, PR 20/20

Miller is the VP and managing director of PR 20/20, a Cleveland-based marketing consulting and services agency. With over a decade of experience in marketing, she's helped hundreds of organizations—from startups to Fortune 500s—with the goal of connecting marketing programs to bottom-line business outcomes. You can prep for this AMA by taking her certification:
Jan. 14, 2021: AMA with Cal Al-Dhubaib, Managing Partner, Pandata
Al-Dhubaib is a data science thought leader in the Midwest. He regularly

speaks on artificial intelligence and how organizations can ethically leverage their data for impact. Al-Dhubaib has received both national and international recognition for his work in predictive modeling and entrepreneurship. Check out his certification in advance:
As a reminder, this is a members-only program. Join today to obtain access to the LIVE Ask Me Anything sessions!
More About the Academy
AI Academy for Marketers is an online education platform that helps you to understand, pilot and scale AI. For one annual price ($999/year), members can take advantage of the LIVE coaching sessions, in addition to all of the following benefits:
25+ Courses

organized by marketing categories.
4 Certificates

for completion of select deep-dive Courses.
Ongoing access to new Courses and Certificates

as they go live each quarter.
Quick Take videos

featuring simple answers to common AI questions and challenges.
Private Community access

to the AI Academy for Marketers Slack Group.
Ask Me Anything Zoom sessions

with Academy instructors.
Marketing AI Conference (MAICON) keynote videos

featuring industry leaders.
AI Tech Showcase library

featuring product demos with leading marketing AI tech companies.
Marketing AI Show Podcast library

with audio and transcripts for each episode. (Coming soon)
Vendor discounts

from select partners. (Coming soon)
MAICON 2021 VIP

pricing and experiences. (Coming soon)
Dozens of additional resources,

including: slide decks, templates, worksheets and quizzes.
Sandie Young was formerly the Director of Marketing at Ready North. She started at the agency during the summer of 2012, with experience in magazine journalism and a passion for content marketing. Sandie is a graduate of Ohio University, with a Bachelor of Science from the E.W. Scripps School of Journalism.