The Marketing Artificial Intelligence Conference (MAICON) is made possible by the support of sponsors that are building the next generation of technologies and services to move the industry forward.
With 300 attendees from 12 countries in its inaugural year and plans to grow, MAICON offers a prime opportunity for your brand to get in front of marketing decision makers as they start to research and test marketing AI tools. More than half (58%) of 2019 attendees were VP level or above, and 89% of attendees classified their understanding of AI as Beginner or Intermediate.
This is your chance to connect with marketers actively seeking information and resources on how AI technologies can help them solve problems and achieve goals more efficiently at scale.
2019 included more than 20 sponsors, including our Platinum (PathFactory), Gold (Vennli), Silver (Conversica and HubSpot) and Bronze (MarketMuse, Meera, PR 20/20, rasa.io and Validity) partners, as well as our speciality, media and industry sponsors.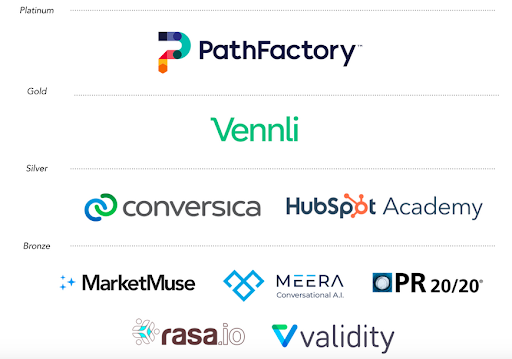 Sponsor Spotlight
Hear what our 2019 sponsors had to say about their experiences at MAICON:
Join Us in Cleveland, July 14-16, 2020
We're actively seeking sponsors for our July 2020 event at the Huntington Convention Center of Cleveland in the areas of content marketing, email marketing, social media marketing, analytics, advertising and more. If you sell a marketing AI technology or service, we hope you'll join us. There are a variety of package options available to fit your brand awareness and budget goals.
We're excited to partner with forward-thinking companies like yours on our quest to make marketing more intelligent and brands more human.
Sandie Young was formerly the Director of Marketing at Ready North. She started at the agency during the summer of 2012, with experience in magazine journalism and a passion for content marketing. Sandie is a graduate of Ohio University, with a Bachelor of Science from the E.W. Scripps School of Journalism.