Welcome back to our MAICON 2021 speaker series where we're introducing you to our speakers, telling you a little about why they'll be at MAICON, what resonated with us in articles or resources of theirs, and how to connect with them prior to the event.
David Benigson is the CEO and Founder of Signal AI, a fast growing UK artificial intelligence company that is creating pioneering AI solutions to enable better decision making. Signal AI has built its customer base to over 600 of the worlds largest organizations including HSBC, Deloitte, EY, Citi, and Barclays, has over 150 employees globally with offices in London, New York, and Hong Kong, and has raised $50 million in venture capital to date.
Benigson believes AI is one of the most exciting and significant technological developments of our time and has been recognized for his innovative approach to AI and decision augmentation. A Forbes 30 Under 30, DataIQ 100 Most Influential People in Data, and a TED Talk alum, Benigson is regarded as one of the most influential voices on the subject.
Some of David's Work



AI: The horror, hype, and how augmentation is the new frontier
An excerpt: Augmented Intelligence is not only the weapon and shield of the future, but also the greatest human success story of the 21st century. In my TEDx talk I challenged the horror and hype surrounding AI and put forward an alternative picture of the future where augmentation is the new frontier. I remain convinced that these technologies are much more likely to augment us, to partner with us, to collaborate with us, and to unlock a new age of innovation and value that we've never seen before.
Why we like it: In just 13 minutes, David expertly unveils the lack of truth behind the constant fear mongering we so often see from the media when reporting on AI and its perceived capabilities. With just the right amount of wit and humor, David goes on to assure us that the intention of AI technology is to collaborate and partner with humans, not take away jobs and run the world.
The State of Decision Making Report 2021
An excerpt: In the first of our annual surveys on the state of decision making, we asked 1,000 C-suite leaders from organizations of over 500 employees about decision making within their business, the biggest blockers to the decision-making process, and how technology can be applied to improve its results.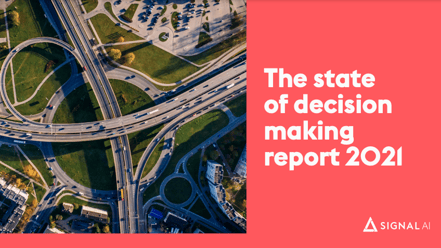 Why we like it: This report published by David's company, Signal AI, dives deep into the priorities of, and resources used by, business leaders when making decisions. While the results are interesting, we're most intrigued to hear how David connects the dots between AI and decision making in his upcoming MAICON keynote.
Learn More About David
Follow David on

Twitter

.
Follow David on

LinkedIn

.
Watch David's

TEDTalk

on "Augmented Intelligence: The weapon and shield of the future."
David's Keynote at MAICON
Decision Augmentation: Artificial Intelligence & The Future of Decision Making
Decision augmentation is turning the world's data into knowledge for decision makers.
The volume and variety of data sources are overwhelming. Business leaders are forced to make decisions based on fragmented data that lacks personal context. Decision augmentation can empower business leaders in marketing, communications, and a range of other industries to make more efficient, effective decisions.
Machine learning technology transforms data to knowledge—unearthing topics and entities, sentiment and saliency, clustering, and ranking—and transforms this morass of information into structure so a decision-maker can derive meaning from the world's data.
Decision augmentation creates a human-AI feedback loop that evolves. The more interaction with the system, the better it understands the user and the more effective it becomes. It learns to understand the landscape, benchmark and index against an organization's own strategy, and surface unknown unknowns. This allows an organization to receive suggestions and predictions about issues and events that matter to them, in real-time.
By using AI to augment decision-making at an executive level, business leaders transform how decisions are made, and through that continue to grow their revenue, and deliver more to shareholders, customers, the community around them, and all the stakeholders that modern companies are accountable.
Join us at MAICON 2021 on September 13-14, 2021 to hear David and 20+ other AI and marketing leaders. BLOG20 saves 20% off current prices.
Cathy McPhillips is the Chief Growth Officer at Marketing AI Institute.