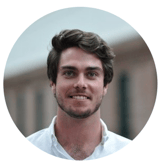 This post is part of our AI Experts Series, which profiles leaders whose insights can help expand your understanding of artificial intelligence and how to apply it.
Today's spotlight features
Kevin Walsh
,
Group Product Manager, Artificial intelligence at
HubSpot
.
AI + You
In a single sentence or statement, tell us what you do.
I'm responsible for HubSpot's AI products and programs in partnership with the Senior Engineering Manager for AI. We lead a group of cross-functional product teams to deliver AI products and processes to HubSpot's commercial product lines as well as internal systems.
How do you define AI? (Or, what's your favorite definition of AI?)
AI is a broad field of attempting to make computers mimic human understanding.
How did you get started in AI?
I studied data science through Northeastern's graduate school of computer science while working at HubSpot, and then went on to work on what was HubSpot's only machine learning product, predictive lead scoring, in 2016.
"AI is a broad field of attempting to make computers mimic human understanding."
What worries you most about AI? How could it go wrong?
Because we learn models from past behavior, it can perpetuate systemic bias for race, gender, and other protected classes. It's a hard problem to even diagnose, but I think AirBnb is moving in the right direction with their approach.
What do you think is the biggest misconception about AI?
For applied machine learning, there's an army of people behind the scenes labeling data for things like self-driving cars, CRM data hygiene, voice assistants…you name it. We're still very dependent on large teams of people, and therefore mostly limited to the kinds of tasks that large teams of people can do.
If you were entering college, knowing what you know now, what would you study?
I studied music and economics, and if I could do it again, I'd probably still pick those. In economics coursework, students often take econometrics, which is conceptually very similar to machine learning.
Marketing + AI
What is the biggest challenge marketers should plan for as they scale AI?
Data hygiene. AI systems require pristine data that's when tailor fit for a particular task. Often times people assume "I have a mountain of data; it must be useful", but you typically should start from scratch to collect data for a particular use case.
What question(s) would you advise marketers ask vendors who claim to have AI-powered technology?
Focus on the problems it's solving. If someone is offering a solution to a problem you've never had before, you may not need it. Companies that overplay the "AI" piece usually have the wrong motivation. Vendors should focus on the problems that they solve for customers, not the technologies they use to solve those problems.
What percentage of marketing tasks will be intelligently automated to some degree in the next five years?
0%

1 – 10%

11 – 25%

26 – 50%

51 – 75%

76 – 99%

100%
Which marketing categories will experience the greatest disruption from intelligent automation in the next five years?
Account-Based Marketing

Advertising

Analytics

Communications

Content Marketing

Conversational

Customer Service

Data Management

Email Marketing

Public Relations

Research

Sales

Search Engine Optimization (SEO)

Social Media Marketing

Strategy

Other
Rapid Fire
Voice assistant you use the most?
Alexa

Google Assistant

Siri

Don't use voice assistants
Other
More valuable in 10 years?
Liberal arts degree

Computer science degree
Preferred cloud for building AI solutions?
Amazon Web Services (AWS)

Google Cloud

Microsoft Azure

Don't use or prefer any of them

Other: HubSpot AI :)



Best guess, how long until we achieve artificial general intelligence (AGI)?
1 – 5 years

6 – 10 years

11 – 20 years

21 – 50 years

51+ years

Never
Net effect over the next decade?
More jobs eliminated by AI

More jobs created by AI

AI won't have a meaningful impact on jobs
What does an AI agent win first (or at least share with a human)?
Nobel Peace Prize

Oscar

Pulitzer

Won't win any

of the above
Favorite AI movie?
Wall-E.
How to Grow Smarter with HubSpot + AI
Whether you're an existing HubSpot customer, or considering HubSpot as your marketing, sales and service platform, we invite you to join Marketing AI Institute and HubSpot for an exclusive webinar that teaches you how to grow better (and grow smarter!) with HubSpot and AI.
How can you use artificial intelligence within your HubSpot portal to drive explosive growth? How can you increase revenue and decrease costs with AI + HubSpot?
On Nov. 19 at 12pm ET, Marketing AI Institute and PR 20/20 founder and CEO Paul Roetzer will be joined by Kevin to pull back the curtain on how companies can use HubSpot + AI to grow better and grow smarter.
Space is limited. Click below to save your spot today.
Paul Roetzer is founder and CEO of Marketing AI Institute. He is the author of Marketing Artificial Intelligence (Matt Holt Books, 2022) The Marketing Performance Blueprint (Wiley, 2014) and The Marketing Agency Blueprint (Wiley, 2012); and creator of the Marketing AI Conference (MAICON).