Effective content marketing requires a lot of legwork, including topic generation, content creation, and promotion across channels. Artificial intelligence tools can significantly streamline this process, bearing some of the burden typically placed on the shoulders of human marketers. One such tool is Uberflip, an AI-powered content personalization platform.
Uberflip uses natural language processing and sophisticated algorithms (both types of AI technologies) to automatically analyze a company's content, then recommend additional content to website visitors based on what they've consumed in the past.
We sat down with Uberflip founder and CEO Yoav Schwartz (LinkedIn) to learn more about how AI in content marketing like Uberflip works and the ways in which it creates value for marketers.
In a single sentence or statement, describe Uberflip?
Uberflip is a cloud-based platform that empowers B2B marketers to create personalized content experiences at scale.
How does Uberflip use artificial intelligence (i.e. machine learning, natural language generation, natural language processing, deep learning, etc.)?
Uberflip leverages natural language processing to automatically extract features and topics from our clients' content. We use this data to power our machine learning AI engine, which uses several different algorithms and patterns to recommend content to visitors, based on their intent and the content they've already consumed.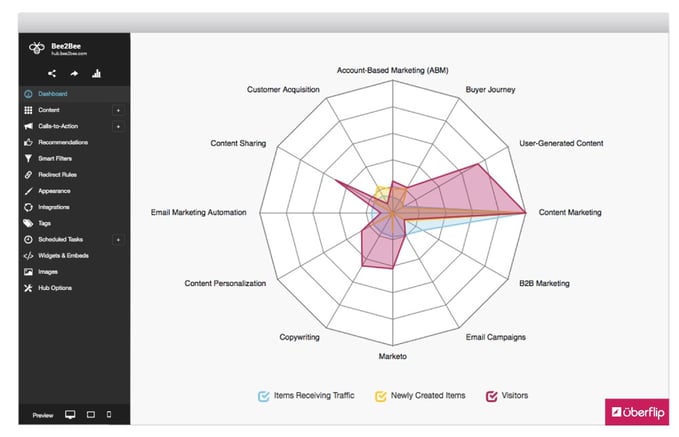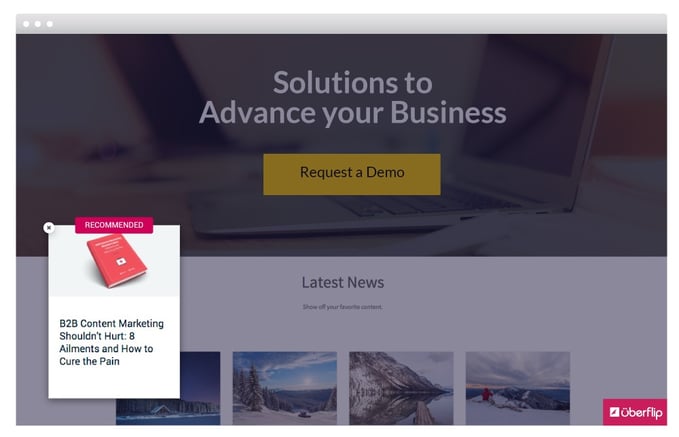 What do you see as the limitations of artificial intelligence as it exists today?
The current limitation of AI is accessing it in a usable way. Most platforms that offer AI are simply not built for marketers. Unless you're a PhD or senior software developer, making use of machine learning or natural language processing can be out of reach. We need to make AI more user-friendly for the modern marketer.
What do you see as the future potential of artificial intelligence in marketing and sales?
I believe the core value of AI is to help marketers and sales professionals make better decisions at scale.
More and more data means it's becoming harder and harder for humans to scan, analyze, and discover insights in meaningful ways. We need machines to help. Today that may mean using AI to help us craft more individualized and personalized user experiences. It may mean helping us uncover the buying stage of our prospects based on their behavior or help us identify churn risks within our customer base.
But tomorrow I see us leveraging AI to make buying decisions. Perhaps we'll leverage AI to make software purchase decisions for our teams. Perhaps to help us hire for our teams. Which makes me think, perhaps we'll use AI to craft product or service messaging, at which point AI will sit on both sides of the marketing and buying process. Ultimately though I see marketers (and humans in general) as the puppet masters to the machines. I guess I'm an optimist.
What makes Uberflip different than competing or traditional solutions?
Uberflip is the only content experience platform built for the entire buyer's journey. We help marketers create incredible content experiences—for their blogs, videos, whitepapers and social—all without needing IT. These experiences are SEO optimized for optimal discovery, leverage AI-powered recommendations and other tools for increased engagement and integrate deeply with marketing automation for a world-class lead generation experience.
With Uberflip for Sales, marketers can arm their entire sales team with their content within an easy-to-use set of tools that live where their reps spend their time—their inbox. Aside from discovery (SEO), a traditional CMS is simply not designed to help the modern B2B marketer throughout the buyer's journey, and any competing solutions only focus on at most one or two stages of the journey.
Who are your prototype customers in terms of company size and industries?
Our ideal customers are typically B2B, have a marketing automation platform such Marketo, Eloqua, or Pardot deployed, and have at least 1,000 employees. Their industries vary, but what's common is the sophistication of their marketing team and their investment in content.
What are the primary use cases of Uberflip for marketers and sales professionals?
The primary use cases for Uberflip include top-of-the-funnel content experiences such as resource centers, blogs and content hubs, as well as more targeted and personalized content experiences for account-based marketing and sales enablement.
Any other thoughts on AI in marketing, or advice for marketers who are just starting to explore the possibilities of AI?
AI is still in its infancy. But it's growing up fast. I've never seen a trend go so quickly from an emerging idea to full blown hype to table stakes. Fairly soon, most software vendors will leverage machine learning, natural language processing, or neural networks at varying levels of sophistication to the point where we won't even mention AI anymore—it will be assumed. As a software buyer, you'll have to analyze not only how AI is being leveraged, but how well it has been interfaced for you, the marketer or sales professional, to actually make use of it.
Paul Roetzer is founder and CEO of Marketing AI Institute. He is the author of Marketing Artificial Intelligence (Matt Holt Books, 2022) The Marketing Performance Blueprint (Wiley, 2014) and The Marketing Agency Blueprint (Wiley, 2012); and creator of the Marketing AI Conference (MAICON).