The AI for Agencies Blueprint
Presented by Jasper
AI is about to fundamentally disrupt marketing agencies of every type and size.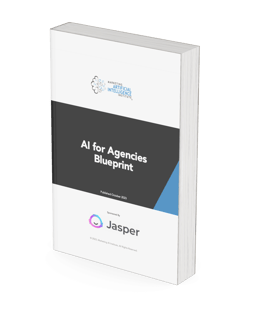 Some agencies will seize the opportunity, and create enormous value for themselves and their clients. Many others, however, will become obsolete.
This guide will help you survive—and thrive—the coming age of AI.
In The AI for Agencies Blueprint, you'll find:
Clear, actionable definitions of AI, machine learning, deep learning, and generative AI…
How AI will disrupt agencies across billing, services, operations, talent, and more...
Top AI use cases and tools specifically for marketing agencies...
A checklist to build a next-gen agency using AI...
And how to choose an AI partner program to build your services for future success.
Fill out the form to get your copy today.
Download the Blueprint Now