AI plays a major role in the never-ending quest to generate more qualified leads.
AI can now automate complex, manual tasks like lead qualification and meeting scheduling, no technical skills needed.
In this post, I'll walk you through three different use cases for AI to automate the top of your marketing funnel.
We'll look at the use cases today for:
1. Generate More Leads with AI
The use of AI for lead generation has been exploding recently. It makes sense since there are so many different ways to generate leads.
Website Lead Capture with Chatbots
According to builtwith.com there are over 100,000 websites using one of the top five chatbots today.
Chatbots provide an easy way to book sales calls or capture lead contact information 24/7. Leading chatbot vendors include Drift, HubSpot, LivePerson, Landbot, Manychat, MobileMonkey and the company I work for: Exceed.ai.

Chatbot Playbooks
There are quite a few ways to go about creating your chatbot playbook or script. The script is really a decision tree where the conversation goes in different directions based on the lead's responses.
Most chatbots ask a question and offer a few answer options (as buttons) for the lead to choose from.
A few helpful links to get you going with your own chatbot playbook:
AI Lead Generation Services
Offsite lead generation is another service automated by AI.
These services use content and outbound campaigns to generate leads and set up meetings. Today, companies like bant.io use AI to better target leads and deliver better results.
First, you identify your optimal customers. Then, algorithms analyze the traits of these customers beyond firmographics. These services will then find lookalike leads and predict which are likely to become qualified leads. (Notice that Facebook's lookalike audiences for ad targeting does exactly that with great success.)
Some of the companies that do this include:
Discover New Leads Based on Buyer Intent
Wouldn't be great if you could get a list of companies that are in the market for the service you're offering?
AI-powered buyer intent signals can help. Buyer intent monitors content about a topic, like marketing automation or human resources, and tracks the IPs consuming the content. Once they know the IP address, they match it with the company known for using the IP.
Then, AI predicts which companies showed buying signals and scores them by how likely they are to buy. Intent data gives better targeting for outbound and ad campaigns.
Some companies offering these services include:
2. Optimize and Automate Lead Qualification
Once you've gotten the leads into your funnel, the next step is to qualify them.
Automating lead qualification increases your capacity to engage leads, moving more of them down the funnel towards sales.
One way to qualify leads is through lead scoring. The downside to this is that you need to wait for a lead to self-qualify through engagement. The other way to qualify is by having sales engage leads, but they can only contact so many leads per day.
AI sales assistants (aka email bots) can conduct human-like conversations with leads. This completely changes the way companies can scale their funnel. The bots ask qualifying questions and hand over leads to sales based on the answer.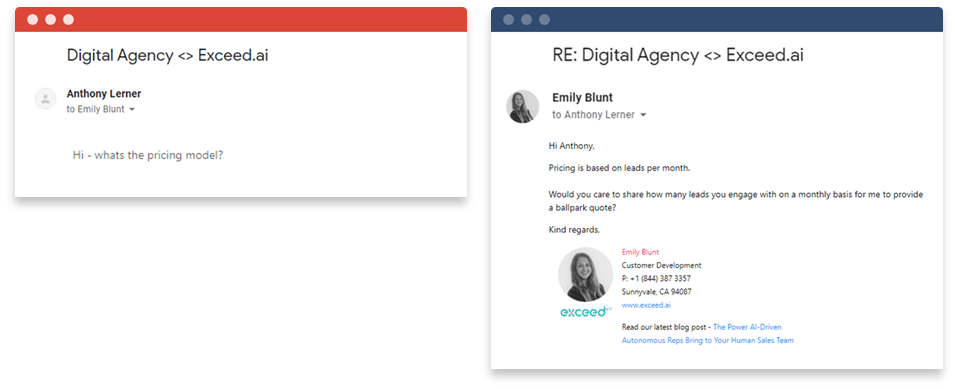 Caption: Example conversation with the AI sales assistant (right) answering a lead's question and following up with a qualifying question.
This can also be done with chatbots by inserting qualifying questions into the chat script.
By automating your lead qualification, you can get more MQLs to convert to SQLs and avoid wasting your sales team's time on unqualified leads.
Some companies that offer automated lead qualification:
3. Scale Lead Follow-Up and Meeting Scheduling
Every minute you wait to follow-up with a lead lowers the odds of the lead converting.
Once again AI assistants like Conversica, Exceed.ai, and SalesWhale can be used for immediate follow-up with every lead.
Automated Meeting Scheduling
You'll want to schedule a meeting for your sales reps with leads once qualified. Scheduling meetings is often a headache for reps and a hole in your funnel. Just check with your sales team to see how often lead go silent at the scheduling stage or how many times they follow-up with leads who no-show for meetings.
AI tools like x.ai, Zoom.ai, Exceed.ai and Drift can all schedule meetings with leads into your reps' calendars. Automating appointment scheduling saves a lot of time for your sales reps and ensures they talk to more leads.
Billy Attar is head of marketing at Exceed.ai.