Are artificial intelligence and conversational marketing at odds?
Conversational marketing exists to make brands feel more human, while AI, on the surface, sounds like something designed to remove the human touch.
However, AI has the power to make brands more human, and engage with consumers on a more personal level.
The technology actually enables both marketers and consumers.
With chatbots and other forms of conversational AI, marketers can participate in 1-to-1 conversations at scale, 24/7/365. And consumers, 90% of whom want to communicate with businesses through messaging, now have the means to connect with companies on their own terms whenever they want.
Conversational marketing is being used today by marketing and sales teams in several ways to improve conversational marketing performance and expand its reach.
AI Chatbots on Websites
For most marketers, chatbots jump to mind first when they think of AI and conversational marketing—and for good reason.
When embedded on a website, chatbots can save marketers time, augment our capabilities and even unlock new lead generation channels.
Specifically, website chatbots can:
Automatically answer common questions in real time. For standard questions your site visitors ask regularly, chatbots can be programmed to answer those questions how you'd like at all hours of the day.
Answer a broad range of questions using content published on your website. Emerging AI solutions can go beyond answering set, common questions. One tool, Frase, uses the content on your website to answer questions through online chat. When a visitor submits a question to the chatbot on your website, their Answer Engine Platform searches your site for the answer, and delivers an immediate response.
Eliminate or supplement lead gen forms. Marketers know this: Forms create friction. Drift, in classic "practice what you preach" form, eliminated all of its forms in 2016. They instead used their conversations tool and chatbot to generate leads. The result: More leads (+15%), a faster sales cycle (3 days from conversation to demo), and less wasted time (AI handles 50% of all conversations). Rather than relying on a form to halt progress, chatbots increase the number of conversations brands have with site visitors and create more sales conversations.
Schedule sales meetings. Not only can a chatbot do more typical top-of-the-funnel work, it can actually lead to sales calls. If linked with the team's calendar, once the chatbot's "conversation" has progressed, AI-powered bots can offer times and automatically add meetings to your calendar.
AI Email Assistants
When you see a website chatbot, you'll notice that most have a robot-like name, immediately keying visitors off that they're messaging a bot, not a human.
When communicating through email, conversational messaging companies have created what they call "AI sales assistants," which act as humans to engage in conversations promptly, professionally, and persistently. The email address will appear like a coworker, talk like one, and even have a human name.
These AI sales assistants cannot replace the work of your sales team. Rather, these platforms—including Conversica, Exceed.ai, and Automat— amplify your capabilities and can create opportunities from leads that would have otherwise remained dormant.
AI sales assistants enable companies to:
Engage cold leads. If you're like most businesses, there is a database of old contacts that you don't have time to reengage. That's where AI sales assistants come in.
Pursue less qualified or lower priority leads. You might have a database full of potential leads that your team will never have time to contact. An AI sales assistant executes sales outreach to see which of these leads might be more qualified than you thought.
Pass qualified or hot leads off to sales. Once a conversation with the AI sales assistant progresses, the tool will identify if a lead is ready for a sales call or meeting. At that point, your human team takes over, without having wasted a minute on the leads that never amounted to anything.
Execute consistent follow ups with prospects. Studies show that several touchpoints are necessary to effectively convert prospects into customers. According to Rashmi Vittal, Conversica CMO, "AI assistants alone create a 15-25% boost in engagement rates with prospects—thanks to more consistent follow-ups." This offers marketers and salespeople the opportunity to have more meaningful conversations with qualified buyers, not send hundreds of emails that lead nowhere.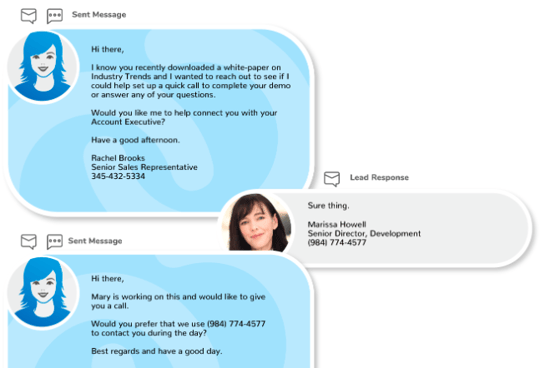 Image: Conversica
AI Messenger Assistants
Creative marketers across all industries are unlocking new possibilities with AI and chatbots. The following use cases show how AI can actually make brands seem more human and personal, not less. With AI messengers, marketers can:
Engage in automated conversations to make personalized recommendations. Imagine offering a unique experience that is tailored to each individual prospect. Automat, for example, has worked with beauty and skincare brands to engage in question and answer conversations that ultimately make personalized product recommendations. With AI, these interactions are 100% automated and make hyper-personalization at scale a reality.
Educate customers and learn more about them. Building on the advantages of the last point, messenger bots can educate consumers as they answer your questions—creating value for the consumer as you learn about them. Lidl's "Winebot" makes personalized wine recommendations based on food pairings, wine preferences, or a quiz. It feels like a human conversation for the consumer, and is offered at a capacity that would require a massive team to do without AI.
Provide personalized customer service at scale. Marketing does not end with the sale. HubSpot even made "delight" equal to "attract" and "engage" in their marketing flywheel (which replaced their traditional marketing funnel). AI can create customer service conversations unique to each buyer. Dominos' chatbot Dom, for example, does not just place orders for customers, it provides real time updates on your pizza's delivery through a user's preferred messaging platform.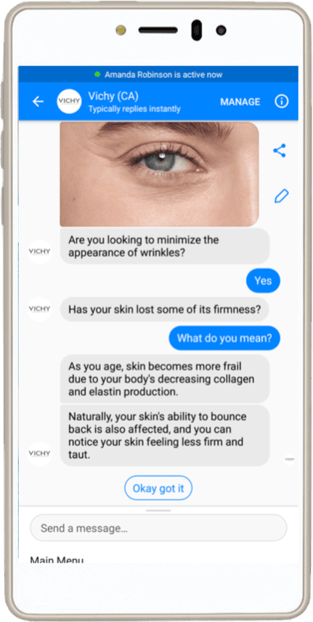 Image: Automat
How to Get Started with AI in Conversational Marketing
Perhaps you have an online chat tool installed on your website, or even created your first chatbot. The truth is, if you're using conversational marketing, AI can likely improve its performance and augment your capabilities.
That means now is the time to get started with AI, no matter your skill or comfort level.
Good news is that getting started in AI doesn't require a data science degree. There's an easy way to accelerate AI adoption in your career and your company now:
Access our free Ultimate Beginner's Guide to AI in Marketing.
The Ultimate Beginner's Guide to AI in Marketing is a free resource with 100+ articles, videos, courses, books, vendors, use cases, and events to dramatically accelerate your AI education. It's based on the years we spent on research and experimentation—and you can access this knowledge in a fraction of the time.
As Chief Content Officer, Mike Kaput uses content marketing, marketing strategy, and marketing technology to grow and scale traffic, leads, and revenue for Marketing AI Institute. Mike is the co-author of Marketing Artificial Intelligence: AI, Marketing and the Future of Business (Matt Holt Books, 2022). See Mike's full bio.