The 2022 State of Marketing AI Report
Get unparalleled insights into the state of AI in the marketing industry.

See below to download our 2022 report. Our 2023 survey is currently in the field, and we'd appreciate your voice. It should take under five minutes to complete the survey. Thank you in advance!
Drift and Marketing AI Institute have once again teamed up to create the 2022 State of Marketing and Sales AI Report.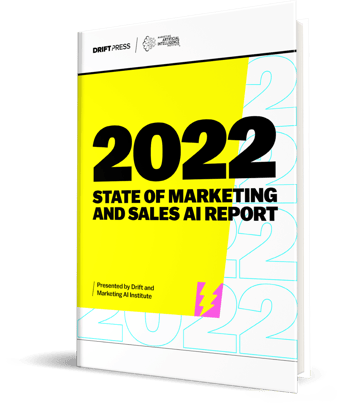 The report contains data you won't find anywhere else on how marketing and sales actually understand and use AI.
What we learned is that the marketing industry is demanding leaders who can provide on-the-job AI education that accelerates companies and careers.
Marketers overwhelmingly believe AI will transform their work and want to use it for increased personalization, revenue acceleration, and insight.
But they're held back by a number of factors—factors that companies must address if they want to survive in the age of AI.
Key findings from the report include:
The majority of marketers believe AI will transform their work, and automate the majority of their tasks.
In fact, some marketers are already using AI to achieve outcomes in

personalization, revenue acceleration, and analytics.
But the majority of those who want to start—or expand—AI implementations are

held back by a lack of education and training.
That's because their

companies overwhelmingly don't offer formal AI training,

or

AI ownership is highly fragmented.
The report is a must-read for marketers, sales professionals, and business leaders.
It paints a picture of a marketing industry undergoing a once-in-a-generation transformation that will have a lasting impact on brands and careers.
By downloading the report, you'll be one of the first to understand this transformation—and take advantage of it.
Fill out the form to get the report now.
Download the Report
Fill out the form for a free copy of our 2022 State of Marketing AI Report.