The AI for Manufacturing Marketing Blueprint
Presented by Drift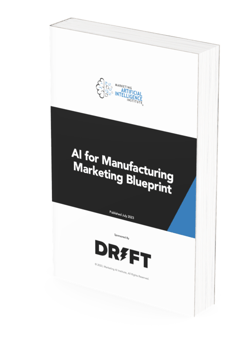 Powerful AI tools are commercially available to all manufacturing marketers—and they've become easier to use, regardless of technical background.
In fact, your competitors are likely already harnessing the power of AI to increase their marketing teams' productivity, efficiency, and mission-critical ROI.
If you're not already using AI in multiple facets of your marketing strategy, you need to be. Marketing your business without AI puts you at risk of becoming obsolete.
This guide is here to help…
In The AI for Manufacturing Marketing Blueprint, you'll find:
Clear, actionable definitions of AI, machine learning, deep learning, and generative AI…
Specific AI use cases for manufacturing marketers to become more productive and creative...
Top AI tools that manufacturing marketers can start using today to supercharge performance...
Fill out the form to get your copy today.
Download the Blueprint Now