A new Forrester report on artificial intelligence readiness in retail and ecommerce shows that while many marketers are looking to implement AI solutions, most don't understand how to execute them.
The study, Building Trust And Confidence: AI Marketing Readiness In Retail And eCommerce, was commissioned by AI-powered marketing automation platform Emarsys. It surveyed more than 700 marketers in a decision-making role at organizations with revenues between $50 million and $5 billion in the US, UK, Australia, Germany, and France.
And it has some serious insights for marketers who need to understand and adopt AI.
Artificial Intelligence Presents Serious Benefits—and Challenges
On one hand, cites the study, AI has the potential to create immense value for marketers:
"More than 90% of the data accumulated in the world today has been created in the last two years. Understanding these mountains of data exceeds human cognitive capacity, which creates an ideal scenario for unleashing AI marketing technologies. Indeed, AI offers the potential to create value for businesses that range from driving revenue growth to better serving customers and meeting their expectations."
A full 86% of those surveyed agree AI will make their marketing teams more efficient and effective, and 80% believe AI will revolutionize the marketer's role in their organization.
However, 66% of respondents said that a lack of technical skills among staff was "very challenging" or "challenging" to AI adoption. Additionally, 64% said it was a challenge that AI technologies were designed for data scientists, not marketers. A full 63% of participants said that it was a challenge to find the right tools and service providers to support their AI marketing strategy.
Notes Forrester:
"Standard marketing processes are designed to sequentially gather data, analyze results, and iterate campaigns. Retailers expressed concern (very challenging or challenging) over their ability to keep up with today's fast moving customers and complex cross-channel customer relationships (65%)."
Despite this talent gap, marketers surveyed by Forrester are bullish on the potential of AI to transform their businesses.
How Marketers Are Using Artificial Intelligence
A full 43% of respondents said they were planning to use AI-enhanced analytics to improve operations, and 40% intend to use intelligent recommendation solutions. Machine learning use is planned by 37% of marketers surveyed.
"All of these AI marketing tools enable firms to fully leverage data and connect insights to engagement — drastically cutting the insight-to-action gap and addressing real-time customer needs" says Forrester.
As part of the study, Forrester sorted participants into four groups based on their marketing AI readiness: laggards, novices, opportunists, and experts. Only 11% of respondents were categorized as experts, while 27% were laggards at the other end of the spectrum.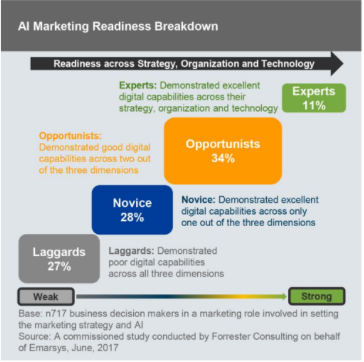 Source: Forrester / Emarsys
A participant's proficiency in marketing AI had significant impact on their organization's performance. A full 49% of experts and 26% of opportunists rated themselves as exceptional at customer engagement and retention; only 12% of novices and 8% of laggards said the same. Even further, 47% of experts and 60% of opportunists rated themselves strong in this area.
Says Forrester:
"Expert and opportunist retailers are extremely proficient at using AI marketing to gain a sustainable competitive advantage over their market peers. They recognize that AI can accelerate their efforts to become truly customer-obsessed."
How Marketers Can Improve Their AI Readiness
It's clear that a significant gap exists between marketers' AI aspirations and their ability to execute. The full report, Building Trust And Confidence: AI Marketing Readiness In Retail And eCommerce, has further insights on how marketers can close this gap.
As Chief Content Officer, Mike Kaput uses content marketing, marketing strategy, and marketing technology to grow and scale traffic, leads, and revenue for Marketing AI Institute. Mike is the co-author of Marketing Artificial Intelligence: AI, Marketing and the Future of Business (Matt Holt Books, 2022). See Mike's full bio.