Use cases, vendors, and case studies created to help you accelerate your understanding and adoption of AI.
Custom Marketing AI Blueprints Created for You
General marketing AI education is a great starting point, but for particular marketing disciplines, industries, and job functions, there will be variances in nuances, regulations, challenges, and opportunities.
The Marketing AI Institute is rolling out Marketing AI Blueprints to help you understand the impact and benefits of AI for your business and your career.
Bookmark this page and check back often to see new Blueprints added to the series!
AI for CMOs Blueprint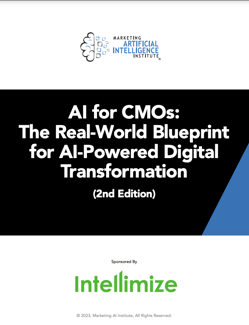 CMOs that embrace AI technology now stand to develop a potentially insurmountable competitive advantage in their markets, their companies, and their careers. Our AI for CMOs blueprint can help.
In AI for CMOs: The Real-World Blueprint for Digital Transformation, presented by Intellimize, you'll find real-world examples of how CMOs are using AI, and a practical playbook to start adopting and scaling AI in your organization.
---
AI for Content Marketing Blueprint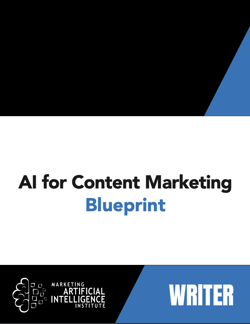 With the AI for Content Marketing Blueprint, presented by Writer, you'll get clear, actionable guidance on exactly how to use AI in your content marketing.
In it, you'll learn:
What AI is and what it can do.
What AI use cases are available for content marketing, and how to find your brand's specific use cases.
What specific AI tools can create real business outcomes for you.
---
AI for Financial Services Marketing Blueprint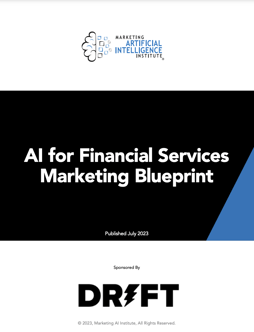 The financial services firms that create truly personalized experience at scale stand to win their markets.
That's why the smartest firms are turning to artificial intelligence.
AI offers the only way to truly personalize customer experiences during every step of the journey across every single customer interaction.
But how do you use AI in a way that's effective and compliant?
This guide is here to help. Download The AI for Financial Services Marketing Blueprint today!
---
AI for Higher Education Blueprint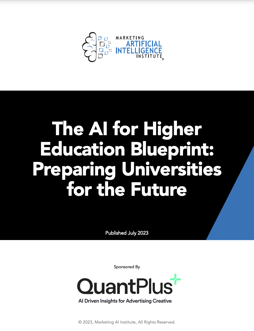 AI in higher education is here to stay—and every higher education leader must begin learning how to understand and harness the technology.
Despite the fear and uncertainty, the AI paradigm shift in higher education can create enormous opportunities for administrators, educators, and students. And our AI for Higher Education Blueprint can help.
Universities that embrace AI have a once-in-a-generation opportunity to empower students, educators, and administrators to deliver unprecedented levels of personalization and performance in education.
---
AI for Manufacturing Marketing Blueprint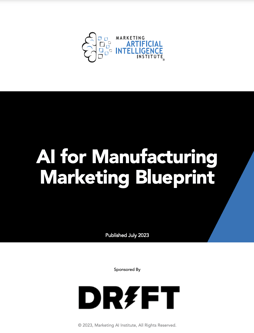 Powerful AI tools are commercially available to all manufacturing marketers—and they've become easier to use, regardless of technical background.
In fact, your competitors are likely already harnessing the power of AI to increase their marketing teams' productivity, efficiency, and mission-critical ROI.
If you're not already using AI in multiple facets of your marketing strategy, you need to be. Download our AI for Manufacturing Marketing Blueprint now.
---
AI for Personalization Blueprint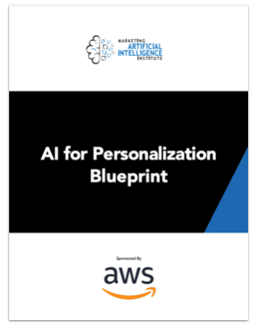 It has never been more important to master the art and science of personalization, and this AI for Personalization Blueprint was created to help.
And the only way to truly personalize at scale across different channels is with artificial intelligence (AI).
Now, a new resource sponsored by AWS shows you exactly how to leverage the power of AI to create sophisticated personalization in your marketing.
---
More blueprints to come!
Subscribe to our newsletter to stay informed
as new resources are published.
Meet your Marketing AI community in person.

Join us at MAICON 2023! Learn more about our annual Marketing AI Conference and register today.