Let's say that you're a sales or business development rep (SDR/BDR) and you've just sent a bunch of cold emails to sales prospects using an email drip campaign software.
What response is most likely?
"Sure! I'd love to hear more about what you have to offer!"
"Quit bothering me or I'll report you as spam."
An out-of-office autoresponder
Radio silence
The correct answer is <drumroll…> C! It's the out-of-office autoresponder.
How Much Time Are You Wasting on Out of Office Responses?
Our data science team analyzed responses to email drip campaigns spanning an average of eight weeks, sent to 11,345 prospects, with an average of 7.1 emails per campaign, and here's the insight we can offer you:
Over an eight-week period, there is a reasonably high chance of people being out of the office for at least a few days. For the campaigns above, just over 50% of the recipients responded with at least one automatic out of office email.
Take a look at the numbers:
On average, every day, each sales rep begins an email sequence to 25 new prospects. That email sequence, which includes seven different emails, takes eight weeks. Since the reps are doing this daily, a month goes by, and each rep is engaging with at least 500 prospects. Compound it over six months or a year, and that totals… a ridiculous number of out of office responses coming back every single day.
The Best Response to an OOO
What should an SDR/BDR do when they receive an out of office email?
Our research has found that when reps follow-up, their chances of lead qualification increase by 50%.
The best practice is to re-engage the lead two days after they returned to the office with a short, cheery email, like, "Welcome back! I hope you had a great time on vacation. In case you missed my email while you were away, I'm resending it below. I'm looking forward to hearing from you." After that reconnection, you can continue the drip campaign sequence where it left off.
The timing of that follow-up is critical. In our analysis of the above campaigns, engaging two days after the lead returns to the office increases the odds of getting a reply by 20% when compared to engaging on the same day the lead returns, or several days after the lead returns.
But it doesn't happen automatically.
To make sure that it happens, the SDR must spend an average of five minutes to:
Craft the follow-up email.
Schedule the email for the correct date or create a reminder in the calendar or CRM to send the email.
At five minutes per email, that's over an hour each day invested in managing out of office responses!
Stop Wasting Time
As a manual process, this can eat up several hours of your sales team's week.
In the words of sales coach Mike Weinberg, "Salespeople and sales teams underperform because they spend very little time selling. Yes, I just wrote that, and it wasn't intended to be funny. It's not funny at all."
As a sales manager, you need to maximize the time your reps spend on tasks that require real human insight—the insight only they are qualified to give, ultimately representing the value they bring to the company. Those human insights include researching prospects and evaluating each leads' needs, interests and objections, answering their asked and unstated questions… all the things that sales reps and SDRs are supposed to do.
Since you hired the sales team to manage the tasks that require critical thinking and evaluation, all tasks that can be handled by automation should be automated.
Fortunately today, it is possible to automate many repetitive tasks with a virtual assistant.
An AI assistant can contact prospects, understand their responses, for example an out of office response and can reply with the right message at the right time.
Automating everything possible makes the SDR's work both more efficient and more fulfilling (because let's face it – manual grunt work is boring).
None of us can afford to be wasteful, and especially not with the most valuable asset you've got: time.
Out of office responses shouldn't eat 10% of your sales team's week.
Let automation manage it—and get your human sales power doing what it does best.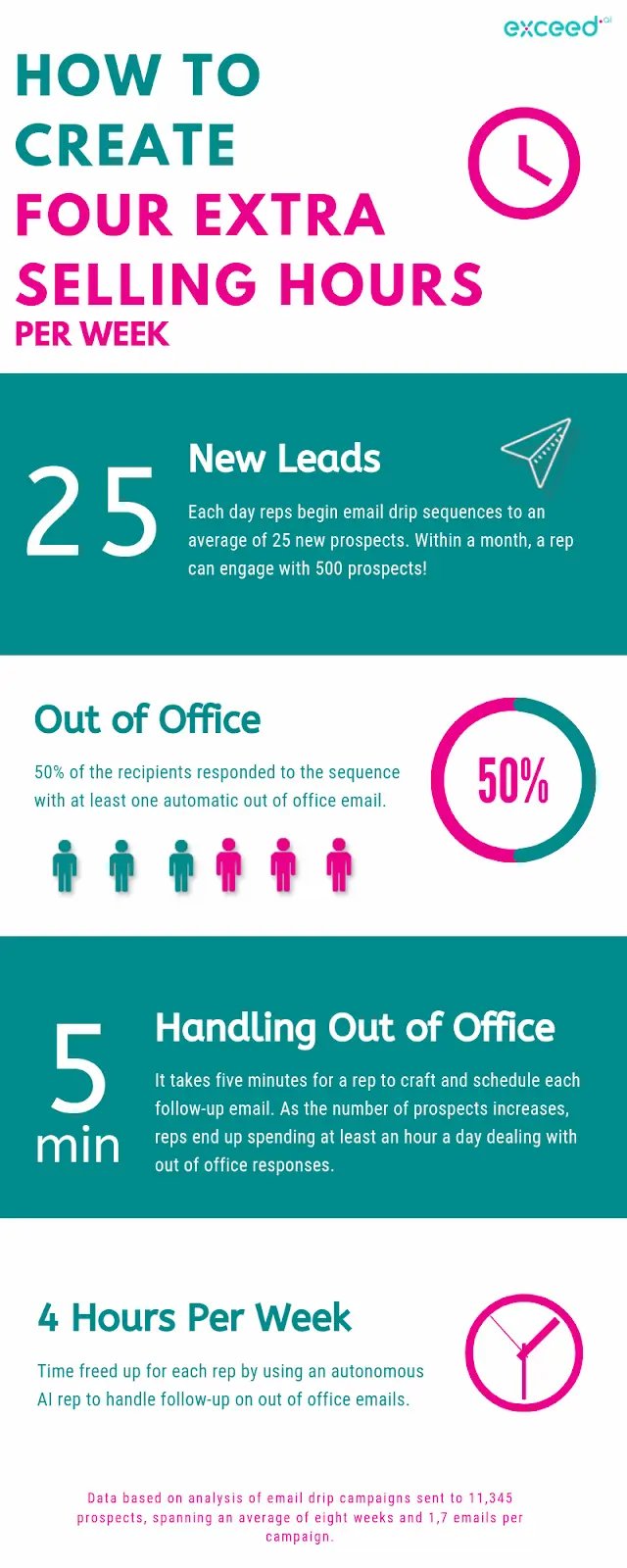 Yael Darom is Head of Marketing at Exceed.ai, a conversational AI marketing platform that helps you engage every lead and set more qualified meetings.