In 2012, Google hired a man named Ray Kurzweil, a leader in artificial intelligence who marketers need to know. Kurzweil predicts that we'll develop human-level or better-than-human AI in the near future in his best-selling book The Singularity Is Near.
Now, Google has him turning your Gmail into a fully functional AI-powered system.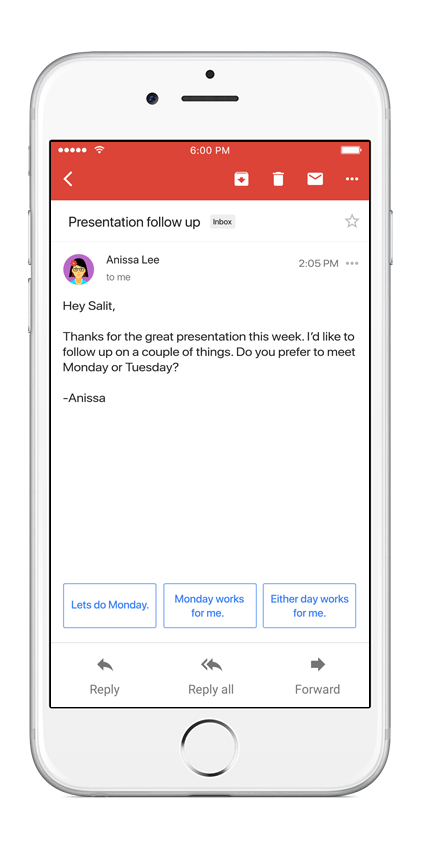 Kurzweil and his team work on Gmail's Smart Reply features. You've likely seen these in action. Using Smart Reply, Gmail offers suggested responses to the email you're reading. The system is able to "understand" what's written thanks to AI tech like natural language processing (NLP). Kurzweil and his team didn't invent the system, but they are working to supercharge it.
Reports WIRED:
His team is experimenting with empowering Smart Reply to elaborate on its initial terse suggestions. Tapping a Continue button might cause "Sure I'd love to come to your party!" to expand to include, for example, "Can I bring something?" He likes the idea of having AI pitch in anytime you're typing, a bit like an omnipresent, smarter version of Google's search autocomplete. "You could have similar technology to help you compose documents or emails by giving you suggestions of how to complete your sentence," Kurzweil says.
The true goal of the system, says Kurzweil, is to create "software as linguistically fluent as you or me," reports WIRED.
Why Marketers Should Care
You should care because many marketers have been using AI systems like Smart Reply without even knowing it's AI. In the example of Gmail, this doesn't really matter: your email is easier to navigate even if you don't understand artificial intelligence at all.
But in the broader context of AI's takeover of tech, it couldn't be more important to better understand artificial intelligence's impact on marketers and businesses at large.
For instance, what happens when technology like Smart Reply starts being baked into your marketing automation system? What if a platform like HubSpot, which is actively implementing AI, is able to suggest the best email to convert customers?
On one hand, your job as a marketer gets a lot easier. You're able to run more effective campaigns in less time. On the other hand, if your job is largely to write high-conversion emails, you're in trouble.
This is the promise and peril of artificial intelligence. Properly understood, AI presents incredible opportunities for marketers to augment their daily activities, do more with less, and achieve performance potential while focusing on high-value creative tasks. But those who ignore AI's capabilities and refuse to evolve their skills in response risk obsolescence.
This can happen faster than you think. For instance, tech like Smart Reply was added to Inbox, Google's mobile Gmail client in late 2015. Six months later, it was used for 10% of all emails sent with that app, reports WIRED. Today, it's used in every instance of the Gmail iOS and Android apps.
The tech is evolving fast, too. The initial system took tons of computational effort. But Kurzweil and his team have used neural networks, an AI technology, to make the system use just a fraction of the previous power needed.
The point is: even for a massive service like Gmail, baking AI into existing services can happen shockingly fast and evolve even faster as machine learning systems are improved or learn to improve themselves.
HubSpot is using AI to improve capabilities of its marketing automation platform. Salesforce has gone all-in on the technology. An array of standalone tools already exist to optimize marketing efforts using AI.
The good news is: It's only the beginning. But marketers must learn more about how their roles can evolve and improve in a world where AI powers everything. Because it's fast approaching.
Image Source: Google
As Chief Content Officer, Mike Kaput uses content marketing, marketing strategy, and marketing technology to grow and scale traffic, leads, and revenue for Marketing AI Institute. Mike is the co-author of Marketing Artificial Intelligence: AI, Marketing and the Future of Business (Matt Holt Books, 2022). See Mike's full bio.