This post is part of our Spotlight series featuring AI-powered companies and products that marketers can use to drive performance and transform their careers.
Machine learning is used to parse large sets of data and, if done right, extract valuable insights from that data. What if you could learn more about your audience by applying machine learning to your marketing data? That's what Opentopic helps clients like The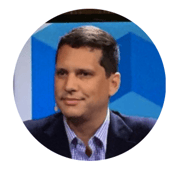 Economist, Morgan Stanley and Unilever do using its IBM Watson-powered AI tools.
We caught up with Opentopic cofounder Andre Konig (@AndreMKonig) to learn how the company uses machine learning to make marketing efforts more personalized and predictive.
In a single sentence or statement, describe Opentopic.
Sia by Opentopic is the cognitive bot that makes your marketing smart. It brings AI to marketers and helps them gain actionable insights, personalize at scale and predict campaign success.
How does the company use artificial intelligence (i.e. machine learning, natural language generation, natural language processing, deep learning, etc.)?
We have three main products: Sia Insights, Sia Personalize and Sia Prediction.
Sia Insights is built around parsing large amounts of unstructured data to classify it for a taxonomy. Based on that structure we do an entity and concept extraction to meet the needs of the client. Against those, we can run a couple dozen different insights from simple sentiment analysis, personality insights or cognitive tag clouds to more complex influencer scores, geolocation assessments and leadership assessments.
Sia Personalize, often used after having hyper-segmented target audiences with Sia Insights, is an automation and distribution platform of assets for marketing campaigns. Here, too, we have a taxonomy and classification element. We also use sophisticated machine learning to monitor campaign results and continuously optimize them for a specific transaction.
Sia Prediction is all about predictive analytics based on historical (unstructured) data to optimize a variable for new campaigns.
What do you see as the limitations of artificial intelligence as it exists today?
There are two main limitations, technical and cultural.
The technical ones are well known and discussed. AI has come a long way in dealing with unstructured data as it applies to real world use cases and you can do a ton of cool stuff with that. Much of it works very well. That said, many capabilities are still fairly simplistic when it comes to real world applications, and AI is no crystal ball, superhuman force or singularity.
And therein lies the second, more important challenge, at least from the perspective of an entrepreneur like myself. Many times clients have very strong opinions on AI, maybe they have done some proof of concept already and they think they are experts. Or, they are "armchair experts" based on the latest TED Talk they've seen and have highly unrealistic expectations when it comes to AI. AI has some very powerful, proven use cases for marketing and beyond, but it is important that customers, vendors, providers, consultants and everybody else sticks to these value-adding, working applications rather than building castles in the sky and setting unrealistic expectations.
I am not saying we shouldn't dream and be visionary when it comes to AI for marketing, but I think it is just as important that we deliver real results to prove the power of this technology.
What do you see as the future potential of artificial intelligence in marketing?
I believe that marketing presents one of the most natural and powerful applications of AI. If you look at what marketing does at its core—collect and analyze data, understand people, campaigns, branding, PR, creative—much of this can be done by technology. It can be done better, faster, at scale, automated and smarter than by humans.
2017 will be the year where a great marketer focuses on the true human strengths in her field—superior creativity, intuition, strategy and management. She'll do so on the basis of a strong AI stack that provides the insights, automation, learning, smarts and flexibility to elevate her job to a whole new level.
What makes Opentopic different than competing or traditional solutions?
We've had the privilege to be one of the first IBM Watson Ecosystem partners in early 2015. For a startup this is a unique opportunity since it placed us at the forefront of cognitive technologies and AI trends literally overnight. With that, we have learnt tremendously from dozens of large client projects using these technologies, we've made mistakes, we've learnt from them, we've built and adapted, and we have over two years of data and algorithms across three continents from marketers big and small.
This puts Opentopic into a worldwide leadership position when it comes to AI for marketing.
Who are the prototype customers in terms of company size and industries?
In publishing, great names such as Time Inc. and The Economist use it. Large financial institutions such as BBVA and Morgan Stanley do too. We also work with leading brands like Unilever, NBC/Comcast and Pitney Bowes.
What are the primary use cases of Opentopic?
We provide cognitive insights to inform creative, editorial and advertising, as well as self-optimizing personalization at very large scale and campaign prediction for specific transactions.
Any other thoughts on AI in marketing, or advice for marketers who are just starting to explore the possibilities of AI?
It's a super exciting field and a once-in-a-lifetime opportunity. Set aside a small part of your budget and go have some fun: keep it simple, set a clear goal and iterate fast. Try different technologies and providers, and figure out how to get ROI for specific use cases. AI doesn't have to be expensive or scary. IBM Watson gives free access, within limits, to all of its APIs and integration is fast and easy. There are many specialized AI vendors for sentiment analysis, NLP, image recognition, etc. that make their technology available as an affordable SaaS product. And Opentopic has a SMB offering that anyone can afford.
It's 2017 and you don't want to miss the AI train, get aboard!
Paul Roetzer is founder and CEO of Marketing AI Institute. He is the author of Marketing Artificial Intelligence (Matt Holt Books, 2022) The Marketing Performance Blueprint (Wiley, 2014) and The Marketing Agency Blueprint (Wiley, 2012); and creator of the Marketing AI Conference (MAICON).