Data scientists are hard to hire: they're expensive, a pain to source and vet, and hard to justify unless you have enormous amounts of data. With Oracle, you don't need a data scientist, you need a marketer.
Oracle provides leading-edge capabilities in software as a service (SaaS), platform as a service (PaaS), infrastructure as a service (IaaS) and data as a service (DaaS). The data giant casts its net wide and deep. But for our purposes, we'll focus on the Oracle Marketing Cloud and the Adaptive Intelligent Apps for Customer Experience (CX), which encompass marketing, sales, service, and commerce.
So, what's important for you to know about this monstrous cloud applications and platform service firm?
Well, let me tell you.
Dumbing Down the Data Giant
With lots of technical terms and a slew of capabilities, it's easy to lose sight of what Oracle accomplishes (it's a lot). At its core, Oracle aims to improve user experience and productivity using software and services that run on the internet or on premises.
Oracle does the dirty work for companies with industry-specific problems. Their data scientists build models that integrate with other internet-enabled programs and eliminate the need to embed AI on your own. With the goal of being a one-stop-shop and affordable provider, Oracle makes its technology accessible for companies of all shapes and sizes.
Oracle Adaptive Intelligence Apps assist in decision-making and problem solving using a mix of internal and real-time external data. The app aims to be easy to integrate and use for seemingly infinite industry-specific applications.
Oracle provides an example that shows just how adaptive and intelligent this technology is and how you can personalize the customer experience. In the example, a consumer named Taylor who frequents a coffee shop buys a new coffee maker online. Based on her location, the warm weather and her recent purchase, Oracle Adaptive Intelligence App suggests Taylor gets a free iced coffee along with a discount to purchase premium coffee for her coffee maker.
Whether Taylor accepts or rejects this offer, the app learns more about her and continues to personalize offerings for the future. That kind of connected intelligence is sure to improve business outcomes.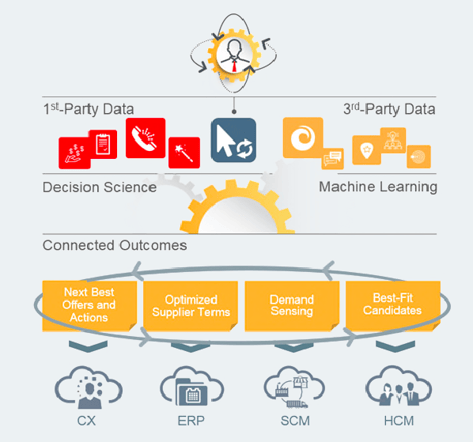 Source: Oracle
Specifics For Marketers
As seen in the example above, Oracle's AI offerings arm marketers with consumer and business data, optimizing campaign execution and results. Marketers can better understand their target audiences and improve offers by seeing how audiences interact with content and adjust pathways for future communication. Basically, marketers can personalize at scale.
Oracle's AI capabilities also assist customer service representatives, sales teams, and many other business professionals. Customer service representatives can use consumer data and relevant news alerts to optimize FAQs with automated responses, reducing the time between request and resolution and overall improving the customer experience. Sales representatives receive accurate information that is relevant to accounts and next-step recommendations to help close deals.
How Much Has Really Changed?
It's no secret that Oracle has been a leader in the data/cloud space for a long time, but it was pointed out in a recent interview with Steve Krause, former group VP product management, that Oracle has secretly been a leader in the AI space, too.
Without publicizing it, Oracle used AI to optimize advertisements, emails, targeting and more internally. Now, Oracle is loud and proud about its AI capabilities and offers, adding even more capabilities to their suite of apps.
Oracle is sweeping up other AI and machine learning companies. Its recent acquisition of DataScience.com is another step in the journey to be the single machine learning platform for business decision-making and insights.
Curious what Oracle can do for you? Start exploring Oracle Adaptive Intelligence Apps today. There are apps (some coming soon) for supply chain management, customer experience, enterprise resource planning and human capital management that aim to drive business value with minimal cost on your end.
Sammie Fisher was formerly an associate consultant at Ready North. She joined the agency in January 2018 with a background in PR, marketing and business analytics. Sammie graduated from Ohio University's E.W. Scripps School of Journalism in 2018 with a degree in strategic communication and a marketing minor.