Your marketing efforts are only as good as the strategy that fuels them.
Would you agree?
Whether you're a team of one or a team of 100, successful marketing requires strategic planning and well-executed production.
Today, you have the unique opportunity to infuse your marketing plans and assets with AI—and the following AI experts can help get you started.
P.S. You can join these experts and 300+ other like-minded marketers at the Marketing AI Conference (MAICON) this Aug 3-5. Learn more here.
1. Meet Martin Broadhurst
Digital Strategist
Broadhurst Digital Limited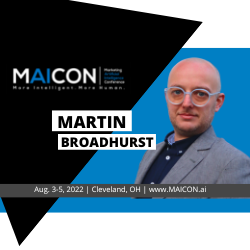 Martin Broadhurst is a seasoned digital marketing leader with over a decade of agency and consultancy experience. He has a solid track record of delivering outstanding results for national and international clients in the public and private sectors. Broadhurst has a particular interest in lead generation and customer acquisition strategies.
He is a Fellow of the Royal Society of Arts, Member of the Chartered Institute of Marketing, and a digital strategy lecturer. Broadhurst plays with every AI tool he can get his hands on, and if his wife knew how much he spends on software, she'd cut up his Mastercard.
Connect with Martin
Content from Broadhurst Digital Limited
The Best AI Text-to-Image Generators of 2022
Since the 2021 launch of DALL-E, AI text-to-image generators have been a hot conversation topic—and for good reason. In marketing, text-to-image generators could be used in the near future to enhance visual ads and other forms of content marketing. This article explores some of the best text-to-image tools available today.
Hear From Martin at MAICON 2022 (
Register here
)
How To Use AI in Your Inbound Marketing Strategy
Inbound marketing is a popular method of marketing because it focuses on building trust and relationships with the target audience to sell products and services. AI is increasingly being used for automation and streamlining of various processes across industries. Bring them together and you have a match made in heaven.
In this session, Martin will discuss how AI can be used for inbound marketing, how it benefits an inbound strategy, and what tools you can use at different points throughout your inbound strategy.
2. Meet Jeff Coyle
Co-Founder & Chief Strategy Officer
MarketMuse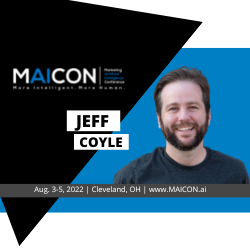 Jeff Coyle is the Co-Founder and Chief Strategy Officer for MarketMuse. With more than 21 years of experience, Coyle focuses on helping content marketers, search engine marketers, agencies, and e-commerce managers build topical authority, improve content quality and turn semantic research into actionable insights.
Prior to starting MarketMuse in 2015, Coyle was a marketing consultant in Atlanta and led the Traffic, Search, and Engagement team for seven years at TechTarget. He earned a bachelor's in Computer Science from Georgia Institute of Technology. Coyle frequently speaks at content marketing conferences and has been featured on Search Engine Journal, Marketing AI Institute, State of Digital Publishing, SimilarWeb, Chartbeat, Content Science, Forbes, and more.
Connect with Jeff
Content from MarketMuse
Content Optimization: Should I Update an Existing Page, Create New Content or Both?
Optimizing content for your ideal audience and search engines is a critical piece of any successful content marketing strategy. But, how do you know when to update an existing page, create an entirely new article, or do both? Try this three-step process from MarketMuse.
Hear From Jeff at MAICON 2022 (
Register here
)
How To Use AI to Improve Content Efficiency
Do you really know how your content performs? If one piece doesn't perform well, the cost of every piece of content increases. What is the true cost of that content? (Hint: it's not just cost per word.)
Join this session with Jeff to learn a framework that ensures each piece of content drives the impact it should so you can maximize your investment.
3. Meet Jim Sterne
President
Target Marketing of Santa Barbara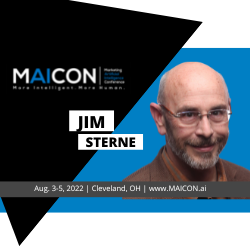 Jim Sterne sold business computers to companies that had never owned one in the 1980s, consulted and delivered keynotes about online marketing in the 1990s, founded the Marketing Analytics Summit in 2002, and co-founded the Digital Analytics Association in 2004. His twelfth book is Artificial Intelligence for Marketing: Practical Applications. He is now helping companies get more value from data and helping small- and medium-sized agencies achieve scale at speed with 2Y3X.com.
Connect with Jim
Content from J
im
There are many companies, both new and established, that struggle with growth at some point. Some startups may find it difficult to get fully started or legacy companies may realize the way they've always done things is no longer working. In this article, Jim dives into the 2Y3X approach that gets companies past their growth slump.
Hear From Jim at MAICON 2022 (
Register here
)
Pick the Right Tool for the Job: When to Not Use AI
Knowing when not to use AI will save you from overinvestment, underachievement, and a round of embarrassment. Sometimes, a coin toss is the right tool. Sometimes, an AI point solution is just the ticket. Then there are situations that call for a full-on data science department.
Data quality and quantity, the anticipated impact on the business, and corporate culture are just a few of the variables to evaluate before resorting to the most powerful tool in your toolbox. Considerations also include an organization's need to move from descriptive analytics, through diagnostic and predictive to prescriptive analytics and beyond, project complexity, and a firm grasp of data bias and ethics. In his session, Sterne offers a framework for choosing the right tool for the job.
4. Meet Patrick Stack
Senior Product Manager, AI/ML Products
Adobe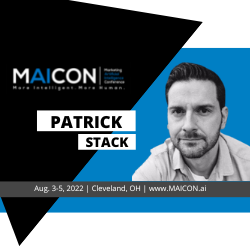 Patrick Stack is a Senior Product Manager with Adobe's AI/ML Services team, part of Adobe Experience Cloud. Stack is responsible for integrating AI-powered features into Adobe's digital-marketing suite of products with a particular focus on customer-journey management. Stack has an MBA from the University of Michigan and a bachelor's in journalism from Northwestern University. He lives in Chicago with his wife and two daughters.
Connect with Patrick
Content from Adobe Experience Cloud
3 Keys to a Successful Marketing System of Record
Similar to how financial records are organized and customer information is archived, your marketing efforts should be tracked and shared in a single system of record. This system of record can help teams efficiently complete day-to-day tasks and makes sharing data and promotional assets easier.
Join these experts and hundreds other next-gen marketers at MAICON 2022 from Aug 3-5.