Artificial intelligence is projected to unlock $2.6 trillion in business value by transforming marketing and sales alone, according to McKinsey.
This transformation is actively unfolding, with leading companies building more intelligent marketing and sales solutions powered by machine learning and deep learning.
SEO is one area where AI-powered change is accelerating. BrightEdge is a company that's been on the leading edge of this change over the past decade, pioneering AI-driven search optimization products.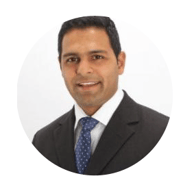 The company just released a new product, BrightEdge Instant, which offers real-time optimization powered by machine learning.
We caught up with BrightEdge COO Krish Kumar to get the company's take on how AI is going to transform SEO as we know it. Before joining BrightEdge, Kumar helped drive Google's Search Ads platform from fifth in the market to the market leader.
Why is SEO such a powerful use case for AI?
We recently conducted a survey of over 200 SEO professionals and digital marketers and one of the things we asked them was who in their organizations is using SEO techniques and insights. They told us that, essentially, every content or demand generating marketing discipline is applying SEO insights in their work at varying degrees.
This is important because it moves SEO's sphere of influence beyond website content. It's important to social media. It's important to paid search and display advertising. It's important to email marketing.
In short, SEO is no longer marketing's skunkworks side project. It's front and center feeding key insights to content marketing, email marketing, social media, and paid marketing. Because it's moving the needle, there are greater expectations for SEO—and artificial intelligence is helping brands meet those expectations.
AI is able to extract insights from data at scale. That makes the technology perfect for SEO, which generates tons of data and is driven by insights. And AI isn't just making it easier to extract better insights from search data—it's making it possible to do so in real-time.
How does AI-powered SEO work?
Up to this point, SEO has been best at optimizing content for topics that are relatively evergreen or static. This is because the basis for SEO was historical data.
But, for example, social media teams for a fashion brand need to understand how Beyoncé's Super Bowl halftime backup dancers' outfits are trending in social during the performance. Paid search teams for a pharmacy brand need to understand in short order how people are researching flu shots in October. November is too late.
This level of real-time insight is only possible with AI and deep learning. Real-time insights—or what we like to call SEO at the speed of Google—are, by their nature, predictive. We're extrapolating trends as they're forming. This is much harder than extracting meaning from fully formed, historical data. But this is exactly AI's advantage over other technologies: it uses insights from real-time data to predict what's next.
These predictions power real-time SEO recommendations, which then open up a new world of competitive possibilities for brands.
Can you share some examples of what this looks like in action?
Here's one example to illustrate the potential of AI-powered SEO.
Let's say a luxury hotel chain operates hotels in several hundred locations around the world. They've seen a recent dip in revenue across one of their marquee properties and need to understand the root cause. The SEO manager needs to report on this ASAP, so they can adjust course. The problem is, all the data they can find is a month old, which predates the dip in revenue.
But, with real-time SEO driven by AI, they can examine what's happening in search while it's happening, then find meaningful patterns to understand what's happening and how to address the issue.
Once that fire is extinguished, the SEO manager puts together a breakdown of what's trending in real-time for each of the hotel's thousands of locations worldwide and determines that Paris and Santa Fe are CNN's picks for spring travel destinations. He shares the insight, so marketing can increase efforts around those cities.
Here's another example:
While on vacation in Miami, your CMO sends a high priority email saying your competitor is ranking in the top position on mobile search for the term "life insurance," and you've moved into position two for your most important term. She wants a full breakdown of when this happened, and what you're going to do about it.
After you "contemplate" loudly for five whole minutes why she can't just enjoy her vacation, you remember you have access to real-time ranking data. After researching your real-time rank across all the markets that you operate. You discover that while you rank in position two in Miami for "life insurance," there are only a total of five markets where you've lost your dominant position. You're now armed to reassure your CMO and put in place a strategy to regain your ranking in those five markets.
In both cases, having insights into what's going on right now give the marketers and brands involved a serious competitive advantage.
How does BrightEdge use artificial intelligence?
For the last 10 years we have been on an AI-first journey. This journey started with DataCube nearly 10 years ago. Since then, we were first to market with a next-generation deep learning technology, DataMind, using the same deep learning best practices applied by Google in its voice and image recognition algorithms. DataMind has been woven into the BrightEdge platform to power all our search, content and digital marketing solutions.
Now, we're going even further.
We just announced BrightEdge Instant, which gives marketers real-time, up-to-the-second research, rankings and recommendations for mobile and desktop search (SEO), commerce (Amazon) and video (YouTube) engines in one unified platform. The product's research and recommendations are powered with machine learning.
Real-time is the central theme to BrightEdge Instant, but in practical terms, Instant applies that umbrella capability in ways that track with the quickly expanding search landscape.
With the product, we're enabling SEO across all the global search engines, in 46 languages and across millions of locations. We're tackling things like voice search and comparative page speed performance analysis. We're pioneering vertical search optimization by integrating video (YouTube) and commerce (Amazon) engines into BrightEdge Instant.
These are things that digital marketers and even SEO power users have been struggling to do well, if at all, and now—thanks to AI—they can.
Paul Roetzer is founder and CEO of Marketing AI Institute. He is the author of Marketing Artificial Intelligence (Matt Holt Books, 2022) The Marketing Performance Blueprint (Wiley, 2014) and The Marketing Agency Blueprint (Wiley, 2012); and creator of the Marketing AI Conference (MAICON).