When we talk about artificial intelligence in marketing, we're usually talking about digital solutions that automate tasks like email sends or analytics reporting. Those who are more familiar with AI don't necessarily imagine robots out of a sci-fi movie coexisting in the workplace.
But what if that's exactly what AI means?
The truth is, there's an important place for AI-enabled, physical robots in a brand experience.
We talked with Kass Dawson, Head of Marketing & Business Strategy at SoftBank Robotics America, to learn more.
In a single sentence or statement, describe your company.
SoftBank Robotics America develops robotics solutions that help make people's lives easier, safer, more connected, and more extraordinary.
How does your company use artificial intelligence in its products?
The two primary robots we currently offer to businesses are Pepper, a humanoid robot, and Whiz, our recently launched commercial-grade autonomous vacuum sweeper. We also have a smaller humanoid robot, NAO, used for education.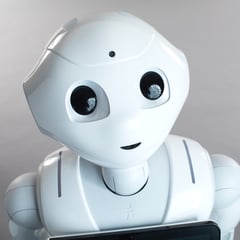 Since Pepper is designed specifically for interacting with humans and offering customer service for many of our clients, it is critical that Pepper engage with customers in a friendly and welcoming manner. Pepper uses cloud-based dialogue flow and natural language processing to converse with visitors and promote products appropriate to their interests.
Our other robot, Whiz, supports cleaning teams in commercial spaces, like airports, offices, and hotels by automating tasks for overworked janitorial teams. Powered by BrainOS, our partner Brain Corp's commercial operating system, Whiz is capable of navigating complex and dynamic environments autonomously, while ensuring the highest levels of cleaning performance and safety. Whiz can record up to 600 cleaning routes, for which staff teach the robot the initial route. Over time, routes are stored in Whiz, so it can repeat the cleaning route autonomously on its own.
What are the primary marketing use cases for your AI-powered solutions?
Pepper bridges the physical and digital world by bringing the best parts of your business' digital presence to real-world locations in a friendly and engaging manner. Pepper can be integrated with promotional, inventory, and pricing data, acting as a go-to, real-time knowledge base for customers and employees alike.
Pepper's conversations and interactions are tailored to your business to ensure brand needs are met. When interacting with customers, Pepper can make personalized recommendations, help customers find exactly what they're looking for, sell products, and even interact with staff. Furthermore, Pepper can naturally capture customer feedback and interests over the course of a conversation, which can be analyzed and used to guide promotional strategies.
What makes your AI-powered solution smarter than traditional approaches and products?
Pepper stands out from other tangible marketing solutions due to its unique form factor and ability to offer personalized interactions with each customer. We take a human-first approach when determining how our robots will provide value, and Pepper is no exception.
A great example of how Pepper can be utilized by retail stores and banks is our work with HSBC Bank. Over the past two years, we have partnered with HSBC Bank to bring Pepper to select branch locations to help streamline branch operations and improve the overall customer experience. Since our initial Pepper launch at HSBC's flagship branch in Manhattan in 2018, we have expanded to branches across North America, including Beverly Hills, Seattle, Miami, and Toronto. During this time, HSBC has seen a significant increase in branch activity, ATM transaction volumes, and new credit card applications thanks in large part to customer interactions with Pepper.
Pepper has allowed bank staff to have deeper and more personal customer engagements by taking care of some of the more tedious tasks, including educating customers on basic product information, sharing the availability of self-service banking options, and asking initial questions to determine banking needs. By having Pepper handle some of these introductory tasks, HSBC's staff has been able to provide a more personalized and efficient experience for customers visiting these branches.
Are there any minimum requirements for marketers to get value out of your AI-powered technology? (e.g. data, list size, etc.)
Marketers need to identify their goals or obstacles that they believe can be solved by Pepper, and develop specific KPIs that the robot can address. No real-life robot is like Rosie from The Jetsons—automation demands specific issues addressed by specific tasks.
Who are your ideal customers in terms of company size and industries?
We work with customers of varying sizes across numerous industries, including banking, retail, hospitality, education, nonprofit, and commercial cleaning. You may see Pepper greeting guests and providing customer support next time you visit your local bank or check into a hotel. You might even spot Whiz assisting janitorial staff next time you are traveling through an airport in the United States. While these industries are currently the most common use cases for our robots, we are continuing to expand the ways in which our technology can help address repetitive and pervasive tasks that challenge businesses and their employees.
What do you see as the limitations of AI as it exists today?
AI is misunderstood, and the concept created by advertising campaigns and pop culture doesn't exist, and won't for a long time. Marketers need to understand what the reality is, and use those existing, and already unprecedented, benefits now. With machine learning, facial recognition, chatbots, millions of data points, and more, we are driving toward an eventual automated future with self-sustaining AI.
What do you see as the future potential of AI in marketing?
AI is going to enable a "true" customer service experience for businesses.
Not only will AI enable marketers to more easily and quickly understand the needs of their customers, it will also allow human staff to more easily support customers.
As we are already starting to see with Pepper and other consumer-facing automated solutions, AI is going to continue to address lower-level tasks and basic customer questions, which as a result, will free up human employees and allow them to focus on more value-adding work. The result will be more engaged and productive human staff, as well as a greater increase in overall customer satisfaction.
Any other thoughts on AI in marketing, or advice for marketers who are just starting with AI?
Marketing automation is typically understood as digital. Physical engagement continues to be important with consumers, and robotics offers standout opportunities to do so.
Paul Roetzer is founder and CEO of Marketing AI Institute. He is the author of Marketing Artificial Intelligence (Matt Holt Books, 2022) The Marketing Performance Blueprint (Wiley, 2014) and The Marketing Agency Blueprint (Wiley, 2012); and creator of the Marketing AI Conference (MAICON).